Finn Wolfhard's Right to Be a Child Is Defended By Shannon Purser and Sophie Turner
"Give them the space they need in order to grow."
---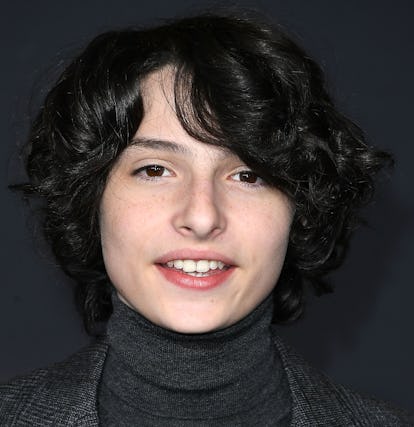 Steve Granitz/WireImage
Being 14 years old is tough. Doing it in the spotlight? That's a near-impossible balancing act that Stranger Things co-star Finn Wolfhard has been mastering. But it was made even more challenging for the actor, who plays Mike Wheeler on the beloved Netflix show, when he reportedly came into contact with some demanding fans outside of his hotel. Wolfhard allegedly walked past the fans — as he has every right to — according to InStyle, and after some Twitter users began opining on the move and calling him "rude," Stranger Things' Shannon Purser jumped to his defense. (Two seasons later and Barb is still a hero.)
Pointing out that her cast member was as entitled to his privacy as any own else, perhaps especially so as a child, Purser shut down the trolls with some wise words. "Okay, no. No actor is under any obligation to stop for anyone. Finn is an incredibly kind human. But he's human and he needs breaks too," she tweeted.
Purser also revealed her own experience with unruly fans, writing, "I experience this on a significantly smaller scale, obviously, but I've had people waiting for me in hotel lobbies, at my airport gate, etc. And I'm an adult. I can't imagine being inundated with all this attention at his age. It's intimidating."
She left off with a warning: "So, from one big sister to the world, don't you DARE make young actors feel guilty or indebted to you because they couldn't say hi. They give you their art. They love their fans. Don't take advantage of that. And if you can't handle them needing space, stay away."
Purser's message resonated, not just evidenced by the close to 20,000 likes, but also by the fact that shortly after Game of Thrones co-star Sophie Turner took to Twitter to share similar sentiments. "Damn… seeing fully grown adults wait outside the 'Stranger Things' kids' hotels etc , and then abuse them when they don't stop for them…," she tweeted. "Is super weird A. What adult in their right mind waits for a CHILD outside their hotel and B is then is offended when the CHILD doesn't stop."
Turner also argued Finn Wolfhard and the rest of the Stranger Things crew's need for privacy. "It doesn't matter if they are an actor… they are kids first," she tweeted. "Give them the space they need in order to grow without feeling like they owe anyone anything for living their childhood dreams."
Watch: Stranger Things Star Sadie Sink Explains the Biggest Trends of the '80s