Fiona Stiles Doesn't Want You to Cover Up
The celebrity makeup artist on skincare tips that flout the rules of beauty.
---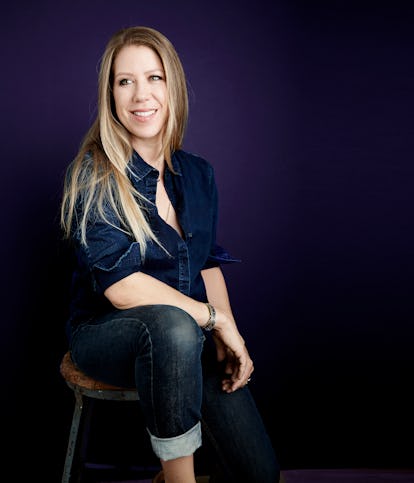 Makeup artist Fiona Stiles is known for the glow she bestows upon her celebrity clients. It comes as no surprise, then, that her new collection (which launches today at Ulta) aims to do the same for everyone else, with fixes and highlighters, as well as some rad eye shadow shades. She lets us in on her beauty highlights here.
Who was your first beauty icon? Oddly enough, it was a British musician, Adam Ant. His look was amazing and totally mesmerizing to me as a young pre-teen in the 80's. He had just enough of a balance between pretty boy and sex symbol, and the iconic white stripe he wore across his face was everything.
What's always in your kit? Tweezers, two different eyelash curlers, Japanese lash glue, and eyelashes—and of course the entire Fiona Stiles Beauty.
What would you use to complete a look in five minutes? When I'm doing a shoot on location, it's not unusual to have only a few minutes to change the look. In those situations, I like products that can multi-task. Cream products are great for that; you can mush things around until they all blend together nicely. A cream shadow in a taupe shade can give definition to the eyes, and double as a contour. Lipstick is great as blush. I'll also throw lip balm or gloss on the eyes with a few coats of mascara on the top and bottom for an easy, chic look. If you're in a real rush, conceal what you need to, add some moisturizer to your cheeks for a touch of a glow, curl your lashes, and add a few coats of mascara to the top and bottom. Then throw on a red lip.
What's your favorite off-label use for a beauty product? I have a bruise gel that I picked up in a theatrical makeup shop in London that gives the most beautiful sun-kissed glow. Perfect for beach shoots and the most believable tanned cheek ever.
What's your first beauty memory? I had a birthday party when I was four and made up all of the girls at the party. My mom still has the pictures and it's a pretty adorable scene.
What was your worst beauty blunder? One time I was booked for a wedding, but when I got to the hotel to do the bride's makeup, I realized I had left my brushes at home. I didn't have time to rush back downtown to get them, so I took a deep breath and decided to just use my fingers to do the whole look. That would have been doable, but I didn't know that the maid of honor had cystic acne and I had to do all of the covering with my fingers, which doesn't give you the most delicate, flawless look with problem skin. I haven't forgotten my brushes since.
What beauty products are currently in your purse? I tend to carry around a lot of lipsticks for someone who mostly wears lip balm. When I want to wear a lip, I go bold, so I have the Fiona Stiles Beauty Color Impact Matte Lip Crayon in Stoddard, which is a vibrant red. My go-to, everyday lip is my own Beauty Hydrashine Essential Lip Color in Louella. I love MAC Pressed Blot Powder for touch-ups through the day. I carry a bit of concealer and a retractable brush for quick touch-ups. I also always have a jar of Holly Beth Organics Rose Geranium Moisturizer; it's a true cure-all.
If you had an extra 10-15 minutes in your routine, how would you spend it? I'd spend extra time on my hair, I think. I would take the time to dry it, or do something other than put it up in a bun or a ponytail. I'm pretty low maintenance.
What trend do you look back on with regret? As much as I loved the thin brows of the early 90's, I know a lot of women in their 40's who are still cursing that trend. Thank goodness for Revitabrow.
What is your first go-to product or one you can't live without? Lip balm. I have dozens of lip balms squirreled all over my house and in every purse, pocket and drawer. I go through my own Ultra Luxe Nourishing Lip Balm like nobody's business.
Which beauty trend do you just not get? I can appreciate all trends for one reason or another, but I do wish people would ease up on using too many layers of foundation, concealer and powder. I like skin and I think skin is pretty. I like to feel like it can breathe. It makes me pine for grunge and the 90's.
Is there a beauty professional you can't live without? He's not exactly a beauty professional per se, but I can't live without Dr. Eric Lewis, my dermatologist. I see him every 3 months religiously to have my moles checked. Melanoma runs in my family and I am not tangling with that beast. SPF is literally my "desert island" product. I won't walk outside without applying sunscreen.
What's your beauty peeve? Even though I am not really a wild, color-outside-the-lines makeup artist, I still bristle when I hear talk about "beauty rules." We don't live in the 50's. If you want to wear a full glitter eye on a Monday morning, please do. If you want to wear a deep berry lipstick on a bright summer morning, go for it.
What are you currently obsessed with? I am completely enamored with a place called CW Enterprises – it's a shop on the Lower East Side that only sells pencils! It's a little jewel box of a shop that is run by a girl named Caroline Weaver ,and every corner of it is perfectly curated. Even though it's only about 300 square feet I could spend hours in there talking about random Japanese or Indian pencils, their history, everything. They even have fig and jasmine scented pencils! The whole experience of being there is just a delight. I truly love and appreciate people who delve deep into one particular thing and can really talk in depth about it. I find that single-minded focus a true delight.