Tilda Swinton Does Balenciaga's Hoop Skirt Justice in The Human Voice
The gigantic scarlet gown has resurfaced, in the first clip of Pedro Almodóvars English language debut.
---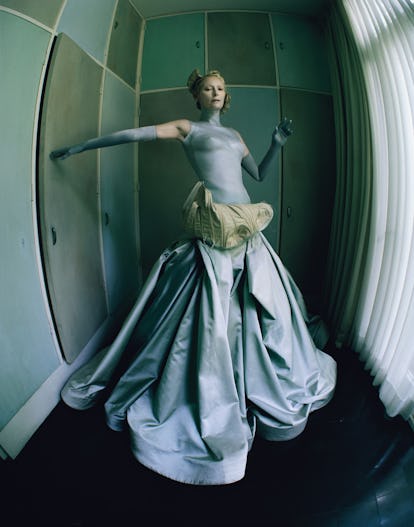 Photographer: Tim Walker Styled: Jacob K
We probably won't see traditional red carpets again for months, but Tilda Swinton still found a way to wear one of the must talked about runway pieces of the year.
Before debuting Balenciaga's spring 2020 collection last September, Demna Gvasalia covered a cavernous room in blue velvet and infused it with the scents of petrol, antiseptic, money, and blood. But even with all that going on as models made their rounds, one of the 91 looks stood apart: a gigantic, hoop skirted dress in scarlet red, which closed out the show between versions in black and gold.
Only one "crazy person," as Lotta Volkova put it, has dared to order the gold version: the stylist and close Gvasalia collaborator herself. (She shared a series of videos of its complicated arrival earlier this summer, featuring two men slowly maneuvering it indoors.) Meanwhile, Bella Hadid briefly stepped into the blue version for i-D in December, while the costume designer Sandy Powell went with the black one for W in January.
But the most unmissable of the dresses remained out of sight until Thursday morning, when Pedro Almodóvar's brother Agustín tweeted the first in-motion look at the director's upcoming film The Human Voice, which marks his cinematic English language debut. The clip stars Swinton, and Swinton only—not exactly surprising, given that she makes up half of the cast. (The film's only other star is her animal of choice: a dog.) At no point do we hear Swinton speak. Instead, we see the gown bob each time she takes a step across a concrete room, which is unfurnished save for a stool. Frowning, she manages to elegantly sit down.
Agustín was also the one to share the first look at the film: a behind-the-scenes image of the director wearing a face mask and Swinton holding up a face shield, which he tweeted in July. In that instance, too, Swinton wore what's perhaps best described as A Look: a monochrome, brilliantly azure turtleneck and suit from the same Balenciaga collection. Then again, we shouldn't have expected anything less: Excellent costume design is practically a requisite for directors lucky enough to cast Swinton. Luca Guadagnino has twice enlisted Raf Simons to create an entire wardrobe for the actress, in his films A Bigger Splash and I Am Love.
Related: Now Streaming: 10 of the Most Fashionable Movies of All Time