FIT's 2013 Gala Was A Night Of Firsts: After Hours
FIT's 2013 Gala Was A Night Of Firsts: After Hours
---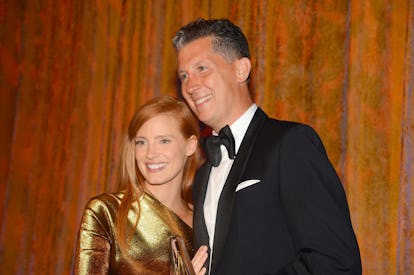 As the New York spring charity circuit tapers to its inevitable halt, it can be hard to muster up enthusiasm for yet another black tie and red meat dinner (no rubber chickens this year). Add to this a torrential downpour and, well, I wish you all the best in your endeavors. Fortunately, the Fashion Institute of Technology (FIT) overcame such challenges on Monday night at their annual gala. Cipriani 42nd St was as packed as ever with a diverse crowd including designers (Alber Elbaz, Peter Dundas), models (Karolina Kurkova, Joan Smalls), socials (Lauren Santo Domingo, Jamee Gregory) and even Miss America Mallory Hagan swanning around in a red gown and tiara (it wasn't a huge non sequitur—Hagan was an FIT student).
"Does she have to wear the crown everywhere she goes?" asked multiple guests. "I mean, is that part of her job?" The answer was unclear, but it sure made cocktail hour more entertaining. As guests made their way to their tables, Ruben and Isabel Toledo hung back, admiring the view.
"It's the best people watching," said Isabel, who, with Ruben, is hard at work on costumes for an upcoming Broadway show.
Turns out, hard work was pretty much the point of the evening. FIT Board of Trustees chair Liz Peek offered that this "Isn't your grandmother's FIT," in her opening remarks, before handing the mike to the school's president Dr. Joyce Brown who waxed on about the talent and needs of her students.
Then after a brisk dinner, bookended by two video installations of floral works by the artist Jennifer Steinkamp, the evening's three honorees were introduced. Karolina Kurkova paid tribute to Kay Krill, the president and CEO of Ann, Inc. "It's either in your blood or not in your blood," said Krill of her love for fashion.
Tony Bennett received a hearty applause as he introduced family friend and real estate magnate George Kaufman. "Well, I'm not Tony Bennett, it's a hard act to follow," said Jessica Chastain, as she took the stage to laud W magazine's editor in chief Stefano Tonchi, calling out his foresight in putting her on his inaugural W cover (it was her first, too), before she even had a movie out. "He was before everybody!"
Tonchi, for his part, was also experiencing a first that evening. "My first reaction [to this award] was, Damn, am I so old to be honored for my work?" he said, to much laughter. "After a midlife crisis, I am very honored. Experience has been my school. The lesson I want to share is you must learn to do the job yourself to be able to judge and direct others." Amen.