Five minutes with L.A. fashion guru Ilaria Urbinati
There's been no slowing down for Ilaria Urbinati. These days, the Los Angeles stylist and co-owner of designer retail mecca Confederacy is dressing one of Twilight's vampiest stars, preparing to unveil her store's new café...
---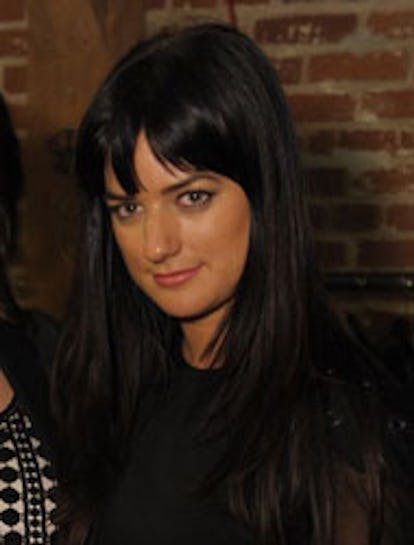 How have you always gotten such great art for the shop? Well, my mother [Fiorella Urbinati] is a prominent art dealer and she's got all these connections. So we've gotten Francis Bacon and Julian Schnabel pieces through her. We also like to do younger, up-and-coming artists. Danny [Masterson, co-owner of Confederacy] is a big art collector and we have a lot of mutual friends who are artists.
How did you get Ed Westwick to host tonight? He's actually a friend of the artist's. And I know that Todd did a portrait of Jessica Szohr, which will be up tonight. Jess is a good friend of ours and she shops here.
What's been selling lately? The feminine, whimsical pieces aren't selling anymore. I'm finding that people want more streamlined, kind of edgier fashion. Alexander Wang just always sells well and we do really well with the Boy by Band of Outsiders stuff.
And you're opening a café soon? It's opening in a few weeks. We're going to have Gimme Coffee from Brooklyn—which is the best coffee brand on the planet—and little sandwiches, with tables outside. Steve Arroyo [of LA's Cobras and Matadors and Umami] is going to run it with us.
How's the Rebecca Minkoff collaboration going? We just had our first runway show, which was awesome. We did all '90s looking curvy models, big eyebrows and big hair. I am really just having this major obsession with the '90s right now, with the whole Cindy and Claudia era. And the orders have just been amazing.
What can you tell us about Ashley Greene? Oh, she's the most beautiful girl on the planet. She reminds me of Ashley Judd meets Christy Turlington. I do all her red carpet stuff — I did her for the MTV Movie Awards and the Teen Choice and she's been getting Best Dressed a lot, so that's awesome. And now New Moon is coming out so this month is going to be all about that. She wears a lot of Dolce and Brian Reyes. I find that Ashley looks better in simple, fitted clothes because her face is so flawless, you don't want to distract from that. Calvin Klein is really good for her too.
What designer would you say you wear the most? I would say Rag & Bone. It's wearable and you don't have to be a stick to wear it. They even made our staff uniforms.
The menswear collection you did with The Strokes' Albert Hammond Jr. was such a hit. Is there another collaboration you're dying to do? I actually just pitched a collaboration to Calvin Klein. I want to relaunch their old Brooke Shields-era denim. How insane would that be?
Photos: J. Strauss