Five Minutes With Linder Sterling and Richard Nicoll
When the worlds of fashion and art collide, the result is inevitably inspiring, especially when it involves the combined talents of London-based designer Richard Nicoll and his radical muse, the iconic British punk artist,...
---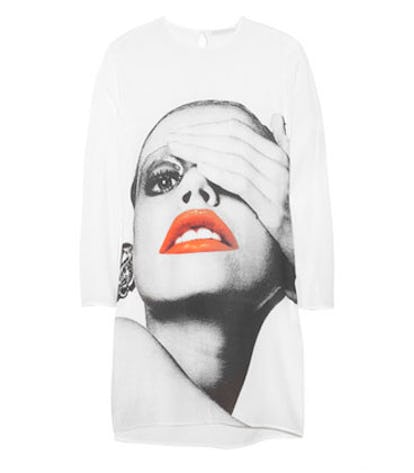 The fashion designer known for his precise, optimistic aesthetic, and artist beloved for her groundbreaking work and renegade spirit take five minutes to talk with W:
Your multi-faceted art practice has segued neatly into music and performance – how, and why, did you get involved with fashion? LS: In the early eighties, I used music and performance as part of my practice, but I never had the good fortune to meet a fashion designer. Everything was very D.I.Y in England then, and we were all quite poor. I made myself a meat dress when I sang at the Hacienda club in Manchester in 1982. It was a form of protest – the club was exquisitely designed but still showed porn films and sold hamburgers. They had a blind spot that I wanted to highlight. It's interesting that Lady Gaga has repeated this act recently without acknowledging any former lineage of dissent. When Richard Nicoll and I met a few years ago, it was a marriage made in heaven. My work has been described as making the explicit implicit, Richard took this one stage further and made it available to women worldwide. This is the failure of art – to fetishize the singular object.
You are renowned for your collage pieces – how would you describe your process and what you are aiming to communicate through your work? LS: Je suis une collagiste! I take the principles of collage and apply them equally to film, a dress, a performance work – even to my own life at times. Sometimes all the elements are glued down tight – as with my works on paper, and at other times, as with performance, the elements of the collage are granted their own agency and they find their own place within the overall composition. This means that a ballet dancer, a trumpet player, a Lindyhopper or beauty queen can all decide their own position and trajectory within the greater whole. Collage is almost a philosophy now, a way of seeing. Life is haphazard and can either be viewed as one huge cosmic collage, or as a chaotic mass – beauty is in the eye of the beholder.
LS: I continue to create collages in various media; it's a practice that stretches over four decades and has yet to stop. This year I created the thirteen-hour improvisation, 'The Darktown Cakewalk: Celebrated from the House of FAME'. The title itself is a collage and deliberately unwieldy. I asked Richard if he would design the costumes for the dancers involved and also to create some of the costumes within the performance area. Richard agreed, and his tailor became as much a star as the dancers and musicians. The sewing machine and scissors were amplified so that the manufacturing process could be clearly heard. I love demystifying production as much as I love mystifying it.
You and Richard collaborate on fashion that verges on art, and art with a fashion sensibility – what is it that has drawn the two of you together? LS: Richard and I share a curiosity about the refinement of provocation. Generationally, in the late 1970s, I used shock tactics in my dress and creativity, but far away from the rarefied milieu of a gallery or catwalk. I think that to have had that experience when young leaves one with a sensitivity to true radicalism. It's often not to be found by those who hijack the cultural spotlight, or those who scream and shout. In the 21st Century, radicalism has to have a certain stealth quality about it to survive otherwise it's thrown up in headlines and thrown out two weeks later.
What have been some of your recent collaborations – and any forthcoming? LS: I recently made a short film, 'Forgetful Green', and it's the ultimate dream of collaboration. All of my favorite people were involved –Tim Walker used a movie camera for the first time ever, Richard Nicoll designed the costumes, Stuart McCallum from The Cinematic Orchestra made the soundtrack and one of my oldest friends, Debbie Dannell, designed the hair and makeup. Debbie has quiffed Morrissey, backcombed Dusty Springfield and has groomed pop stars in dressing rooms from Dusseldorf to Detroit. We made 'Forgetful Green' in an English rose garden under the midday sun, [while] a peculiar solar eclipse was taking place. I think this gives the film its very otherworldly air.
Do you see fashion as a form of art? LS: On a good day, I see lots of things as art and fashion is one of them. Having worked with Richard, and seen the conceptual and creative development that goes into every collection, how can this not be art? Most artists would be floored after the first month. One of the Richard Nicoll and Linder collage dresses hangs on my studio wall—it catches the slightest breeze and rearranges itself every day. The dress is beyond the static state of the picture frame and its continuous reconfiguration delights the eye.
RN: It's funny, while others might, I've never seen myself as a conceptualist as I feel like I always begin the design process of my collections from a very rational, pragmatic standpoint. I have a really close group of friends (Linder being one of them) that work across numerous creative disciplines, both in commercial and purely artistic fields. More and more there is cross over, and I think we really do inspire one another. Linder sent me a beautiful email after my last show saying that my work had 'inspired her to create'. A comment like that about my work, from an artist like Linder, is about as good as it gets in terms of artist / designer collaboration.
I'm quite a social person, and in the same way a conversation inspires new ways of thinking – creative collaborations open the door to new fresh ideas. It's an opportunity to be challenged, and to look at things in a less obvious way. It's easy to get stuck in one mindset, and there is such value in collaboration and the loss of ego in creating with other people. Right now it feels like a time for a real cross-pollination of disciplines, and for the freedom of ideas this allows. Working with Linder since autumn/winter 2009 has been amazing and changed my mindset completely. Designing alongside her, it can feel like I am channeling her vision. I respect her identity and legacy, and I respect her vision.
Why have you been particularly inspired by Linder's vision, and how did you meet her? RN: It came about through a mutual friend – Linder was being shot for Vogue and our friend suggested she might like to borrow some pieces from my archive. The whole meeting felt really serendipitous, and I think Linder and I both felt that it was inevitable that we would start working together. As a collage artist she applies this ethos across so many disciplines, which in itself is inspiring. There is a lot of synchronicity within our respective creative approaches, in particular, how we portray women with a sense of strong female identity.
RN: For spring 2011, we collaborated on a capsule collection of printed garments (signature shapes for me – silk t-dress and separates) using the rights to old Cerruti campaign images that Paolo Roversi shot many years ago, and that Linder then collaged for my own Richard Nicoll label, which felt post-modern and right. I also worked on the costumes for 'Forgetful Green', the film that Tim Walker shot as a time capsule and synopsis of Linder's 13 hour-long performance of 'The Dark Town Cake Walk'. We are currently in talks about developing a perfume together, and are working on limited edition men's t-shirts and boiler suits featuring a series of gay/neo romantic collages that Linder made. We are doing this for a charity pop-up store to raise money for the art fund initiative, House of Voltaire. Recently Linder has been talking about collaborating on a ballet, which would be fantastic.
How are you enjoying your role as Creative Director at Cerruti? Are you still traveling back and forth between London and Paris – is that inspiring or exhausting? RN: I love the change in geography and atmosphere, and I love the discipline of creating two distinctly different collections each season without cross-pollination. I spend so much time in my studio in London that small things like a few hours on the Eurostar with no distractions is actually a welcome break. The clothing I create for Cerruti is different from my own label in that I'm working with a brand that has a very specific heritage, and anything I create needs to nod to the house values while also moving the brand forward in a different, more progressive direction. My personal work is more esoteric than the work I do for Cerruti, which is pragmatic in its realization of a beautiful product. My label represents a product belonging to an idiosyncratic character, one close to my own personality.