Five minutes with Marisa Berenson
Io sono amore, or "I am Love" is the title of one of Marisa Berenson's new movies. It also could be the actress' motto. At least that's the impression left by her new memoir, Moments...
---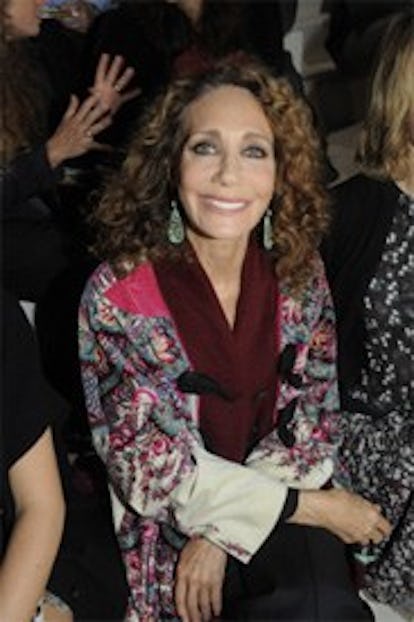 Why did you write this book? It was the right time for me to write about the people I loved and who counted in my life. It's a book about love–things I wanted to tell that are important to me both on a personal and spiritual level.
Judging by the book, it seems you existed in a world where everyone was always nice and pretty. Weren't you ever angry at things and people? I have been betrayed and hurt, but I choose not to be in the negative or hate. I only like loving and being in harmony. I forgive. Prayer and meditation helps.
How do you compare today's fashion world to the one you knew when you were a model? There was a lot of creativity, a lot of freedom–everyone knew each other. A lot of people are fascinated by those years and wish they could have known that era. Today, it's a much smaller world, yet everything is global.
What did you do with all that freedom in the sex, drugs and rock & roll era? I had romances but I wasn't into wild sex. I am more of a romantic. But I was into rock & roll. I was going out every night dancing, and I was having a lot of fun.
Did you do drugs? No. And it's a miracle. On the contrary, I was clean and I wanted a spiritual and mystical life.
You still seem to enjoy the fashion world: You were at the Kenzo show in Paris this month. Did you make it to any others? No, and I'm sorry I missed Dior, I always go to Dior. But I was filming The Disciples in Spain. I play Mary, and Joel West, who once was a model for Calvin Klein, plays Jesus.
What other film projects do you have? I'm getting into a new adventure. I'm co-writing the new Rachid Benhadj film and I will co-produce it too. And I will play in Laure Charpentier's new movie Gigola, also starring Lou Doillon and Marisa Paredes.
How do you like to dress on an ordinary day, when you're not going out? I wear mostly pants and flat shoes, so my feet don't hurt. I wear high heels only for events in the evening. I like to look pretty.
Top photo, Stephane Feugere; wedding photo, Fairchild Archives.