Five minutes with Naeem Khan
Indian-born designer Naeem Khan launched his ready-to-wear collection in 2003, but his name became, if not quite a household one, then very recognizable last Tuesday evening, when Michelle Obama donned his custom-made gold strapless gown...
---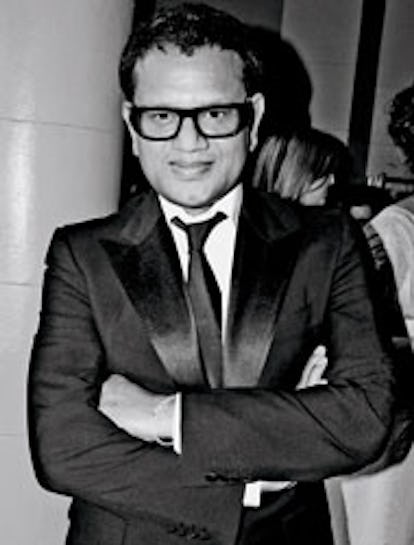 First off, congratulations. We know you custom-made the gown—but can you tell us who contacted you or how you got involved? Thank you! Actually, they asked me not to get too much into details about the people who contacted me. But it's her stylist [Ikram Goldman] who called me. They gave me what the parameters were as far as what event it was and what color she likes and what she's worn before. But they said to me what you do, you just have to—you just do what you think is best. And they left it to me and I did whatever I thought would be right for her. Which was a little different than what she's been wearing.
What kind of research did you do? I looked at everything that she's worn before and I just felt, something a little more—not "waisted" per se, I wanted it to be a little easier, when it comes down, rather than cinched in the waist. And that was number one priority for me as far as the style was concerned. The strapless was fantastic because she's got such beautiful arms and she needs to show those arms. But I was a little worried about it being India and Indians are very conservative. Then I had also designed something a little more covered up, just in case, if she felt, this was not the way to go. So I was covering all different bases, so that she would have couple of different choices.
You made more than one dress? About 5 pieces. They were sent to her, for her to pick from them.
And she held on to all 5 of them? Yes, she loved them. She's going to use them—for later use.
Your father owns a major beading factory, Suzarisa, in India, as did your grandfather before him. Was that an inspiration? I wanted to use a material in which there was this particular Indian sequin, which you only get in India, which is this metallic silver sequin. It's cut in India and it's sterling silver plated and it's a traditional sequin that has been used for many, many, centuries. The Maharajas use them on their kilts.
News reports say that it took 40 people to make this dress. It took about 6 weeks. And it was—a lot of people [were] involved in it. People are saying wrongly in the press that it took 40 people to make it. It did not take 40 people to make it. There were 40 people involved in it, from me onwards to my design team who help me draw it, to my tailors who sew it in New York. It's a dress that's made in America. It's— a lot of press does not understand that most beading comes from India. Everybody uses it—Oscar to Valentino. All my beading is done in India and is done in my family workshops. It took 10 people three weeks to make the embroidery.
And you launched a line with the Home Shopping Network just last month—presumably this has helped sales? Well, they're sold out. I did a small collection of 9 pieces, but they buy them in very huge quantities. I had an hour to sell and we sold it in 34 minutes. I mean, it was unbelievable. And it was my first taste of selling things in volume. And so our next project with HSN is in March and we really are upping the whole thing.