Locals Only
Flagpole Swim designers Megan Balch and Jaime Barker reveal the source of their inspiration.
---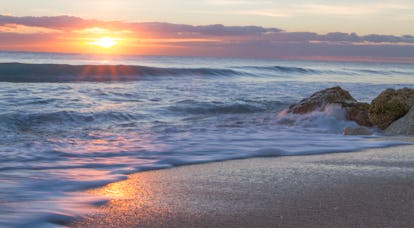 What is your favorite beach? Megan Balch: Our favorite beach is affectionately known as Flagpole by the locals of Palm Beach, Florida, USA. Jaime and I grew up together in West Palm Peach, where would hang out at Flagpole. We would do everything from swim and surf to sit around and dream about our futures. It was not until later in life when we had done more traveling that we realized how special our own beach, with soft, white sand and warm, blue water, is. In our travels, we have certainly seen other beautiful beaches but none can compete with the childhood memories and lifetime of inspiration that Flagpole has given to us.
How does it inspire your work? Jaime Barker: Megan and I would do all kinds of activities on the beach and we would normally put on shirts and shorts over our swimwear to insure there were no risqué mishaps. We both danced growing up and one day while working in a factory for another company I had the realization that leotards are the perfect construction inspiration for swimwear. There has been a largely accepted idea in women's swim that suits should look cute above their ability to be functional and we wanted to change that. All the fun that we had being active at Flagpole beach is the real inspiration behind our functional designs, which we have combined with the sophisticated style of our home now, in New York City.
What are your favorite things to wear and bring to the beach? MB: I always like to have Sugar's SPF chapstick, fresh watermelon and a summer scarf that I can wrap around any part of my body that feels like it's getting too much sun.
JB: La Roche-Posay is my favorite sunscreen. I'm also a music nut, so I always bring my Jambox to the beach with me.
What is your insider secret to Flagpole? MB: People usually head to Worth Avenue as the go to spot in Palm Beach, but just down the street from Flagpole is Royal Poinciana Way, which is a cute little strip of restaurants and shops. You can find amazing vintage jewelry pieces at House of Lavande, have the best crabmeat risotto at Trevini's in their beautiful outside courtyard, and then just down the street enjoy the most amazing local ice cream at Sprinkles.