For National Men's Grooming Day, the Malin + Goetz Guys Break Down Their Own Grooming Habits
What better time than to ask Matthew Malin and Andrew Goetz about their own grooming preferences and their take on how men's skin is different from women's.
Photographs by Sharif Hamza
---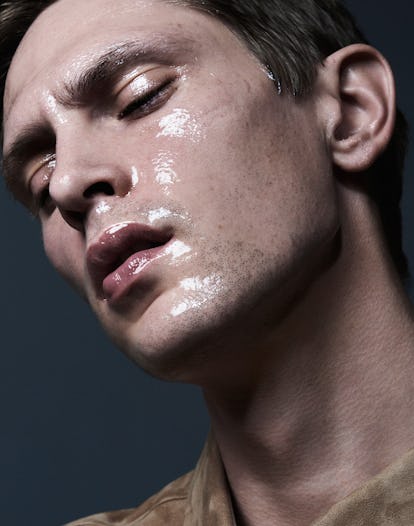 Photo by Sharif Hamza/Art Partner Licensing. Photo Editor: Biel Parklee.
When Matthew Malin and Andrew Goetz launched their eponymous skin care line in 2004, they had a mission: gentle yet effective skin care with a luxury bent. The clean white bottles and tubes that bore nothing but minimal pops of bright lettering gave the brand instant recognition. Twelves years later, they're in 15 countries with nine freestanding boutiques, including two that just recently opened in London. They're even in a song, "Return to the Moon," performed by El Vy, the National's Matthew Berninger's side band. Today being National Men's Grooming Day, what better time than to ask these two gents about their own habits and their take on how men's skin is different.
So, from where you guys stand, is men's skin different from women's? Matthew: it's a little oilier. Andrew: And a little thicker.
Weirdly enough, we always talk about men's and women's skin sort of being the same. And I always use the same analogy. If you had strep throat and you went to the doctor, the doctor would give you penicillin, but he wouldn't give one dosage for a woman and a different dosage for a man. A: Basically, biology is biology. Obviously, there are differences, but in terms of treatment and efficacy and age prevention, many of the same things are applicable. But men tend to be more oily and women need a little bit more hydration.
And men shave, so isn't it biologically thicker from all the exfoliating? M: Sure, but we've just taken a very middle of the road approach not too dissimilar to a bar of Neutrogena soap. We thought, what if we could create a luxury version of these staples that anyone could use without irritation? So that's really where we've lived. And we're 50/50-ish in terms of our customers. Our man we don't market to. He just comes. So 50 percent of our business is sort of like a gift in that respect. We have to work for a woman. We market unisex, but we speak to women because women are so much more knowledgeable and have so many more ideas and experience in skin care? Men are still evolving creatures in respect to skin care.
Speaking of evolving, let's talk about how you two evolved from childhood. What's your first grooming memory? M: My mother was a hairdresser, which was how my parents met. So, I remember my mother cutting my hair. Does that count?
That counts, but I'm going to keep pushing it. Did your father sit you down to teach you how to shave? M: No. I do not remember that. A: My answer is going to drive Matthew crazy because he thinks I'm neurotic about it, but my mother was a huge proponent of the nail brush. I actually travel with a nail brush. I always bring one with me on trips. M: He does. Even with all the gardening he does, they're very clean.
My father used to get on my case all the time about my dirty nails as a kid. A: I mean, I remember other grooming memories of bad haircuts and things like that, but the nail brushing was something my mother told me. You should have at least one pair of good shoes and your nails should be clean.
If you could only bring one product with you, would it be your nail brush? A: That's a "Sophie's Choice" question. They are my babies.
You can bring three, and let's presume sunscreen is not needed. A: Toothbrush and floss, the dental things. Ok, and the nail brush. I'm a scrubber. What can I say?
And which of your products would you bring. M: I would bring our facial cleanser, facial moisturizer and our dandruff shampoo. Because I can't substitute those and I can get a toothbrush anywhere. A: Our serum. I love that product. Every day. It's my go-to.
What's your favorite smell in whole wide world? Not a fragrance. I'll start: I love gasoline, grass and fireplaces. M: I really do love rose. A: There's something about being a skier, but I love mountain air. That fresh, clean unadulterated scent. That's always evocative to me. I remember being in Vermont, in the mountains.
Ok, which male celebrity has good hair? M: I don't know his name, but the guy from "Mad Men." The silver haired guy. He's super handsome and he has great hair. A: I hate to say it, because I really dislike him, but Bradley Cooper. M: He does? I think of "American Hustle" when I think of him, with that fro. I know it wasn't his hair, but that's what I think of.
What's your favorite women's fragrance? A: I know Matthew's going to say he loves Frederic Malle, the rose one. M: I do love the Lipstick Rose. And I love Scent of a Woman.
You mean Portrait of a Lady? [Laughs] M: Yeah, that's what I meant! I love rose scents. I like anything rosy.
What fragrance did your mother wear? M: My mother wore a Ralph floral scent in a faceted bottle.
Safari? Oh, I loved Safari! What was your first fragrance? A: Paco Rabanne. My mother got it for me. I didn't know what to do with it. I remember the box, the bottle. M: I wore Drakkar Noir and I wore too much of it. I remember the Drakkar bottle very distinctly and I remember how it felt. Very sleek. It made me feel special to have it.
Ok, last one: What are you currently obsessed with? A: I love "Gardener's Question Time" on BBC Radio 4 I listen to it on the train upstate. Every week, they go to a different garden somewhere in the United Kingdom. It's a crazy talk show and it's not meant to be funny, but it's hysterical. And I learn great gardening tips on top of it. M: I have recently started to become obsessed with anything James Perse. I bought a jacket at Barney's about a year ago and I wear it almost every single day, and then I bought some t-shirts and some pants and a sweater. Everything I buy from him fits me so nicely. And as I'm getting older and my body's changing, I feel like it hides all the things I want to hide and makes me look great.
Kind of like your skin care. Comfortable, gender-less and you feel great wearing it. A: You should be our spokesperson.
Watch W's most popular videos here: