Meet Foxes, the 27-Year-Old Singer-Songwriter Who Won a Grammy Before Releasing her First Album
Louisa Rose Allen, a.k.a. Foxes, may have dropped out of music school, but now she's two albums deep and touring with Coldplay.
---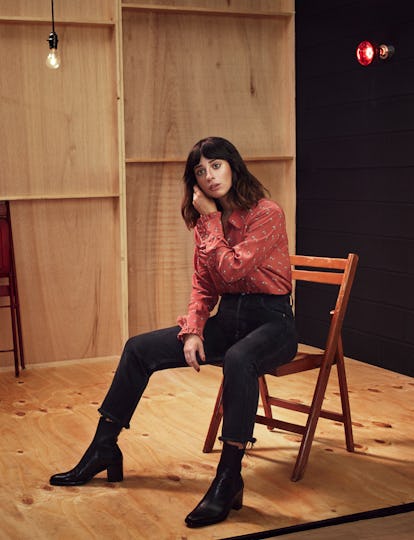 Photo by Ed Singleton. Styled by Sarah Zendejas. Hair by Angela Soto, makeup by Laura Stiassni for Dior at The Wall Group, manicure by Maki Sakamoto for Tom Ford Beauty at Kate Ryan Inc. Set Design by Hans Maharawal. Produced by Biel Parklee. Digital Technician: Matthew Thompson. Photography Assistant: Alex Cohen. Fashion Assistant: Nada Abouarrage.
It's tempting to put Louisa Rose Allen in the "rags-to-riches" box or to describe her as a proverbial Cinderella story. The British singer-songwriter, who goes by the stage name Foxes (to avoid confusion with another British singer, Lily Allen), grew up with a single mother, dropped out of music school, and lived on her sister's couch in London for a time. Then she won a Grammy. But within a few minutes of meeting her, it's clear that Foxes doesn't belong in any box at all.
"Hi, I'm Lou," she said, with such casualness that I at first didn't realize she was the subject I was meant to be interviewing. (Her easy-going charm became even more appreciated as the New York temperature reached the upper 90s, our photo studio without air conditioning.) She was in town to open for Coldplay, the globe-trotting band she's spending the summer touring with. "It was probably the best night of my life," she said, of her performance at the MetLife stadium in New Jersey.
At 27, there's already been a string of "bests" in Foxes career. Her first two singles, "Youth" and "Home" were discovered on SoundCloud by the hit TV show "Gossip Girl," which used the tracks in two 2012 episodes. After that, "Youth" caught the attention of Zedd, who contacted her to feature on his song "Clarity," which would go on to win Best Dance Recording at the 56th Grammy Awards.
"Which was just so weird, because I hadn't been in America, even. We did it all over the Internet and Skype and I'd recorded in my bedroom," she says. Foxes didn't even have an album out yet. "I remember coming over and it being everywhere on the radio. I felt like it wasn't me…this whole other being was going on across the pond."
Meet Foxes, the 27-Year-Old Singer-Songwriter Who Won a Grammy Before Releasing her First Album
When she put her first album out in 2014, "it was the best year of my life." Her second album, "All I Need," came out earlier this year, and she fully intended to immediately start working on her third, until Chris Martin called. "I don't know how I wacked it, it's an amazing experience," she says. "This is possibly the best thing that could have happened before I go and write something else because when you're traveling the world, you're meeting people, and I write about emotions and how I'm feeling and who I'm meeting and all sorts of things and it's loads of inspiration."
Petite, with ombre "French hair" and lips that would make Kylie Jenner jealous (though she's above that comparison), Foxes looks the part of a 70s starlet. Which is thanks, in part, to her mom, who runs Vintage Upmarket on Brick Lane, and who outfits Foxes for both her music videos and her personal life. "She kind of reminds me of Audrey Hepburn; she's got that elegance," she says. "So when I was growing up, I was looking to older icons like Edie Sedgwick and Cindy Crawford."
Her wardrobe is undoubtedly 70s-inflected, with Upmarket scores likes a Biba leopard print fur coat, and a patchwork knitted dresses. Her daily uniform involves "mum jeans, quite 70s boots, and rough t-shirts."
And though her sound may be different, Foxes' approach, at least, is similar to the punk rock movement of the mid-70s (she names Patti Smith as an influence). "I went to music school and found it really boring because I didn't like being taught music. I dropped out and just started doing open mics, and just living. I didn't want to be in a castle, I wanted to experience things and live as much as possible. So I preferred not being stable, the world felt more exciting like that," she says. "And I felt like I could write more about what was happening. I remember people not believing that I was doing music. But I was going to open mic nights and living off nothing. I had no money; I was eating beans out of tins."
And there's that Cinderella reference creeping in. It's worth noting that MetLife stadium holds upwards of 80,000 people. It's a fact not lost on Foxes.
"I think nerves are really important because they make you feel alive," she says. "I don't always get massively nervous but I have a moment on set where I'm just like fuck, this is actually happening."
After Coldplay, she did her own, much smaller, gig at Baby's All Right in Brooklyn. And then, it was off to Indianapolis. But not before hopefully squeezing in a bit of touristing.
"I was in New York a few years ago, and I met up with a friend and we just had a cherry pie and an ice cream at a little diner at 2 a.m.," Foxes says. "And that's what I love about New York, is that it's just always awake and alive and excited. So I'll probably try to fit in some pie at some point."