Frances Bean Cobain Debuts a New Acoustic Song on Instagram
It's the third snippet of original music she's revealed.
---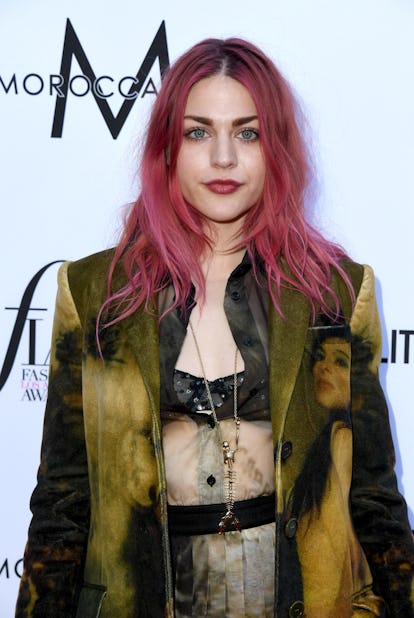 Jon Kopaloff
Frances Bean Cobain has once again proved that there should be no doubt cast upon her musical talents.
The daughter of the music icons Courtney Love and Kurt Cobain revealed the third snippet of a new song on Instagram Sunday. The track, which the 26-year-old musician plays on acoustic guitar, features her gorgeous, gritty vocals, showing that musical talent does indeed run in the family.
Cobain's latest snippet is the third original piece of music she's shared with the public. She shared her first track earlier this year, on the anniversary of her father's death, and a now-deleted offering in June, as well as a few covers of songs. Despite sharing a handful of clips, Cobain hasn't revealed the titles of any of her tracks. But in her most recent post, she does provide what seems like a self-critique in the caption, saying, "'What she lacks in technical precision, she makes up for with charisma' ? ???."
While it's unclear when the burgeoning singer will be releasing full compositions, the Irish publication The Business Times reported that Cobain has signed a two-year record deal with Columbia Records. However, she has yet to officially confirm or announce future projects.
After sharing her first original song clip this spring, Cobain made it a point to leave the idea of a "release" open-ended. An E! News reporter asked her about the snippet in April, after she initially shared it, and she downplayed the song. "I don't want to pigeonhole myself and say I am a musician or a visual artist because I feel like it's all encompassing and I feel like every bit of my art is related to the other," she told the reporter. "So do I want to pursue my music further and see it come to fruition and see something further and see something palpable? Absolutely."
There's no reason why Cobain should be downplaying her talents—she's clearly nailed her grunge-tinged compositions.
Watch Cobain's video below to hear her latest song and see the lyrics she provided (originally posted in her Instagram Stories).
Related: Frances Bean Cobain Has Dreams of Creating the World's First "Comic Book Cookbook"
See Courtney Love and Frances Bean Cobain's Best Mother-Daughter Red Carpet Appearances
Courtney Love and daughter Frances Bean Cobain at the 1993 MTV Video Music Awards at in Los Angeles, California.

Getty
Courtney Love and Frances Bean Cobain during "The Grinch" Los Angeles Premiere at Universal City Amphitheatre in Universal City, California, United States.

Getty
Courtney Love dressed in a slouchy white satin dress and matching hat poses with daughter Frances Bean.

Getty
Courtney Love & Daughter Frances Bean Cobain arrive at an awards show in matching colorful slip dresses.

Getty
Courtney Love & Daughter Frances Bean Cobain attend a movie premiere, again matching in black dresses and festive jewelry.

Getty
Courtney Love and Frances Bean Cobain arrive at the American Idol Finale: Results Show held at the Kodak Theatre on May 25, 2005 in Hollywood, California.

Getty
Courtney Love and Frances Bean Cobain at the Mercedes-Benz Fall 2006 L.A. Fashion Week in Culver City, California.

Getty
Courtney Love and Frances Bean Cobain in Kay Jewelers Celebrity Retreat Produced by Backstage Creations at the 2006 Billboard Music Awards.

Getty
Courtney Love and daughter Frances Bean Cobain attend the Aquamarine premiere in Los Angeles.

Getty
Courtney Love and Frances Bean Cobain attend a Versace event in California.

Getty
Frances Bean Cobain and Courtney Love pose together at an event space.

Getty
Courtney Love and daughter Frances Bean Cobain are seen together during Mercedez Benz Fashion Week.

Getty
Frances Bean Cobain and musician Courtney Love attend the HBO documentary films Kurt Cobain: Montage of Heck Sundance premiere on January 24, 2015 in Park City, Utah.

Getty
Frances Bean Cobain and Courtney Love attend the premiere of HBO Documentary Films' "Kurt Cobain: Montage Of Heck" at the Egyptian Theatre on April 21, 2015 in Hollywood, California.

Getty
Courtney Love and daughter Frances Bean Cobain attend a special In Conversation event with Courtney Love as part of the Liberatum 'Women in Creativity' series presented by St Martins Lane on March 21, 2016 in London, England.

Getty
Frances Bean Cobainand Courtney Love attend LOVE Magazine and Marc Jacobs LFW Party to celebrate LOVE 16.5 collector's issue of LOVE and Berlin 1989 at Loulou's on September 19, 2016 in London, England.

Getty
Courtney Love and Frances Bean Cobain attend the launch party hosted by Christopher Bailey and Jefferson Hack to celebrate the Burberry and Dazed cover featuring Jean Campbell at Makers House on September 20, 2016 in London, England.

Getty
Frances Bean Cobain and Courtney Love attend Buro 24/7 Fashion Forward Initiative as part of Paris Fashion Week Womenswear Spring/Summer 2016 at Hotel Ritz on September 30, 2016 in Paris, France.

Getty
Frances Bean Cobain and Courtney Love attends the Givenchy show as part of the Paris Fashion Week Womenswear Spring/Summer 2017on October 2, 2016 in Paris, France.

Getty
Frances Bean Cobain and Courtney Love attend the Chanel show as part of the Paris Fashion Week Womenswear Spring/Summer 2017 on October 4, 2016 in Paris, France.

Getty
Courtney Love and Frances Bean Cobain attend the 5th Annual Hilarity For Charity Variety Show at Hollywood Palladium on October 15, 2016 in Los Angeles, California.

Getty
Frances Bean Cobain and Courtney Love attend the "Rei Kawakubo/Comme des Garcons: Art Of The In-Between" Costume Institute Gala at Metropolitan Museum of Art on May 1, 2017 in New York City. Photo courtesy of Getty Images.

Kevin Mazur
Courtney Love and Frances Bean Cobain attend KENZO presents La Collection Memento N°2 with a traditional Japanese Kagura performance during Paris Fashion Week,

Victor Malecot
Frances Bean Cobain and Courtney Love attends the Saint Laurent show as part of the Paris Fashion Week Womenswear Spring/Summer 2018 on September 26, 2017 in Paris, France. Photo courtesy of Getty Images.

Dominique Charriau
Courtney Love, Jeremy Scott, and Frances Bean Cobain attend 'Other Peoples Children launch and store opening' at Other Peoples Children on March 8, 2018 in Los Angeles, California. Photo courtesy of Getty Images.

Emma McIntyre