Frances Bean Cobain Debuts First Original Song on Anniversary of Father's Death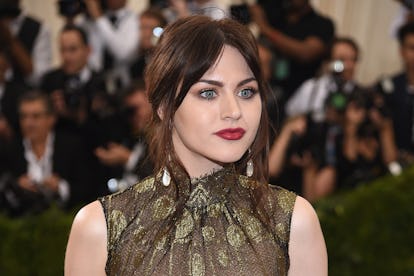 Dimitrios Kambouris/Getty Images
Frances Bean Cobain has previously emerged as a force in the fashion, art, and food worlds. But, surprisingly, the 25-year-old has only dipped her toes in the musical pond. She's showcased covers of Jimmy Eat World's "The Middle" and Leonard Cohen's "Hallelujah" on social media, and debut featured on Evelyn Evelyn's "My Space." But now the daughter of Kurt Cobain and Courtney Love is finally embracing her musical pedigree and giving fans a glimpse of her first original music in a short clip on Instagram.
Posted on the 24th anniversary of her father's death, the song begins, "I think I saw you when I was small/ I think I found you/ A penny for your good thoughts." She continues, "I think I found you/ Jesus hangs in your place on the cross/ All these hinges become unscrewed/ Heaven knows it was a cage on earth." Cobain explained in the caption that she removed all of the televisions in her house to force herself "to occupy my time with things that feed my brain & soul instead of wasting energy on thinking about not having to think."
On April 5, the official Nirvana Twitter page shared a photo of its late member with the simple message: "Dear Kurt—We miss you." Though neither Frances nor Courtney Love explicitly posted a message in tribute to the singer, it seems safe to say that the soulful song is an unspoken memorial to the model's father, who died at the age of 27 from apparent suicide.
Related: Frances Bean Cobain Tagged Her Own Marc Jacobs Billboard