Frances Bean Cobain Actually Went to Art Basel Miami For the Art
The budding artist really got around this week in Miami.
---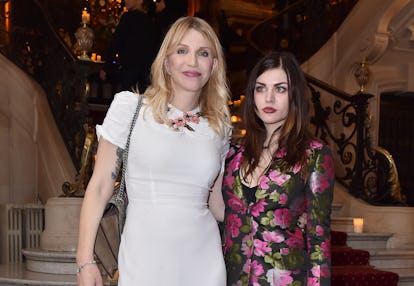 Photo by Jacopo Raule/Getty Images
Let's face it: Most people go to Art Basel Miami Beach for the endless parties. But not Frances Bean Cobain, apparently.
Page Six reports that the daughter of Nirvana frontman Kurt Cobain and Hole singer Courtney Love was actually spotted checking out the art on view, paying visits to a number of galleries around town. With the help of her singer mother, Frances Bean sought out an insider art tour of Miami, spending the morning at the de la Cruz Collection in the Miami Design District. It seems like Frances Bean particularly loved the sculptures by L.A.-based artist Thomas Houseago, who if you remember is the artist who taught Brad Pitt to sculpt (and to feel again).
Cobain attended at least one event, a party on Friday at the Fontainebleau by Philip Plein to kick off a capsule collection, but then again, it's possible the young scion, an artist in her own right, might actually have been in Miami to check out the art work. The same article noted that she's had two exhibitions of her work so far; the first when she was just 18 and then another this year. (Kurt Cobain, too, was a dedicated visual artist during his life.) She made "her debut at Los Angeles' La Luz de Jesus Gallery seven years ago, and then [presented] her second exhibition this summer at Gallery 30 South in Pasadena, Calif., where, according to reports, she sold all of her work within a week."
In her personal life, the sometime-model is currently battling for possession of her dad's guitar with her ex. Good riddance, at least. The only way to truly do Art Basel is to Art Basel while single. (Except that, according to her Insta, we're pretty sure she has a boyfriend.)
Related: 10 Instagram Highlights From Art Basel Miami, From a Giant Neon Vagina to the New Museum of Ice Cream
See Courtney Love and Frances Bean Cobain's Best Mother-Daughter Red Carpet Appearances
Courtney Love and daughter Frances Bean Cobain at the 1993 MTV Video Music Awards at in Los Angeles, California.

Getty
Courtney Love and Frances Bean Cobain during "The Grinch" Los Angeles Premiere at Universal City Amphitheatre in Universal City, California, United States.

Getty
Courtney Love dressed in a slouchy white satin dress and matching hat poses with daughter Frances Bean.

Getty
Courtney Love & Daughter Frances Bean Cobain arrive at an awards show in matching colorful slip dresses.

Getty
Courtney Love & Daughter Frances Bean Cobain attend a movie premiere, again matching in black dresses and festive jewelry.

Getty
Courtney Love and Frances Bean Cobain arrive at the American Idol Finale: Results Show held at the Kodak Theatre on May 25, 2005 in Hollywood, California.

Getty
Courtney Love and Frances Bean Cobain at the Mercedes-Benz Fall 2006 L.A. Fashion Week in Culver City, California.

Getty
Courtney Love and Frances Bean Cobain in Kay Jewelers Celebrity Retreat Produced by Backstage Creations at the 2006 Billboard Music Awards.

Getty
Courtney Love and daughter Frances Bean Cobain attend the Aquamarine premiere in Los Angeles.

Getty
Courtney Love and Frances Bean Cobain attend a Versace event in California.

Getty
Frances Bean Cobain and Courtney Love pose together at an event space.

Getty
Courtney Love and daughter Frances Bean Cobain are seen together during Mercedez Benz Fashion Week.

Getty
Frances Bean Cobain and musician Courtney Love attend the HBO documentary films Kurt Cobain: Montage of Heck Sundance premiere on January 24, 2015 in Park City, Utah.

Getty
Frances Bean Cobain and Courtney Love attend the premiere of HBO Documentary Films' "Kurt Cobain: Montage Of Heck" at the Egyptian Theatre on April 21, 2015 in Hollywood, California.

Getty
Courtney Love and daughter Frances Bean Cobain attend a special In Conversation event with Courtney Love as part of the Liberatum 'Women in Creativity' series presented by St Martins Lane on March 21, 2016 in London, England.

Getty
Frances Bean Cobainand Courtney Love attend LOVE Magazine and Marc Jacobs LFW Party to celebrate LOVE 16.5 collector's issue of LOVE and Berlin 1989 at Loulou's on September 19, 2016 in London, England.

Getty
Courtney Love and Frances Bean Cobain attend the launch party hosted by Christopher Bailey and Jefferson Hack to celebrate the Burberry and Dazed cover featuring Jean Campbell at Makers House on September 20, 2016 in London, England.

Getty
Frances Bean Cobain and Courtney Love attend Buro 24/7 Fashion Forward Initiative as part of Paris Fashion Week Womenswear Spring/Summer 2016 at Hotel Ritz on September 30, 2016 in Paris, France.

Getty
Frances Bean Cobain and Courtney Love attends the Givenchy show as part of the Paris Fashion Week Womenswear Spring/Summer 2017on October 2, 2016 in Paris, France.

Getty
Frances Bean Cobain and Courtney Love attend the Chanel show as part of the Paris Fashion Week Womenswear Spring/Summer 2017 on October 4, 2016 in Paris, France.

Getty
Courtney Love and Frances Bean Cobain attend the 5th Annual Hilarity For Charity Variety Show at Hollywood Palladium on October 15, 2016 in Los Angeles, California.

Getty
Frances Bean Cobain and Courtney Love attend the "Rei Kawakubo/Comme des Garcons: Art Of The In-Between" Costume Institute Gala at Metropolitan Museum of Art on May 1, 2017 in New York City. Photo courtesy of Getty Images.

Kevin Mazur
Courtney Love and Frances Bean Cobain attend KENZO presents La Collection Memento N°2 with a traditional Japanese Kagura performance during Paris Fashion Week,

Victor Malecot
Frances Bean Cobain and Courtney Love attends the Saint Laurent show as part of the Paris Fashion Week Womenswear Spring/Summer 2018 on September 26, 2017 in Paris, France. Photo courtesy of Getty Images.

Dominique Charriau
Courtney Love, Jeremy Scott, and Frances Bean Cobain attend 'Other Peoples Children launch and store opening' at Other Peoples Children on March 8, 2018 in Los Angeles, California. Photo courtesy of Getty Images.

Emma McIntyre