The Danish Girl: Freya Dalsjo Is a Fashion Designer to Watch
Preview what's to come for one of Copenhagen Fashion Week's rising stars.
---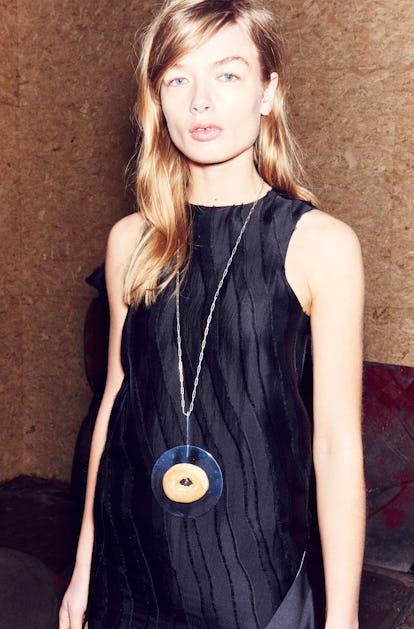 In 2012, Danish designer Freya Dalsjo burst onto the Copenhagen fashion scene, straight out of the Royal Academy of Art in Antwerp, with her brilliant outwear pieces. A few seasons later, several uber stylish women were sporting her artful, fur coats at the Copenhagen Fashion Week shows–and getting captured by the street style photographers thanks to the vibrant pops of unexpected colors (a stark contrast to the surrounding landscape of Copenhagen in the winter). It girl-of-the-moment Lindsey Wixson became a supporter of Dalsjo, both as her muse and campaign model. ("Lindsey Wixson has been my muse for years, she is almost too lovely to be true," says Dalsjo.)
Since then, Dalsjo and her contemporary line, which runs from $300 for a blouse to upwards of $12,5000 for a coat, have done some growing up. Her collection is now sold across the globe, in major cities including Dubai and New York, as well as Copenhagen. Last year, she was honored with the Designer of the Year prize at the ELLE Style Awards. Anne Christine Persson, VP and development director of Copenhagen Fashion Week, says, "She has changed a lot and she is really trying to find her look. She has been going through different styles and I have seen her mature a lot." Persson adds, "I think she is really one to watch."
In advance of her forthcoming runway show in Copenhagen this week, Dalsjo, one Denmark's most promising fashion talents, opened up about what she has in store for her cool girl label. "We are trying to re-define luxury on the most contemporary of terms, creating garments that invites for movement and comfort while keeping an appreciation for detail and craftsmanship," says Dalsjo of her approach. "We approach fashion design with a sensibility resembling more that of the painter or the sculptor, in which technical realization becomes a formative moment on its own."
Tell me briefly about your background. How did you get to where you are today? I work hard and I like it. First, I studied at the Royal Academy of Fine Arts in Antwerp for a while and then moved to Copenhagen where I got the chance to present my work during Copenhagen Fashion Week. That led to more shows and a team, brand, production, stores, etc. The process has been fast and slow at the same time. Honestly, everything started very unplanned, with no finance or knowledge and I was young and naive, but four years later, it has evolved a lot and I have learned so much from the process in doing everything from scratch. From sewing every piece myself in my attic to producing and having a team of 15 people.
What designers do you most admire? I am inspired by designers who are pushing the boundaries and expectations. Mostly, I am inspired by their approach to life and design more than the actual garments they create. Pheobe Philo, Demna Gwasalia, Nicolas Ghesquiere, Miuccia Prada and McQueen are among the many designers I think younger generations have a lot to learn from.
Who or what is motivating your work right now and how did it inform your upcoming collection? Design for me is about exploring and challenging the boundaries of material, the body and aesthetic. As a designer I aim to challenge these physical constraints and social constructs. Our ongoing collaboration with the Danish fur producer Kopenhagen Fur has enabled us to push the conventions for luxury material to the furthest. As an incubator for new techniques and processes, with a pertinent respect for animal welfare, our collaboration has continued to present new wearable innovations. Our designs are also a political or social commentary on what constitutes our understanding of style, and the definitions of beauty, femininity and elegance. While these concepts are seen in the garments, we also deconstruct and extend them. Conflicting elements are to me the basis of an aesthetic inquiry, and we often juxtapose adverse colors to form new aesthetic expressions.
I am very interested in different sorts of mess. Things situated in wrong contexts, odd contrasts and combinations, something that feels off or unusual. I wanted to mess the silhouette, identity or beauty ideal up a bit, creating something that felt more personal, real and inspired by how we usually dress, mixing very different types of garments in a look.
What materials and colors were you focused on this season? I am working with a wide range of colors, including light olive green, black, dusty lilac, rust, white, blue, grey, orange, and purple, in silk, cashmere, mink fur, linen, waterproof silk, hand-embroidered canvas, hand knitted pieces of metallic yarns and leather.
How do you feel your collections are evolving? What direction do you want to take your brand? I want to create something that feels relevant in terms of design, materials, usage, something you want to wear and keep. The world doesn't need more white T-shirts, it needs awareness and appreciation of sustainable production and products. Creatively I feel we get better, more honest and more clever with every collection we present. The brand was established in Copenhagen, but we are more than ever ready to present our design and visions on a global scene.
What is your take on the Danish fashion scene right now? A lot of the newer generation of Danish designers, as well as Copenhagen as a city, are getting more and more attention. Copenhagen fashion, in the past, was known for it cool simplicity and wearability, but now it's more creative than ever with designers collaborating with musicians and artists. I guess the light spirited mindset and small scale of the city makes it easy for like-minded people to bring their ideas to life. Copenhagen is very much a melting pot, bridging Scandinavian countries with England and central Europe, and there's an invigorating influx of creative types. You see more and more Copenhagen-based designers now showing in London or Paris and selling in the best concept stores and high-end boutiques. But I think this is only the beginning of what will emerge from Copenhagen. There is so much going on that is not yet getting attention in international media.
Photos: The Danish Girl: Freya Dalsjo Is a Fashion Designer to Watch
Freya Dalsjo. Photo courtesy of the designer.
Freya Dalsjo's designs. Photo courtesy of the designer.
Freya Dalsjo's designs. Photo courtesy of the designer.
Freya Dalsjo's designs. Photo courtesy of the designer.