Belles of the Ball at the Frick
The streets were slush-free. Temperatures were balmy. And the coat check girls looked bored to death. Was this really the Frick Collection's annual Young Fellows ball, the event that each year seems cursed with all...
---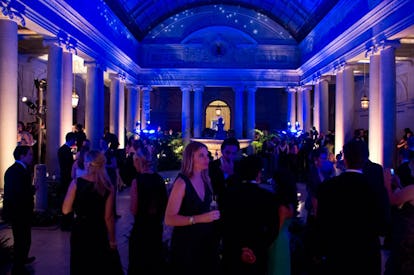 "I'm so glad it's not snowing!" said Olivia Chantecaille, one of the evening's chairs.
Not only was the ground blessedly lacking in powdery white—as a loyal attendee I can attest that the worst wintery mix is truly stiletto heels and a blizzard—but this year's dance, themed the Belle Epoque Ball (in honor of the museum's current Renoir exhibit) and sponsored by Donna Karan (not a yoga-friendly dress in sight, by the way, thank Krishna) drew more than six hundred young guys and gals aching to trot out their fin-de-siecle finery. So tender of age, in fact, that some more mature attendees had a hard time placing any acquaintances.
"I don't know who anyone is—who are these people?" said one fashion girl surveying the crowd meandering around the central fountain. "Everyone's young and attractive."
Everyone also had a very different interpretation of the dress code. One fellow walked around in a purple top hat, with a back veil trailing behind him, while another woman appeared to be wearing a kimono. Yet another wore an ice blue dress so voluminous in its tiers and train that it moved through the central courtyard's narrow perimeter like a Zamboni.
"That's Gone with the Wind meets Belle Epoque," quipped one guest.
For those who forsook any costumery, there were refreshments to get them in the mood. Waiters with silver trays procured champagne and rose in coupes and two cocktails.
"They all have French names," shrugged one guy when I inquired about the latter's ingredients. (Turns out they were white cranberry-vodka and jalapeno-tequila concoctions.)
Servers maneuvered around dress trains passing out mini blinis with caviar, salmon tartare and mini spring rolls, while in the room comprising the dance floor and a DJ, a buffet offered charcuterie, cocktail shrimp, mini quiches and, rather quixotically, beets tartare.
It was all probably quite a new spectacle for those just beginning their charity circuit years. And even more experienced types seemed to be relishing the ambiance. In one corner, Tinsley Mortimer looked rather zen, sipping her cranberry cocktail.
"I took a break for two years, it was all too much," she explained of her absence from the society pages. "And now I'm back and it's actually fun! And I'm single, so I'm ready to meet my man at the Frick," she continued, with a laugh, adding hastily, "No not really."
Happy hunting.
Photos: Fenet, Shaw, Lang, Cunningham; Mortimer: Mary Hilliard; all others: Christine A. Butler