Screen Saver
Gucci's Frida Giannini isn't just doing the red carpet shuffle—she's staking a place for the brand in film history.
---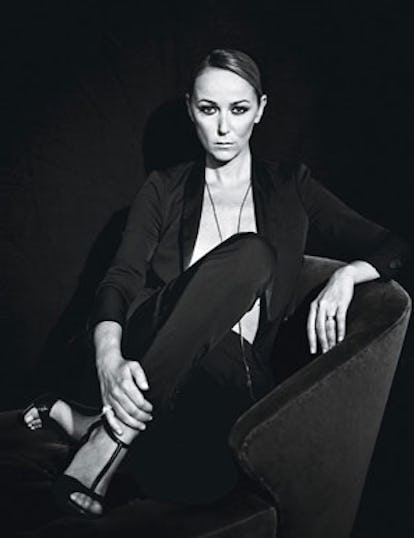 When you're a designer in charge of an iconic fashion brand, you're generally expected to affirm your deep and long-standing personal connection to the label's history and heritage. Frida Giannini, who's now in the seventh year of a successful run as the creative director at Gucci, would seem to be doing her bit by sitting for an interview in a suite at the Hotel Cipriani during the Venice Film Festival in August. Evoking Gucci's tradition of equestrian glamour, she speaks affectionately of the horse she rides on weekends near her country house, south of Rome. And there's evidence that Giannini really has been hanging out at the stables: Her Gucci resort collection blouse is accessorized with the blindingly white standard-issue neck brace she has worn since getting whiplash from a fall while riding a few days ago.
But Giannini makes a surprise admission regarding another key element of the Gucci image—its high-profile ties to the film world. Although the company has cultivated a Hollywood connection since the 1940s and in recent years has been pouring money into a wide range of cinema-related ventures—including two that are being feted in Venice—the truth is that Giannini can't stand going to the movies. "I'm always fighting with someone," she says, noting that Italian audiences tend to be particularly loud and unruly during screenings. "I really hate people talking, phones ringing, that kind of stuff. So I prefer not to get nervous and to stay at home."
Fortunately for Giannini, she has a comfortable screening room at her house in Rome, where she watches movies of all sorts. And it turns out she is the driving force behind the company's current film fixation. Since 2006, Gucci has donated more than $2 million to Martin Scorsese's Film Foundation, which has preserved and restored classics ranging from John Cassavetes's 1974 A Woman Under the Influence to Francesco Rosi's riveting 1972 thriller Il Caso Mattei, which was screened at the Venice Film Festival last year. The annual Gucci Award for Women in Cinema recognizes achievers in an industry that remains stubbornly male-dominated. (In 2011, Madonna presented the award in Venice to the actress Jessica Chastain; last year, Salma Hayek handed it to the film editor Thelma Schoonmaker.) There's also a partnership with New York's Tribeca Film Institute to provide finishing funds for documentaries; in December Gucci sponsored MoMA's major retrospective of the filmmaker Pier Paolo Pasolini; and every year, the label underwrites the Los Angeles County Museum of Art's Art + Film Gala, the splashy fundraiser that was particularly celeb-studded in 2012, luring the likes of Jack Nicholson, Cameron Diaz, and Robert Pattinson.
"What Gucci has done is truly extraordinary," says Scorsese. "The resources they've put toward film preservation have been invaluable and have helped remind people of the transformative power of cinema."
Of course, it's not lost on Giannini that spending big bucks in the film world can confer a few advantages to Gucci, including more chances to get its clothes on movie stars. At the Venice Film Festival, the company's celebrity-dressing squad huddles in the bar of the Bauer Palladio Hotel over spreadsheets delineating every Gucci item circulating in the city that weekend, down to belts, bags, and shoes. This is to ensure that if, say, the actress and writer Brit Marling (nominated for Another Earth) decides to carry a certain black brocade clutch to a screening or a party, the costume designer Colleen Atwood (nominated for Snow White & the Huntsman) won't show up with exactly the same one.
Giannini downplays the direct impact of red carpet fashion credits on the company's sales figures, but she cites one key benefit of Gucci's movie initiatives: their role as a sort of A-list matchmaking service. "These events are a great opportunity for me to meet actors and actresses and start a relationship," she says. Given all the stylists, managers, and other middlemen running interference between the labels and the celebrities these days, it's often impossible for a designer to know who's making the decisions or what the person really wants to wear. "That's why sometimes you see very weird things on red carpets all around the world," she adds. "But when you can collaborate with the person directly and really understand their needs, it's much easier to design something for them, and for them to wear it in a more confident way, which is the key."
Diplomacy is sometimes required. Hayek is not only married to François-Henri Pinault, the CEO of Gucci's parent company, PPR—she is also, notes Giannini, "a very demanding woman who knows exactly what she wants to wear, exactly what colors." Madonna also tends to have strong opinions about these things. And Ryan Gosling sent ripples of panic through the Gucci atelier in 2011 when he announced that he wanted his made-to-measure suit for the Los Angeles Ides of March premiere to be—horrors!—green. "Usually when I receive this kind of request, I just say, 'No! I hate green!' " says ­Giannini. "But I know this guy. He is very smart and has good taste. I said, 'Okay, let me work around the green.' So I did a proposal for him with a kind of forest green, something different." The look was a hit on fashion websites. "Ryan was so beautiful in that suit. And I was so proud."
After a few difficult seasons at the start of her tenure as creative director at Gucci in 2006—a time when many fashion editors and buyers were still nursing crushes on her glamorous and media-savvy predecessor, Tom Ford—Giannini, who was only 34 then, has since more than proved herself as both a designer and a businesswoman. Critics have warmed up to her deft way of combining rock 'n' roll edge, feminine whimsy, and Riviera chic, and the label's annual sales have grown to more than $4 billion. On the film front, Gucci's increasingly deep pockets come in handy when it's time to write checks, big and small. James Franco, who's had close ties to the brand since he appeared in an ad for the fragrance Gucci Pour Homme in 2008, says Gucci has been "incredibly supportive of my projects," starting with the short films he directed while at New York University. To help entice Madonna to present the Women in Cinema award to Chastain in Venice in 2011, the company quietly paid for a party at the Bauer Hotel for her film W.E., which was screening at the festival. And when Scorsese was busy on the set of Hugo in London on the day that the Film Foundation's restored version of La Dolce Vita had its premiere at a black-tie gala in Rome, Gucci arranged to have a private jet fly him in for the event.
Whenever the cameras are turned on Giannini, however, the almighty Gucci machine can sometimes make things complicated. Although she is instinctively pragmatic and discreet, exhibiting few of the natural-born-diva traits common to designers, on the job she's surrounded by a reverently protective force field worthy of the Pope. Franco, who has lately been shooting a documentary about Giannini at work, struggled for months to get access to internal meetings—never mind that he's a friend of Giannini's and that Gucci is financing the movie and has final approval of its content.
"I have to say, Frida is an extremely private person," Franco confides. "And a little shy. I don't think she or anyone there really understood how this movie would be made. I kept saying, 'Look, it's me! I'm not trying to expose some dark side of Frida, if there even is one. I just want to document the creative process. Just let us shoot it, and we'll only put the good stuff in.' But it's been, like, more than a year-long process of trying to get enough footage."
In Italian there's no exact equivalent for the term "control freak," but Giannini, who was born and raised in Rome, admits that friends describe her as "Swiss Roman" because of her extreme meticulousness and punctuality. "I'm very precise, and I need to organize everything," she says. "This is a consequence of my job. And also a way to manage the stress." Even with all the good news at Gucci lately, she gets stomachaches and has trouble sleeping. "If you meet me just a few minutes before a fashion show, I'm smiling and I look like I'm completely calm. But I'm not." Still, she's made progress: "I feel a bit more confident," Giannini says. She no longer gets nervous when she meets a celebrity or a journalist.
Lately, Giannini's main source of anxiety is her perpetually jammed schedule. It's one thing to design 12 collections per year, but another to do it between jaunts to Shanghai, meetings about online-branding strategies, and interviews with major Indian magazines that didn't exist three years ago. Somehow Giannini continues to find time to weigh in on such things as the typeface and paper stock of the invitation to tonight's awards gala.
Giannini will soon have a whole new array of responsibilities to juggle: She and her live-in partner, Gucci CEO Patrizio di Marco, are expecting a baby girl in March. "It's really incredible for me," she told me in November, when the news had been confirmed. "We were hoping for a couple of years. A baby is something that I was missing in my life." She's not sure how having a child will affect her work, so she is already speeding ahead with the 2013 cruise collection.
Back in Venice at the awards dinner at the Hotel Cipriani, where lobster and champagne are being served under massive Murano chandeliers in a cavernous 19th-century former granary, Giannini sits next to Charlotte Casiraghi. She's wearing an embroidered black-on-black leopard-print gown from her fall collection—and no neck brace. Did she even consider wearing the brace tonight, in front of the cameras? "Not really!" she says with a laugh. Hayek steps up to the podium and makes a stirring case for more equality in the movie business, citing stark statistics. "In the film industry, pornography is actually the only place where women make more money than men!" the actress says. During breaks, Giannini slips into the outdoor tent to schmooze with Italian clients and check out photos on her pal Ginevra Elkann's BlackBerry.
After the ceremony, there's a photo call for Schoonmaker and some of the nominees, who include the Oscar-winning documentary filmmaker Sharmeen Obaid Chinoy and the Lebanese actress and director Nadine Labaki. Giannini and Hayek join them, and they all huddle in an embrace that evolves into a group hug. Obaid Chinoy looks a bit out of place, since she's wearing a bright orange jumpsuit, designed by her friend Maheen Karim. Everyone else is wearing Gucci.
The Photos: Heavenly Creature
Frida Giannini and Gucci CEO Patrizio di Marco at the Gucci Award for Women in Cinema.

Stylist: Edward Enninful
Florence Welch performing at the LACMA gala.

Stylist: Edward Enninful
1964 photo of Ed Ruscha, who was honored at the LACMA Art + Film Gala, October 2012.

Stylist: Edward Enninful
Salma Hayek and François-Henri Pinault.

Stylist: Edward Enninful
Giannini, Thelma Schoonmaker, and Hayek at the Gucci Award.

Stylist: Edward Enninful
Sharmeen Obaid Chinoy, Hayek, Colleen Atwood, Giannini, Schoonmaker, Brit Marling, Nadine Labaki at the Gucci Award.

Stylist: Edward Enninful