Frida Kahlo Would Not Have Approved of Being Turned Into a Barbie Doll
Her family reportedly isn't happy about it, either.
---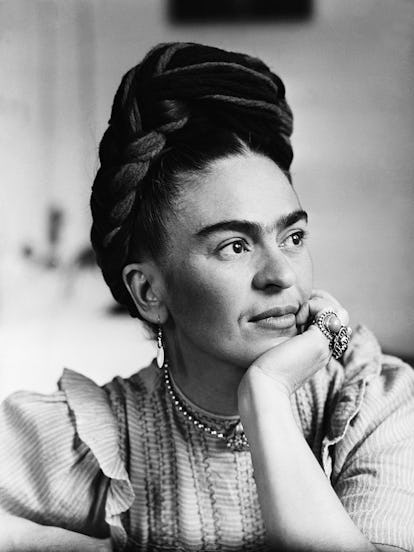 Bettmann/Getty Images
Frida Kahlo's image was recently turned into a now sold-out Barbie doll, and the late artist's family is not happy about the results.
In a statement released by Kahlo's family, the artist's great-niece is listed as "the sole owner of the rights of the image of the illustrious Mexican painter Frida Kahlo." Mara de Anda Romeo, Frida Kahlo's great-niece, claims that rights to Kahlo's image were never cleared with the family before Mattel adopted the artist's likeness for a Barbie doll as part of Barbie's Inspiring Women Series, which also includes dolls based on Amelia Earhart and Katherine Johnson, whose story was made popular by Taraji P. Henson in the 2017 film Hidden Figures.
Mattel, however, counters Romeo's assertion that they did not receive rights to Kahlo's image, adding that they have been granted permission with "a legally binding agreement to make a doll in the likeness of the great Frida Kahlo" from the Frida Kahlo Corporation, which claims to own the rights to the name and identity of the late artist.
Not only do Kahlo's relatives say they did not give Mattel approval to make a doll in her image, they and other fans are upset that the doll does not accurately reflect Kahlo's appearance. The similarities between the real Frida Kahlo and the Barbie created in Kahlo's likeness end at the flowers in her pinned-up hair. The doll does not have the artist's signature unibrow, nor does it have the dark-colored eyes Kahlo had in real life. As important as Barbie's Inspiring Women Series may be for showcasing historical figures as role models for all children, Kahlo's family wishes that a respectful and accurate depiction of the artist would have been created instead. "I would have liked the doll to have traits more like Frida's, not this doll with light-colored eyes," Romeo said in a statement, criticizing the toy iteration of her great-aunt.
Aside from this dispute between the two parties, a bigger issue is emerging in the discussion of this doll created to look like Kahlo, which is that as an artist with Marxist and staunchly anticapitalist ideals, Kahlo would never have approved the creation of a collectible toy item in her image.
The Frida Kahlo Corporation, the organization that claims to represent Kahlo's family and owns the right to Frida Kahlo as a brand name, also released their own statement on the matter. "[The corporation] celebrates the ideological contributions of Frida Kahlo, which have transcended the borders of art and which will influence new generations as a world icon through the Frida Kahlo Barbie." But Kahlo's "ideological contributions" would likely not match up with those of Mattel's.
Shortly before her death, in 1954, Kahlo painted "Marxism Will Give Health to the Ill," in which a hand extends to choke an Uncle Sam figure, a blatant depiction of capitalism and the United States, while Kahlo holds a red book and is held by the hands of Karl Marx, representing her trust in communism. Frida Kahlo merch is ubiquitous—phone cases and T-shirts with her face are bought and sold on many sites and shops around the world—but her modernist paintings created in response to the Mexican Revolution of 1910 reflect a political and revelatory criticism of commercialism, and the artist would likely bristle at the thought of her likeness being transformed into a commercial item like a Barbie doll.
As for Romeo, she has begun legal proceedings in regards to the dispute with Mattel, and hired a lawyer named Pablo Sangri, who released an official statement on her behalf: "We will talk to [Mattel] about regularizing this situation. And by regularizing, I mean talking about the appearance of the doll, its characteristics. The history the doll should have to match what the artist really was."
Related: For Frida Kahlo's 110th Birthday, More Than 1,100 Frida Kahlos Partied in Dallas