'Friends' Co-Creator Struggles With the Show's Very White Legacy
During a digital panel, Marta Kauffman teared up while recounting the show's lack of representation. "I wish I knew then what I know today," she said.
---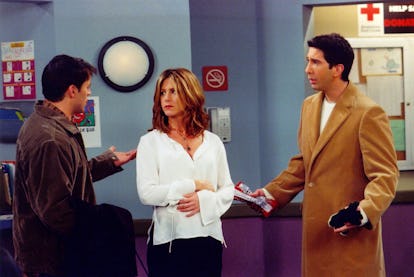 Getty Images
New York City has a bustling multi-cultural and diverse population, but if you tuned into several popular sitcoms in the '90s you often saw the city portrayed as a homogenous playground for upwardly mobile young white people. Perhaps nowhere was this more apparent than on Friends.
Though it ran for 10 seasons, the show's most frequently recurring black character Charlie Wheeler, played by Aisha Tyler, didn't appear until the final season, and was only featured in nine episodes. Aside from Tyler, according to IMDb credits, the show's other most frequent black character was Chandler's boss Steve, played by Phill Lewis who only appeared in three episodes (also all in the last season). That's to say nothing of the show's many, many jokes that haven't particularly aged well.
Appearing on a digital panel for ATX TV, Friends co-creator Marta Kauffman teared up while recounting the show's relative lack of minority representation.
"I wish I knew then what I know today," Kauffman said. "Sorry, I just wish I knew then what I know now. I would've made very different decisions."
"I mean we've always encouraged people of diversity in our company, but I didn't do enough and now all I can think about is what can I do?" she continued. "What can I do differently? How can I run my show in a new way? And that's something I not only wish I knew when I started showrunning, but I wish I knew all the way up through last year."
Friends was certainly not alone in its relative lily-white representation of New York City. Seinfeld, Sex and the City, Will & Grace, Just Shoot Me, How I Met Your Mother, and more recent programs like Girls all beamed an incredibly white-centered view of gentrified urban life directly into America's living rooms week after week. It's no surprise that the massive popularity of these programs have been cited as playing a role in New York's further gentrification; it's worth noting that the city actually now has a smaller black population, in terms of both percentage and total numbers, than it did in the '90s.
While that era also saw a historic uptick in black sitcoms, including Living Single, Martin, and A Different World, few have attained such a lasting place in mainstream culture. When was the last time you heard about the streaming services bidding a billion dollars for the rights to a black sitcom?
Looking beyond the cast list into the productions credits for those shows also provides insight. Friends was co-created by a white woman and an openly gay white man. Sex and the City was based on a book by a white woman, and its two main creative forces, Darren Star and Michael Patrick King, were both white gay men. Will & Grace, too, was the creation of two white men, one of whom was openly gay—illustrating that even white women and gay men in power have just as many racial blindspots as their straight male peers.
Perhaps A Black Lady Sketch Show creator Robin Thede, who joined Kaufman on the panel, summed it up best.
"You guys are just as much a part of systemic racism as well because it's a system," Thede said. "That's what I keep telling people. It's not one person being racist ruining everything, it's a system that was set up by racists to encourage and teach racism and disguise it. No one was supposed to know it was wrong, that was the point. We were supposed to look like we were yelling for no reason. We were supposed to look like kneeling was an offense to the flag and not a cry to stop killing us."
"We're supposed to be made to look bad. And now, people know better and when you know better, you do better and that's all that people are asking for."