From Marie Antoinette to the Brant Brothers: A Brief History of Spoiled Scions
Why are we so obsessed with wayward rich kids? From the time of Greek gods, we've been watching their foibles and basking in the schadenfreude. The Brants are just upholding a rich tradition.
---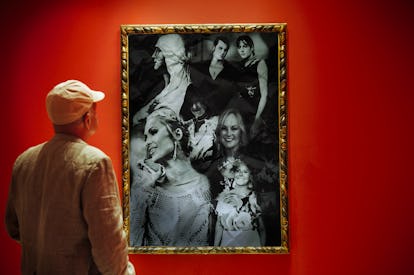 Collage by Biel Parklee.
Humans have always had a fascination with spoiled rich kids. Is not a large portion of Greek mythology just Zeus's various progenies scheming about? The species' long-term commitment to monarchy as a valid form of government means that much of world history is shaped by the whims and wishes of people who did nothing to earn their power aside from simply being born into it. And of course, a tale of a wayward scion is baked right into the Christian bible: Jesus's parable of the prodigal son is essentially the story of an immature kid who wastes his entire inheritance on silly extravagances.
Our obsession with spoiled rich kids continues to this day and it starts young. The spoiled rich kid character is often the main antagonist in children's shows and teen movies. It's a trope that includes characters ranging from Cinderella's evil stepsisters to Gretchen Wieners, the toaster strudel heiress of "Mean Girls."
We love nothing more than seeing the spoiled kid get their comeuppance. Perhaps we all fear that those born to more means are somehow inherently better than us, but when they show their ass and prove it to be untrue, we can't help but gawk and take pleasure in their misery. The spoiled scion is the flip side of another popular trope, that of the rags-to-riches story. One was born into nothing and through hard work and skill manages to elevate themselves. The other, through outrageous behavior, ends up dragging their family's sterling name through the mud.
When real life examples present themselves, they make excellent tabloid fodder. We can't help but be intrigued. However, in today's world, much like the father in Bible's prodigal son tale, society is willing to excuse their behavior if they end up showing even an ounce or remorse and rehabilitation. They might even be able to turn their wayward youth into two seasons of a basic cable reality TV show and a handbag line that's moderately successful in Asia.
Here, now, are some of recent history's most notable examples of wayward scions.
Caterina Sforza Family Money: Daughter of the Duke of Milan. Scandal: Terrorized medieval Rome as a warlord. Reward for Infamy: Regarded as a folk hero by some in her time. In modern days she's been depicted in both the television show "The Borgias" and the video game "Assassin's Creed II."
Sforza may have been born as the illegitimate daughter of the Duke of Milan back in 1463, but that still received a full education and the privileges of life growing up in court. She eventually married the then pope's nephew, and enjoyed the wealth and security of having a duke as a father and the actual pope as an uncle-in-law. In fact, she was one of the most admired women in Rome for a bit. Then the pope died, and all hell broke lose. Looting, riots and rebellions broke out, and Sforza would spend much of the rest of her life fiercely protecting her riches and power. Her life was a complicated saga, but here's a small sampling of things she was said to have done:
Crossed a river on horseback to capture a castle…while seven months pregnant.
When enemies threatened to kill her children, she lifted up her skirt to expose herself and shouted, "Do it, if you want to: hang them even in front of me…here I have what's needed to make others!"
May or may not have attempted to poison the new pope.
Ordered the torture of her enemy's infants.
Was, generally, a warlord.
A lot of other heirs that follow may have done some awful things, but, at the very least, no one else on this list ordered the actual torture of infants.
Marie Antoinette Family Money: Daughter of Francis I, Holy Roman Emperor. Scandal: A bad response to being in the wrong place at the wrong time. Reward for Infamy: Depicted in Sofia Coppola's 2006 film.
Marie probably wasn't that much unlike many other young princesses throughout history. She just had the unfortunate fate of being married off to the man who would become the king of France during the country's revolution, and, well, Antoinette did not handle it well. Rebels held Antoinette up as a symbol of the excess of monarchy thanks to her extravagant spending. Word spread that her response to the plight of starving commoners was "Let them eat cake," though there's no actual evidence she actually said such a thing. Historians are still divided as to how much Antoinette was actually to blame for contributing to the view of the monarchy as frivolous and out-of-touch, but her rebellious subjects cheered the news of her eventual execution.
Pannonica de Koenigswarter Family Money: Scion of the Rothschild Family. Scandal: Abandoning her children in favor of pot and jazz. Reward for Infamy: A number of jazz songs are named in her honor.
Not every heiresses' rebellious period comes when they're young. Born to Charles Rothschild and a Hungarian baroness, Keonigswarter's early life played out in a way that was expected of her. She married a French Baron in 1935, and became a baroness in her own right. The couple raised five children in a castle in the idyllic French countryside and were leaders in the anti-Nazi movement in France during World War II. In 1951 however the couple separated, and Koenigswarter – or Nica as she was known to friends – decided the best thing to do was to leave her children behind and hang out with Jazz musicians in New York City. The separation and abandonment shocked the Rothschild family, and she was basically excommunicated. She made new confidants in the form of Charlie Parker (who died in her hotel room) and Thelonious Monk. In fact, when she and Monk were busted for marijuana possession, Koenigswarter decided to take the fall.
Patty Hearst Family Money: Heiress to William Randolph Hearst's publishing fortune. Scandal: Joining an actual terrorist group. Accomplishments and Merchandise: A best-selling memoir and a string of roles in John Waters movies.
While a student at University of California Berkeley, the 19-year-old heiress was abducted by a two-bit leftist terrorist group that had grown out of a study group. The Symbionese Liberation Army held Hearst captive for almost a month until she became sympathetic to their cause and ended up touting machine guns and acting as a getaway driver during their various crimes. After eventually being caught, Hearst was convicted of bank robbery while using a firearm despite her defense team's assertion that she had been brainwashed. However, President Jimmy Carter ended up commuting her sentence. Hearst ended up writing a memoir, hosting TV specials, and appearing in a number of Waters' movies. She also gave birth to two daughters who would later gain attention as more conventional socialites, Gillian and Lydia Hearst-Shaws.
Donald Trump Family Money: Trump took control of his father's construction and development firm, Elizabeth Trump & Sons. Scandal: Every third sentence out of his mouth it seems. Reward for Infamy: Trump has at times slapped his name on almost everything, including men's clothing, colognes, a magazine, bottled water, a for-profit college, and, currently, the Republican nomination for president of the United States.
Trump's father Fred had already assembled a real estate empire that focuses on rental housing in New York's outer boroughs. Though, rumor has it that when the elder Trump wanted to start doing business in Manhattan in the '70s he essentially used his son as a frontman to shield his own questionable reputation. The younger Trump flourished in the role, and soon expanded his father's company into Manhattan and then beyond New York as a slinger of luxury hotels and condos. Trump, of course, has been plagued by the lack of anything resembling a filter throughout much of career and was a favorite target of the New York tabloids – not to mention Spy magazine – throughout the '80s and '90s. They chronicled both his failings in marriage and in his business life. Somehow though he managed to forge even larger stardom through his reality television show "The Apprentice," and currently, through politics. If it's any consolation, he's currently being handily beaten in the polls by a woman who grew up in the middle class Illinois suburbs.
Paris Hilton Family Money: Heiress to the Hilton hotel fortune (though, reportedly, much of her grandfather's estate will be donated to charity.) Scandal: A sex tape and a nearly decade-long stint as a tabloid fixture. Reward for Infamy: Hilton wound up starring in "The Simple Life," dabbled in both acting and music, and maintains an accessories and perfume line that has maintained particular popularity in the East.
A true trailblazer in commodifying this particular type of notoriety, Hilton managed to turn niche notoriety afforded to her by frequent write-ups in the New York Post's Page Six column into global superstardom thanks to the help of a sex tape and, shortly after, a reality show on Fox with Nicole Richie. A handful of arrests may have humbled Hilton a bit, but the heiress still continues on as an international party girl, now with her own DJ career. Reportedly, her grandfather will leave his actual inheritance to charity, but, that's fine – Hilton has managed to amass her own comfortable fortune through her numerous business exploits. And, she's a role model for her brother Conrad, who's getting an early start on infamy.
Elizabeth Paige Laurie Family Money: Heiress to the Walmart fortune. Scandal: Cheating – on her term papers, and her marriage. Reward for Infamy: Nothing. Yet.
One of the heirs to America's biggest family fortune, Laurie was forced to return her degree from the University of Southern California in 2005 after her freshman roommate claimed the wealthy blonde paid her tens of thousands of dollars to do her homework, write her term papers, and finish her assignments. To be fair, the roommate was paid more than many of Walmart's actual employees. Meanwhile, Laurie also had her name plastered on a sports arena at yet another school, the University of Missouri, after her family donated millions. Missouri removed her name from the building as a result of the scandal. More recently, Laurie went through an acrimonious divorce during which she was accused of the marital-type of cheating.
The Brant Brothers Family Money: Sons of industrialist Peter Brant and supermodel Stephanie Seymour. Scandal: Duel arrests for causing havoc at an airport and in a taxi. Reward for Infamy: The brother's have a unisex makeup line with MAC cosmetics.
Ah, the Brant Brothers. They burst onto the scene like a reboot of the Hilton sister for a new age, but the Brants' infamy hasn't quite expanded beyond niche status. Yet, that is. Though, the pair seems to be working on expanding their bad boy images. They were each arrested for the first time this year. Peter for punching a security guard at JFK airport, Harry for skipping out on a cab fair in Connecticut.