IV Drips and Cryotherapy Facials: Is This The Future of Spas?
The Standard hotel is betting that it is with a new spa that promises all sorts of bells and whistles in one spot.
---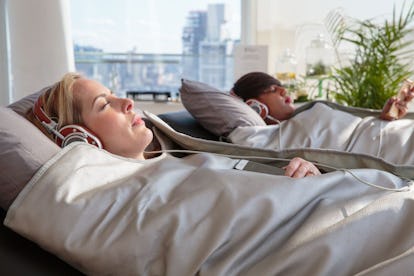 When you think of a spa day, you think of steam rooms, deep tissue massages, facials, and maybe soothing smells like lavender or mint. New Age music might be playing in the background. But you won't find any of those things at new Future Spa at The Standard, East Village, which officially opens April 9 and will run every Saturday for the rest of the month.
Located in the hotel's penthouse, the spa features treatments already offered by various companies – such as infrared treatments, IV therapy, and cryofacials – but in one conveniently full-service spot with a killer view of the New York skyline. The experience feels more medical than spa-like, but it promises you'll leave feeling energized and invigorated.
During the 10-minute cryofacial, a Cryosphere technician blasts your face with dry nitrogen vapor. It's short and painless (unlike stepping into cryotherapy chambers for the full body experience, which can sometimes be so cold it's extremely unpleasant), and it's supposed to tighten the skin and promote collagen growth. While its long term effect is debatable, it's the sort of instant refresher that might come in handy during New York Fashion Week.
The intravenous nutrient therapy, which is perhaps best known these days as an excellent hangover cure, claims to be helpful in removing toxins and heavy metals out of your body quickly. The registered nurses put the IV in your arm and all you have to do is kick back as your body takes in a strong dose of vitamins. Their menu has options, like The Refresh, which includes up to two liters of fluids mixed with a mega dose of Super Vitamin B mix.
Or, there's the 60-minute cleanse, a mega dose of Vitamin C, an amino acid boost, and Glutathione detox push that the nurses likened to a quickie juice cleanse, without having to starve yourself for days. You're energized from the IV drip for 45 minutes to an hour, but this reporter still felt the positive effects hours later. (For those who want to start doing this regularly, NutriDrip is opening a location on 57th Street and Park Avenue in May, where they'll eventually have a membership system for those who want to go on the regular.)
Then there is the infrared treatment, offered by HigherDose, which is allegedly good for detoxing, as well as improving circulation, relaxation, and burning calories. Once you take a shot of detoxifying juice (like the Master Cleanse, it combines water, cayenne pepper, lemon, and maple syrup), you hop into an infrared heat wrap and sweat out all the junk in your body. Or anyway, you're supposed to. All the while you're listening to music. Or talking to the attendants, like I did.
Those who don't love heat will have a tougher time here, because it gets scalding and very quickly. The key, however, isn't how long you stay in but to make sure you stay until you are dripping sweat. It's at this point you've reaped the benefits of the treatment. I managed to last 35 minutes, but the two women next to me bolted after 15. I guess if you can't stand the heat…future spa is not for you.
Beauty Hacks of New York Fashion Week
Dick Page taught us to apply blush under our foundation at Zero Maria Cornejo Fall 2016. It uses less base, and gives cheeks a believable flush.
Photo by Getty Images.
Anthony Turner showed us that elegance means showing your neck at Creatures of the Wind Fall 2016.
Photo by Isabel Martinez for W magazine.
Yadim revealed that tapping blush across the cheeks and the bridge of the nose gives a natural, and that adding gloss to the tips of lashes will catch the light at Jason Wu Fall 2016.
Photo by Getty Images.
Orlando Pita started with mousse for a beautiful blowout at Carolina Herrera Fall 2016.
Photo by Olivia Locher for W magazine.
Diane Kendal proved that doubling up on your liner – at the lid crease and lash line – can be chic, and young. at Oscar de la Renta Fall 2016.
Photo by Peter White for Getty Images.
Paul Hanlon illustrated that tucking long hair into your shirt extends a long, lean silhouette." Vera Wang Fall 2016.
Photo by Victor Virgile/Gamma-Rapho for Getty Images.
Pat McGrath made the point that sometimes, restraint makes the loudest statement at Victoria Beckham Fall 2016. Only use a lip color that really suits your skin tone.
Photo by Victor Virgile/Gamma-Rapho for Getty Images.
Diane Kendal showed us her tool of choice for brushed up brows – a mustache brush – at Oscar de la Renta Fall 2016.
Photo by Peter White for Getty Images.
Guido Palau proved that a good haircut really can change your life at Alexander Wang Fall 2016.
Photo by Olivia Locher for W magazine.
Photos, by Bart Kol, courtesy of The Standard.