One Seat Fits All
Designer Gabriel Maher brings genderless furniture to a new exhibition.
---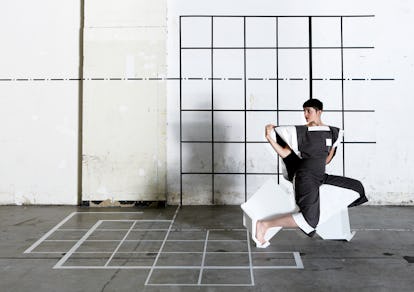 Within the Museum of Arts and Design's survey of female artists and designers from the mid-19th century and today, which opened in New York last night and features the work of everyone from Sheila Hicks to Eva Zeisel to Hella Jongerius, the non-binary practice of Gabriel Maher, an industrial designer who identifies as genderqueer, stands out. Known as the architect of a genderless chair that moves in concert with the sitter whether their posture reads as man or woman—as anyone who has tried to get a seat on the New York subway will tell you, manspreading is real—Maher occupies a unique position within this pointedly gendered group show. "The idea of woman can mean so many different things to so many different people," Maher says. "That's where I start to question the greater dialogue of an exhibition about women in design."
In a world where Bruce Jenner suddenly emerges as a very creditable and passionate spokesperson for the trans community, where just last month Selfridges created a pop-up "genderless shopping experience," and where Transparent wins a Golden Globe, the design world is surprisingly lagging behind the cultural conversation. "When I started out, I thought design was much more neutral," Maher admits. But after conducting a study of the industry magazine Frame, whose vocabulary and photography is heavily gender-biased in favor of men, Maher felt otherwise. "In artistic circles, queerness and trans-politics is quite reactive and very present," the Dutch designer explains. "Whereas in design, it's still very safe. You can see that it's very embedded in consumer culture, which still uses coded language and imagery."
But Maher, whose chair is not included in the exhibition—but which you can see in a video work that is, in addition to a genderless garment of Maher's design—is optimistic about the way things are headed. "The cultural shift is starting to filter down, and there's lots of backup from younger designers coming up. The next generation is much more aware of gender codes."
"Pathmakers: Women in Art, Craft and Design, Midcentury and Today" is on view through September 27 at New York's Museum of Arts and Design, 2 Columbus Circle.