Game of Thrones' Future Finally Has a Timetable
The pilot prequel will film sooner than you think.
---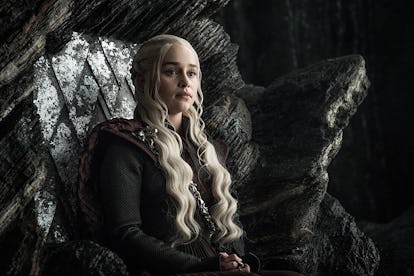 Courtesy HBO
Even if you've read the books, you never quite know what's going to happen next on Game of Thrones…or, for that matter, with Game of Thrones. We've all known vaguely for some time that the upcoming eighth season would be the show's last, and that after that, HBO may move forward with a spinoff show (or possibly two). We just didn't know exactly when it would happen.
Well, according to TV Line, at today's presentation before the Television Critics Assocation, HBO president Casey Bloys finally gave the world some concrete timetables and as to when exactly you can expect to see more of Cersei, Daenerys, and company, and it certainly won't be anytime in the year 2018.
Bloys narrowed the premiere date to the first half of 2019. That's a six-month window, but at least now we have a vague idea of how long we have to complete our re-watch of the entire previous seven seasons. Or to even just catch up, as the case may be. Hey, even people who've never seen the show still have plenty of time to binge it all before the final handful of episodes (in fact, they probably should, because much like how Snape killed Dumbledore, any major plot points are going to be common knowledge the day after the finale airs, even to those who didn't watch the show).
That's all well and good, then, but what about that spin-off?
Well, Bloys had news on that front, as well.
With the main show's show runners, David Benioff and D.B. Weiss, not involved (they've got some Star Wars movies to attend to instead), HBO devised a plan in which it'd have five separate writers or teams of writers pitch five different ideas. The network previously announced that the idea dreamed up by Kick-Ass and Kingsman cowriter Jane Goldman and series author George R.R. Martin had won: set thousands of years before the previous series and depicting the kingdom's downfall from it's most glorious era into its darkest age.
Production on the pilot, as it turns out, could begin even before the final season of Game of Thrones airs.
"We're just starting the search for a director…. We have to cast it," Bloys said. "We hope to be shooting sometime in the new year."
We're assuming the phrase "we have to cast it" just caused a mass outbreak of goosebumps among aspiring actors everywhere from Hollywood's talent agency waiting rooms to the backstages of theaters in England. It seems those potential future Westeroians have only a few months to get their head shots in order.
Then, after that, all bets are off. We should point out that the project is just a pilot at the moment, and HBO hasn't committed to actually ordering a full series. Obviously, the network doesn't want to waste time, but to give you an idea of what to expect we'll use the timeline of the original series as an example. The original GoT pilot was filmed in October and November, 2009, and HBO sat on it for four months before making a decision with the decree that major changes had to be made. A new pilot was filmed sometime in 2010 with some major casting changes implemented (Emilia Clarke was not the original Daenerys). The show finally premiered in April 2011.
HBO does seem to have this prequel project on the fast track, but it will still take time.
As for the other potential spin-offs? Well, Bloys said that some are just dead while a few may be worth revisiting at some point. Just not right now. "That was the one we're excited about," he said of the winner.