The Creators of Game of Thrones Just Revealed Their Next Project : Writing Star Wars Films
"We are... a little terrified by the responsibility."
---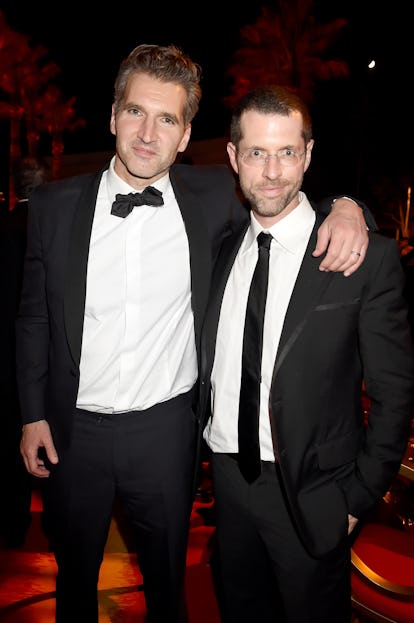 Jeff Kravitz/FilmMagic
While HBO's beloved Game of Thrones doesn't end until next year, the fate of the show's creators has already been revealed. David Benioff and D.B. Weiss have already landed a new job. The duo have been tapped by Lucasfilm and its parent company Disney to lend their talent to the Star Wars franchise, as Variety reports. Benioff and Weiss will be writing and producing a slew of spinoff films.
"David and Dan are some of the best storytellers working today," Kathleen Kennedy, president of Lucasfilm, in a statement as Variety points out. "Their command of complex characters, depth of story and richness of mythology will break new ground and boldly push Star Wars in ways I find incredibly exciting."
Meanwhile, in a joint statement, Benioff and Weiss talked about how working on Star Wars has been a lifelong dream of theirs. "In the summer of 1977 we traveled to a galaxy far, far away, and we've been dreaming of it ever since," they write, as Variety notes. "We are honored by the opportunity, a little terrified by the responsibility, and so excited to get started as soon as the final season of Game of Thrones is complete."
Outside of working on more tangential Star Wars films along the lines of Rogue One and the upcoming Solo, the pair were also attached to a new show on HBO called Confederate. With the premise of the Civil War having ended in a stalemate, where the South successfully succeeded and continued slavery into modern times, not surprisingly the show received backlash as soon as it was announced that included the Twitter campaign #NoConfederate led by activist April Reign, as Deadline reported at the time. HBO CEO Richard Plepler responded by admitting "we screwed up" and elaborating on the show which he said was about "showing what we call the thin line, the thin veneer of civilization – that's what we were meant to explore. Where we screwed up was we tried to explain a complicated subject in a press release in three paragraphs."
More recently, however, The Washington Post reported that Benioff and Weiss are "are not actively working on it."