Game of Thrones' Latest Absurd Answer to Season 8 Spoilers Is to Feed Actors Their Lines Through Earpieces
According to Nikolaj Coster-Waldau, Game of Thrones will continue to do the most.
---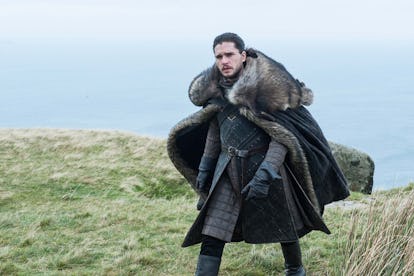 Courtesy HBO
Though production is expected to begin on the eighth and final season of Game of Thrones next year, meaning the last installments might not air until 2019, the masterminds behind Game of Thrones are hard at work doing the absolute most to prevent hackers, prying eyes, and even drones from spoiling its conclusion.
Last month, it was reported the actors would film multiple endings for the show, so the real one wouldn't be known until the episode aired. Earlier this week, the fan site Watchers on the Wall observed what seemed to be metal walls going up around the set to shield proceedings from unwanted eyes. And, on Thursday, Nikolaj Coster-Waldau told the Scandinavian talk show Skavlan that the cast would not even receive scripts for the final season—instead, they would simply be fed lines via earpiece.
In its early seasons, when Game of Thrones was just a wee, intimate show, the cast received paper scripts, because analogue still isn't dead. But as security began to tighten, Coster-Waldau explained on Skavlan, they began to receive them via a secure email. In the aftermath of the HBO hack, even this was not secure enough. So earpieces seem like a logical solution, right? Never mind that this is a television show and not an FBI sting operation—nor, as some have pointed out, a film starring Johnny Depp, who sometimes prefers to receive his dialogue in his ears rather than simply learn them in advance. It doesn't seem the most conducive to actors performing—especially when some, like Peter Dinklage's Tyrion Lannister, utter their lines at a dizzying, Sorkin-esque pace. Perhaps the showrunners will next turn Game of Thrones into an improv show, making the show's oft-repeated "you win or you die" a little too real.
Then again, Liam Cunningham, who plays Ser Davos Seaworth, has "six scripts on my computer that I can't f–king open because of all the security on it," as he told Inverse at New York Comic Con last week. So, apparently, some cast members will receive some scripts, but even that doesn't guarantee they'll be able to look at, and thus memorize, them.
Of course, all of this does not make Game of Thrones immune to, say, human error—like the kind that caused the Season 7's penultimate episode to appear online in Spain a week before its scheduled air date. There's no earpiece for that.
Kit Harington auditioned for 'Game of Thrones' with a black eye: