George and Amal Clooney Won't Travel to Certain Countries Now That They're Expecting
In a shift for a couple that travels extensively to at-risk countries, they decided to cut back on travel: "We decided to be much more responsible."
---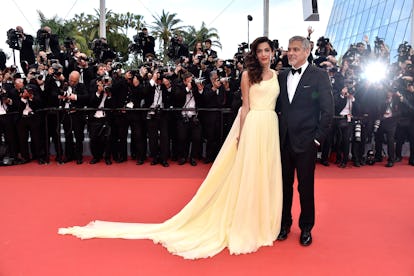 Getty
Now that George and Amal Clooney are expecting twins, the soon-to-be parents have revealed that they are making changes to their travel plans, taking more precaution than usual. As Clooney told a reporter, the couple will no longer visit certain areas where there is an increased risk for travelers, including several spots in Africa and the Middle East where they have previously gone for work.
This is a shift for the couple that has traveled extensively to such areas. Amal's career as an international human rights attorney has regularly brought her to conflict zones, and Clooney has repeatedly visited the Darfur region of Sudan for his humanitarian work. But in speaking with Paris Match magazine, Clooney said that they plan to curb any travel that could pose a threat. "We decided to be much more responsible, to avoid the danger," the actor explained. "I won't go to South Sudan anymore or the Congo; Amal will no longer go to Iraq, and she'll avoid places where she knows she isn't welcome."
Clooney continued to explain how impending parenthood has already transformed his travel philosophy: "Before, I did not care, I would even say that there was a pretty exciting side to going where no reporter had ever been," he told the magazine.
While the couple will be cutting back on "dangerous" travel, don't expect the Clooneys to stay in just one spot anytime soon. Clooney shared that he and Amal will continue to split time among their three residences until their twins—a boy and a girl—start their schooling.
"We have the chance to live between three countries: Italy, America and England," he said. "But as soon as the children go to school, it'll be necessary to choose where to settle. In the meantime, we will continue to move according to our respective schedule."
Amal Alamuddin's Stylish Wedding Weekend
George Clooney Reveals His Cinematic Crush: