George and Amal Clooney Are Reportedly Expecting Twins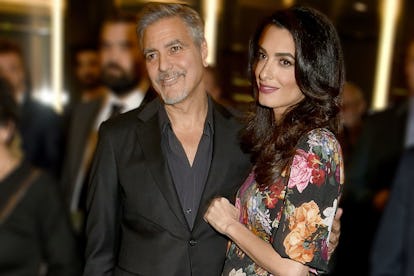 Composite. David M. Benett/Getty Images
Twins are in for 2017.
George and Amal Clooney are reportedly expecting their own pair, The Talk host Julie Chen announced on Thursday's show. And per US Weekly, a source confirmed they are due this June. An odd way to publically roll out an impending birth, but pregnancy rumors have enveloped the couple since they were wed in 2014—most recently in January Amal was spotted with a hint of a baby bump setting the public into a tailspin that George—the notorious bachelor turned devoted husband who never wanted children—was set to become a father.
"Beyoncé is not the only superstar expecting twins," Chen, said on air. "Congratulations are in order for George and Amal Clooney!"
"The Talk has confirmed that the 55-year-old superstar and his highly accomplished 39-year-old attorney wife are expecting twins. Give her the armrest, by the way, she's pregnant!" Chen continued.
The couple met in 2013 and were married a year later in a star-studded affair in Venice, Italy.
The Clooneys join a growing list of celebrities who have announced their pregnancy in 2017, from Lauren Conrad to Rosie Huntington-Whiteley (who also announced on Thursday) to, of course, Beyoncé who announced her twins with a spectacular set of images.
Reps for the couple have not yet confirmed the news.
Amal Alamuddin's Stylish Wedding Weekend
Watch George Clooney reveal his biggest movie crush: