Gushing About George Clooney at the MoMA x Chanel Film Benefit
At the virtual MoMA Film Benefit hosted by Chanel, the "Michael Clayton" actor received honors—and a whole host of kind words from his contemporaries.
---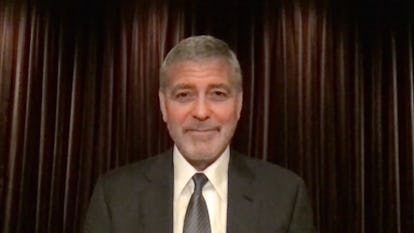 Courtesy of MoMA
The MoMA Film Benefit, an annual event that honors one particularly legendary actor or filmmaker, typically looks something like this: celebrities decked out in Chanel (which sponsors the benefit each year) giving air kisses, lots of jewelry and shiny hairdos, a red carpet with a crush of photographers, a live portion during which the actor or filmmaker's contemporaries come on stage and relay very nice things about that person, and a dinner resembling a wedding feast.
This year, as you know, was different: instead of a dinner, attendees of the Film Benefit honoring George Clooney were treated to Milk Duds and popcorn; in lieu of interviews with stars on the red carpet, we watched them move around as tiny rectangles on a computer screen. I curled up on my couch at home wearing a hoodie instead of a dress. And to address the pandemic, this year's event also benefited Artist Relief, an emergency initiative that offers financial support and resources to American artists.
But the one thing that did not stray from tradition on Monday night was the amount of kind words, intimate stories, and memories actors like Bradley Cooper, Tilda Swinton, David Oyelowo, and David Letterman had to share about Clooney (whom Swinton lovingly referred to as "Cloons" in her video message to the actor.)
The actress Tiffany Boone, who broke out this year in Little Fires Everywhere, appeared on video to laud the 59-year-old actor, with whom she worked on the upcoming film The Midnight Sky—the seventh film Clooney has directed in his career. She and costars Felicity Jones and Kyle Chandler traded anecdotes from set—including one that involved a visit from Boone's sister.
"She was waiting to meet him, and I was like, I don't know when the moment is going to happen," Boone said. "He suddenly was behind her, and I just say, 'Oh, come over, George, and meet my sister.' She started to cry—which is a little embarrassing on your job, when your guest starts to cry about your director. He let her cry for a second, and he rubbed her back a little, and then he started asking her questions about her life. He asked about her work and her family and he just talked to her like a normal human. Some people that are as big of stars as he is, they don't know how to do that. But he's still so down to earth and generous with his time and his energy."
Jeffrey Wright, calling in from London where he was filming The Batman, said "The only reason I took this job was because I thought George would be Batman." Julianna Marguiles, who watched a clip from a 1994 episode of ER in which she and Clooney locked lips, said he was "responsible for [her] career." Letterman proudly stated he'd been to Clooney's house in Kentucky (and was quick to clarify that he had not visited the residence on Lake Como).
For Sam Rockwell, appearing from his kitchen wearing a black and red button-down shirt that Clooney made fun of, recalled his first meeting, which took place at a karaoke bar inside a strip mall in the Valley.
"I first met George with Drew Barrymore while I was doing Charlie's Angels," Rockwell said. "We met Lucy Liu for some karaoke—I did some bad karaoke, we had some drinks, which is a great way to get to know someone."
Even if Clooney didn't appear in person at the live event, he still remained a picture of class when he showed up, wearing a suit and tie on screen toward the end of the evening to thank his friends for their praise.
"We will soon say goodbye to the dark ages, goodbye to fear, goodbye to anxiety," he said. "And once Trump is out of office, we should probably do something about Covid, too."
Related: George Clooney Is a Little Bored With This Whole Acting Thing