Inn Crowd
Richard Gere and his wife, Carey Lowell, have opened a luxury B&B in Bedford, NY.
---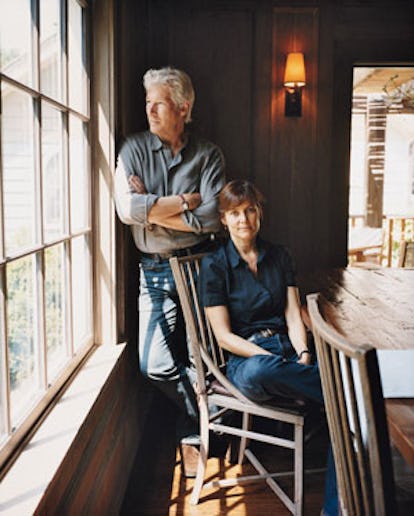 Over the course of his 30-plus-year career, Richard Gere has been called many things: American Gigolo, Mr. Cindy Crawford, Sexiest Man Alive and world's second most famous Buddhist. But his latest moniker is surely his unlikeliest: innkeeper. This summer Gere and his wife, Carey Lowell, will welcome their first overnight guests to the Bedford Post, an 18th-century house and barn in Bedford, New York, that they have turned into a small luxury hotel, restaurant, bistro and yoga loft.
"We're total neophytes," says Gere, 60, whose familiarity with innkeeping had been pretty much limited to his turn in the 2008 tearjerker Nights in Rodanthe, in which he played bed-and-breakfast manager Diane Lane's guest-turned-lover. Not having a clue about how to operate a hotel or restaurant has allowed him to run wild with "what-ifs," he says, to imagine vast possibilities for his fantasy retreat in this tony, horse-country enclave 45 minutes north of Manhattan. Gere and Lowell envision hosting symposia headlined by A-listers from the lecture circuit. And with neighbors like Martha Stewart, Ralph Lauren and Jean-Georges Vongerichten to tap, the couple hope the place will be a magnet for like-minded, powerful souls to come together to save the planet—or at least to chat about big-picture ideas over veggie burgers.
"There are a lot of very effective people who live up here, and I saw this on one level as a clubhouse for these people to engage on levels that might be of benefit to the world," Gere says one rainy summer morning as he digs into his breakfast alongside Lowell in the inn's private dining room, a cocoon of recycled wood and velvet club chairs. Ruggedly handsome in jeans, work boots, zip-up sweatshirt and tan corduroy jacket, he wears Buddhist prayer beads on one wrist, his tousled silver hair swept high off his face. "I see us generating ideas and networking on a very high level."
Gere, whose foundation has long supported the Dalai Lama, has frequently used his celebrity to shine a light on hot-button issues, whether by discussing Tibet on Charlie Rose or hitting up Bill Gates to fund an initiative to raise AIDS awareness in India. As a model for his inn, he and Lowell looked to friend Alice Waters's Chez Panisse. While shooting 2005's Bee Season, Gere ate there almost every night, and he admired the way the restaurant drew together luminaries from varied fields over sophisticated food and wine. To that end, they recruited chef Brian Lewis, a champion of slow food cooking who has done stints at Lutèce and Oceana in New York, Bix in San Francisco and Vu in Scottsdale, Arizona. Lewis, 42, a Westchester County native, was intrigued by the idea of an inn anchored by an ambitious farm-to-table restaurant and a yoga studio. And as Gere describes it, the Bedford Post's philosophy is as organic as the seasonal ingredients that Lewis sources from local and family farms: From good karma, food and conversation, good works will flow.
From top: A view of the entrance; the Farmhouse restaurant.
Four years ago, entering the hospitality business was the furthest thing from Gere's mind. But one day, while riding his horse past the derelict house and barn (once the site of a popular eatery), he suddenly wondered, What if we bought it and made it a place you can ride to, tie up your horse, get something to eat and ride home? Lowell, a former model, Bond girl and Law & Order star, initially shot down the idea. "The dynamic of our relationship is this," she says, smiling at him. "Richard's the dreamer and I'm the pragmatist." Soon after, the couple, who met in 1995 following the breakup of both of their marriages—his to Crawford and hers to actor Griffin Dunne—relocated full-time to Westchester from Manhattan to give their son, Homer, nine, more roaming room. (Lowell also has a daughter, Hannah, 19, with Dunne.) As Lowell, effortlessly pretty at 48, recalls, "I think Richard was looking for something to keep me busy so I wouldn't get bored."
They enlisted local developer Russell Hernandez to join them; last year, while Gere made three successive films—among them Amelia, about Amelia Earhart, due out this fall—Lowell took the reins in designing the eco-friendly buildings. Touring the eight guest rooms, she cheerfully points out the post beams, wainscoting, fireplaces and limed-oak doors. "It should be like you're in your own home," she says. "But better."
The café and yoga studio opened in early 2008 (Gere is a devotee of the meditation classes), the formal Farmhouse restaurant this past November, with Lewis's Wagyu beef and soft egg ravioli quickly making regulars of Stewart and Vongerichten. Stewart, the restaurant's first customer, was also the first diner to drop by on horseback, and naturally brought along her own hitching post. "It's just what Bedford needed," she says. "We were all desperate for a good restaurant. Our nearest great one—Blue Hill at Stone Barns—is quite a distance away, and Brian is really one of the better chefs in the United States. I just love his delicate, delicate pasta."
Set on 14 acres, the Bedford Post is still a work in progress, says Gere, who can barely fry an egg. "We're pretty open to just letting it flow and go where it wants to," he says. On a day when workers are busy installing tubs in the marble bathrooms, he talks of hosting star chefs and guest Buddhist teachers, of building retreat huts, and of forming a partnership with the nearby Caramoor Center for Music and the Arts. Some of the logistics he has yet to work out—is it possible, for example, to supply valet parking for horses?
From top: The inn's yoga loft; the private dining room.
Naturally, many will come solely for the transcendent experience of seeing Gere up close. "I'll be doing room service," he jokes, noting that the stargazing hasn't gotten out of hand—just yet—even though he and Lowell pop by regularly. Recently, however, he had no choice but to greet a group of women trooping along a dangerously high stone wall, calling his name. "They just kept walking toward me, waving and saying, 'We've come on zee bus,'" he says, laughing as he slips into his best Inspector Clouseau accent. "'We are from Monaco! Hello, Richard!' They had gone past six do not enter signs. They were the ladies' garden tour from Monaco and they wanted pictures. I said, 'Get down from there!'"
For the moment, Gere plans to keep his day job, pointing out that he and Lowell are not looking to become celebrity hoteliers: "We're trying to invent something else," he says. Still, they do occasionally wish that their latest project were more like a movie. "We do sometimes have those conversations," adds Lowell, "where we say, 'Can we sell it now and move on? Is it over yet?'"
Exterior shot: Diane Solway