May 21: "The Steins Collect"
San Francisco's Museum of Modern Art presents iconic work from Picasso, Matisse, and Braque, among others, as part of the landmark collection of modernist, Gertrude Stein and family.
---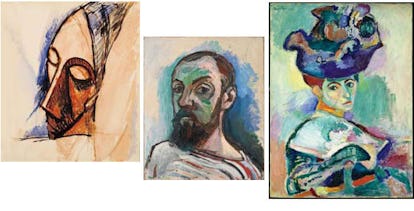 In Paris during the winter of 1905, a 24-year-old Pablo Picasso, not yet world famous, asked to paint Gertrude Stein's portrait. The artist and the writer had just met, but over the course of some 90 sittings at Picasso's studio Stein became his muse, fiercest supporter, and, eventually, most influential patron. Before she was anointed the grande dame of modernist literature, Stein—along with her brothers Leo and Michael, and Michael's wife, Sarah—was an art collector: Her famed salon at 27 rue de Fleurus was crammed with the canvases of Picasso, Matisse, Renoir, and Cézanne, among others, well before the art establishment recognized their genius. From May 21 to September 6, the landmark Stein collection will be reconstituted for the first time in more than 40 years, at San Francisco's Museum of Modern Art. "The Steins weren't buying and holding," says Janet Bishop, cocurator of "The Steins Collect," which showcases more than 200 iconic works that will travel to Paris's Grand Palais and the Metropolitan Museum of Art. "They were sharing their pleasures." Their Saturday-night salon was one of the only places, in fact, where the public could gaze, and often gawk, at the early experiments of cubists like Picasso and Braque—making the Stein atelier arguably the world's first modern art museum.
21st: Courtesy of The Cecil Beaton Studio Archive at Sotheby's; Courtesy Of SFMoMA (3).