Meet Bella and Gigi Hadid's Model Cousin
She looks so much like her cousins across the pond.
---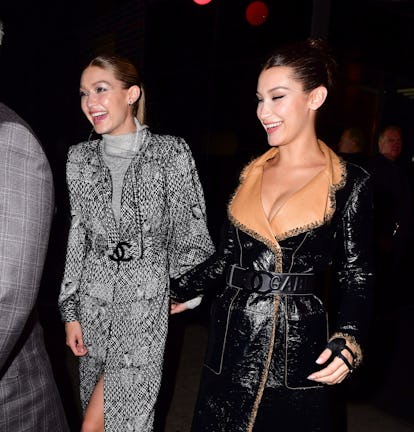 James Devaney
In the few short years since they hit the modeling scene, Bella, Anwar, and Gigi Hadid have picked up where model mom Yolanda Hadid left off, creating something of a family dynasty in the fashion and beauty industries. And apparently, that dynasty isn't limited to the U.S.-based Hadids — according to InStyle, one of the trio's cousins in Holland is also a model who looks a lot like her famous family members.
Joann van den Herik, who is the daughter of one of Yolanda's siblings (Gigi and Bella's mom was born Yolanda van den Herik in Holland), has signed with International Model Management and Maxime Models. Like her cousins, she's not afraid to get candid about real issues. She's unafraid to get super real about her insecurities, and encourages her followers to love their bodies exactly how they are.
In one recent post, she explained that she used to be self-conscious about showing off her legs in shorts and dresses. "So stupid, because you should wear whatever you feel good in and don't care about other people's opinion," she wrote. "It just makes me sad that people judge each other on things they wear, if someone wants to wear shorts skirts and tops, let them be. If someone wants to wear the biggest sweater ever, let them be. If someone wants to wear something YOU THINK is hideous, let them be. Let people feel confident in their outfit. They're wearing it for a reason. So if you have a fatrolls and you want to wear a croptop just DO IT! Today, I'm posting a photo in my underwear because I too have fat and I don't care because I LOVE MY BODY! #LoveYourBody #EmbraceYourCurves #DontJudge."
Joann also posts plenty of pictures of her hanging out with Bella, Gigi, and Anwar, including sweet throwback posts in honor of their birthdays and cuddly pics from the Hadids' ventures back to their mom's hometown. She also regularly celebrates her cousins' accomplishments — she posted a photo of one of Gigi's Vogue covers and shopped her TommyxGigi clothing line — and documents the time she spends with Yolanda, who's her "favorite auntie."
Related: Gigi Hadid Slams Islamophobe on Twitter
Gigi Hadid Talks About Her Squad: