Gigi Hadid Officially Has Her Own Barbie Doll
Thanks to Tommy Hilfiger.
---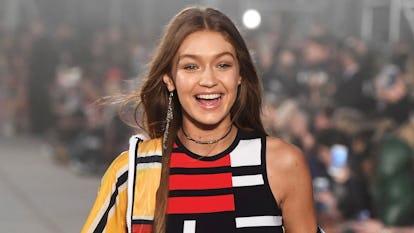 Jeff Kravitz/FilmMagic/Getty Images
If you've ever dreamed of owning a Barbie that looks like your favorite blonde supermodel, now's your chance. In February, Gigi Hadid and Tommy Hilfiger collaborated on a one-of-a-kind Barbie doll that resembles the model, with her signature wavy hair, almond-shaped eyes, and perfect pout. The Barbie was made as part of the Gigi x Tommy collection, and is now available for retail.
According to InStyle, the doll retails for $50 and will be available on tommy.com just in time for the holidays. Hadid's Barbie wears a familiar look, too: the navy flag hoodie, shorts, and cute sneakers that the model herself wore down the runway at the fall 2016 debut Tommy x Gigi fashion show. "I'm so honored to have my own Barbie, which celebrates an iconic moment in my partnership with Tommy Hilfiger," Hadid said in a statement. "Seeing the final look of the doll was an amazing experience, and I'm excited to share this really cool creation with fans around the world."
This isn't the first time Mattel has created a doll in the Hadid likeness. Last year, the supermodel and her sister, Bella Hadid posted, snaps of a pair of Barbies that looked exactly like the duo; each was dressed in a gorgeous outfit from their first joint Victoria's Secret Fashion Show appearance.
Watch: Model Gigi Hadid Reveals the Secret to Her Signature Runway Walk