Gigi Hadid and Zayn's Baby Has Arrived
The supermodel announced via Instagram that her baby girl finally joined her "earth-side" this past weekend.
---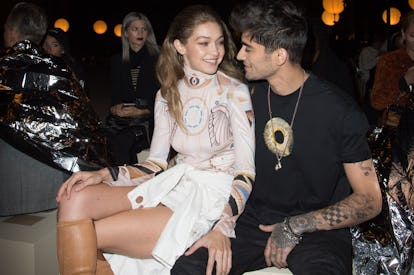 Photo by Stephane Cardinale/Corbis via Getty Images
It's time for some good news: Gigi Hadid finally gave birth to the baby the entire fashion industry has been waiting on since April, when she first announced to a shocked, quarantined world that she was indeed pregnant.
It was actually her boyfriend, Zayn Malik, who announced the baby's arrival first on Instagram. Typically inactive on that app, he shared not just one but three updates within 24 hours—a sponsored ad for some new Harry Potter mobile puzzle game, and promotion for his upcoming single called "Better," and finally, the announcement that his daughter had been born. "To try put into words how i am feeling right now would be an impossible task," the musician wrote. "The love I feel for this tiny human is beyond my understanding. Grateful to know her, proud to call her mine, and thankful for the life we will have together."
A post from Hadid soon followed, indicating that the baby had arrived "earth-side" over the weekend. Congratulations, of course, poured in in the comments section of the post.
The supermodel's father, Mohamed Hadid, of course also rushed to social media to make announcements of his own: a photo of a traditional Palestinian meal made when a new addition is on the way, and a handwritten poem for the baby. "Welcome to earth Baby Girl Lets paint the town .. and give it a Little Rock N Roll," he wrote in his caption.
Of course, what everyone is still waiting for, though (aside from the name of the baby) is that first official post from Auntie Bella.
Related: Gigi Hadid Debuted Her Baby Bump in Maternity Portraits