Gigi Hadid Is Taking a Month Off From Instagram As an Act of Self-Defense
The model revealed her social media self-care plans in a conversation with Lena Dunham, Zoe Kravitz, Ruby Rose, and Aly Raisman about how they protect themselves mentally, physically, and emotionally.
---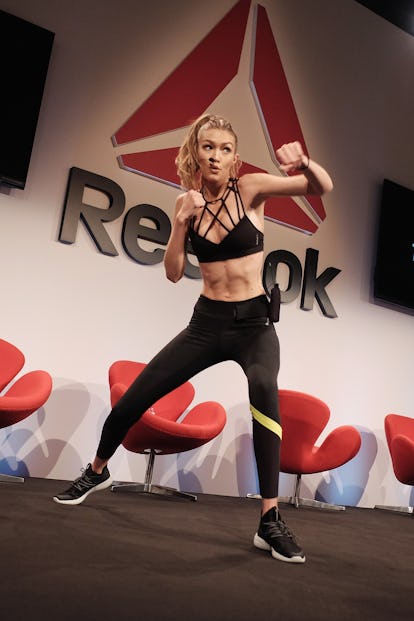 Getty Images for Reebok
"The bravest thing you can do is choose to protect yourself," said Lena Dunham on Wednesday afternoon at Reebok's #PerfectNever women's empowerment panel discussion in New York City. She was joined by her friend and the brand's current ambassador, Gigi Hadid, who had just finished leading a self-defense kickboxing class to a room full of young women.
Hadid has always enjoyed kickboxing as a form of stress-relief and exercise, but in September at Paris Fashion Week, she had a harrowing experience in which she had to employ self-defense for real. While leaving the Spring 2017 Fendi show during Milan Fashion Week, a man named Vitalii Sediuk assaulted the model by picking her up off her feet — the same man who then harassed Kim Kardashian in Paris. But Hadid put up a fight, giving Sediuk a good jab with her elbow before security intervened. And judging by her fitness performance on Wednesday, he's lucky she didn't do worse.
"I'm a human being and had every right to defend myself," she wrote on Twitter following the incident. "How dare that idiot thinks he has the right to man-handle a complete stranger. He ran quick though…"
For super-celebrities like Hadid, self-defense comes in many forms beyond physical, whether its blocking punches on social media or talking to a therapist to maintain mental and emotional fortitude. The Olympic gymnast Aly Raisman, who was also on the panel, said that she had actually just started therapy yesterday.
"Congratulations!" Dunham said with a smile. Then Hadid added that when she is having a moment, she calls Dunham for advice. "We talked on the phone for hours about a social media-related incident recently," Dunham said.
Unsurprisingly, social media was a source of much anxiety for all of the panelists, who also included the model and activist Ruby Rose and the musician Zoe Kravitz. "Never take advise from a Twitter egg," said Rose. "It's always the damn eggs."
Dunham, who recently revealed that she no longer goes on Twitter, said that she does still read her Instagram DMs. In fact, just the other day replied very cordially to someone who felt compelled to tell her that they "hate her and don't know why."
Hadid, who has over 26 million followers, has used Instagram in the past to call out trolls who body-shame her, saying: "If you don't like it, don't follow me, don't watch me, cause I'm not going anywhere."
But as she announced on Wednesday, Hadid plans to follow in the footsteps of Kim Kardashian and her friend Kendall Jenner by taking a month off from Instagram over the New Year's holiday.
"I'm not deleting my account," she said, reassuring the crowd. "I'm just taking the app off my phone." Don't worry, in 2017, she'll re-download it. Gigi Hadid is not one to back down from a fight.