Gigi Hadid Closed the Moschino Show in a Giant Wedding Veil "Carried" by Butterflies
To the chime of wedding bells.
---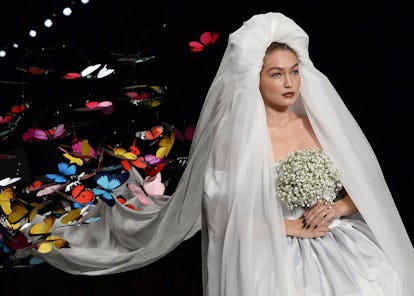 David M. Benett
The Moschino creative director Jeremy Scott is truly the Ryan Murphy of fashion. He knows how to create a big, crowd-pleasing moment that will get social media talking. His latest effort: sending Gigi Hadid out to close the brand's show during Milan Fashion Week with a butterfly-strewn veil so long that it required a small army of men, clad in black body stockings, to properly hold it up as Hadid walked down the runway.
It was the grand finale of a collection that took the idea of enchanted atelier to extremes. Dresses were made to look like they were actually pen-and-ink sketches or bolts of fabric that had been magically turned into finished products. The idea of a bridal veil embroidered with butterflies that seemed to actually come to life to carry the veil down the runway was the logical conclusion. Of course, unlike, say, Asia O'Hara, Scott didn't use actual butterflies but rather a bit of puppetry right on the runway.
One instant fan of the design was Hadid's sister Bella, who gave a behind-the-scenes look at the whole thing on Instagram Stories while claiming that it was her "future wedding veil."
Of course, it might be more helpful to see the full thing in motion:
Hadid and Scott have something of a mutual admiration society, the designer having enlisted the model in his show before other high-profile labels would. Hadid is still a regular for both Scott's own business and his work at Moschino, and it's not the first time she's worn fantastical creations on the runway.
This time, Hadid was dressed as the bride, but a year ago she walked Moschino as an actual bouquet.
Related: Moschino x H&M Is Officially Happening, Designer Jeremy Scott Revealed in a Call With Gigi Hadid at Coachella