Gigi Hadid May Replace Heidi Klum as the Host of Project Runway
She has Heidi Klum's vote.
---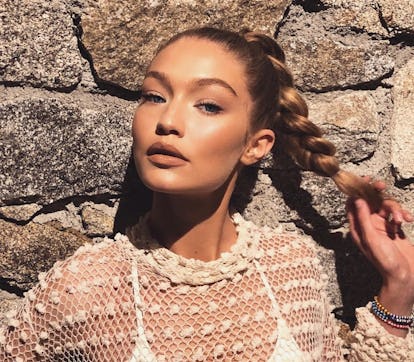 instagram.com/gigihadid
It's thanks to reality TV that Gigi Hadid, the daughter of model turned Real Housewife Yolanda Hadid, got her start. Soon, she could be going full circle, and starring on another reality TV show: Project Runway.
Now that Heidi Klum and Tim Gunn are officially off the show, a new host is needed to fill the model's shoes as the series returns to Bravo after previously airing on Lifetime. Klum has one idea for her replacement: Gigi Hadid. Apparently, the 23-year-old is a frontrunner to become the show's next host, as Klum has revealed.
"I know that Gigi's [Hadid] name has come up," she told Us Weekly, adding, "I think she would be amazing. She has had so much success in this industry. I think she would be a great fit."
While Hadid certainly has a full plate as one of the most in-demand models, she seems to be a fan of the series. Back in 2013, she tweeted a photo of her sister Bella Hadid with the caption, "Watch out #projectrunway #fashionstar, @bellahadid's comin to town," linking to a since-deleted Instagram post. She also has the experience of someone working in both sides of the fashion industry—as a model and a designer with her collaborations for Tommy Hilfiger.
As for Klum, she's sad to move on but ready for a new chapter. "I'll miss the amazing team that we had," she said. "You know, especially at Lifetime, I love them. None of these people will be doing it going forward because it's someone new now. I wasn't sure how it was going to be there, so I think that was a good opportunity now with the switch to actually say like, 'You know what, this baby is old enough. 16 years old. I'm ready to work on a new one.'"
Klum is also trying to put her retirement from the show into perspective. "Sometimes, these kind of things happen and then you look at it from all angles and you say, 'Actually, maybe now is a good time to freshen this up,'" she said. "It needs to be freshened up, so I felt like it was the right thing to do… I was ready for a change." Maybe Hadid is too.
Related: Heidi Klum, 44, Doesn't See Why Women Her Age Should Be Afraid of Bikinis, Even If She Prefers to Go Topless