Heidi Klum, 44, Doesn't See Why Women Her Age Should Be Afraid of Bikinis, Even If She Prefers to Go Topless
Fresh from launching her latest lingerie collection, the German supermodel-turned-designer talks how she's "not someone who hides in the house or in the shade."
---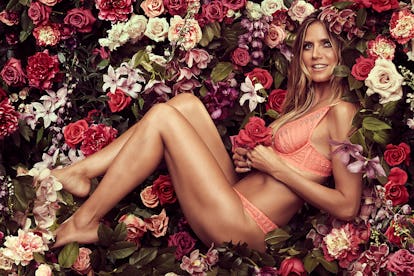 Heidi Klum Intimates/Francesco Carrozzini
Heidi Klum has spent much of the past quarter of a century baring her body, whether through her famous tenure as a Victoria's Secret Angel, her always memorable Halloween costumes, her endless Instagrams from the beach, or, of course, the many ensuing tabloids shots of her—gasp—unapologetically topless on said beaches. But in her forties, a usually unheard of era in this industry that for Klum only seems to have somehow brought more success—she now also hosts three TV shows: Project Runway, Germany's Next Top Model, and America's Got Talent, and tirelessly promotes them even from the beach—she's found another way to show off her confidence, too: For the past couple of years, she's been designing—and of course modeling—her own Heidi Klum Intimates lingerie and swimwear line, for the Australian lingerie extraordinaire Bendon.
Buoyed by the announcement of yet another project of hers—an all-new fashion line that's about to be carried in no less than 10,000 stores—as well as the release of her new Intimates collection, which is full of everything from silky slips to maternity bras, Klum, who barely ever has time to sit down for some avocado toast, made time to celebrate with a so-called "Bra Brunch" in Los Angeles this week, where she also revealed her new Intimates campaign, shot by Francesco Carrozzini. Safely settled once again amidst the florals, Klum, who once reminded the president that every woman is a 10, shared why she's always been so comfortable with her body, how she takes care of her skin, and how still manages to eat everything—yes, even pasta.
Working in intimates is of course nothing new for you, but when and why did you decide to get into designing them?
Well, I've obviously been working with one of the biggest lingerie companies for over 15 years, but three years ago, I was asked by Bendon if I would take over the Elle Macpherson intimates brand, which had come to an end after they'd been working with her for 25 years. I wasn't that familiar with them—they're situated in Australia—and was in a different lingerie world at that time, but I looked at all the pieces and quality, and since their product has been really beautiful, I said, Why not? I love sexy lingerie and I love women, and I've been designing off and on for many different ventures for 15 years. I started with Birkenstock, designed for Jordache jeans, had a capsule collection for New Balance, made children's clothes for Babies "R" Us and Toys "R" Us, had a jewelry line for Mouawad that sold out on QVC… What am I forgetting?
Well, that's quite a roster already.
So I've done a lot of different things, and I've always loved designing—it's actually something I wanted to do as a child. When I finished school, I actually applied to one of the fashion design school in Düsseldorf, but then I won the modeling contest in 1992 and my life took a different path. So it didn't happen then, but it's always been my passion, and I feel like now, my time has kind of come around to do the things I originally actually wanted to do. And for the past two years now, I've been designing lingerie and swimwear, and now I have a new partner that's huge in Europe, the supermarket chain Lidl. People in America aren't familiar with them yet, but will be, because we're opening many, many stores in America, starting in September, which is when I'll be going in with new my clothing line [Esmara by Heidi Klum: Heidi and the City] in 10,000 stores in 34 countries around the world. It's definitely the biggest design venture that I've ever done—I've never reached that many people. My Heidi Klum intimates and swim line is now in over 2,000 stores around the world, so 10,000 is enormous and even bigger than I can imagine, and I'm very, very excited about that—especially for the fashion I get to do for the prices, which are just unbeatable.
Is keeping prices low a priority of yours?
What's great about going into so many stores is that I have the opportunity to make them quite affordable for women around the world. This Tuesday on America's Got Talent, for example, I wore one of my designs, which is a beautiful leopard suit I designed for Lidl. Everyone was like, what is this, Dolce & Gabbana? How much is this, $1,500? I was like, actually, no—the pants are $12.99 and the blazer is $19.99.
Even though you have quite the design background, were you at all intimidated getting into intimates in particular, having worked so much with Victoria's Secret and coming on the heels of another supermodel, Elle Macpherson?
I mean, obviously I wanted to be as successful as they have been in the past. But I also had to change a lot of things, because Elle's design aesthetic, which was more of a full coverage bra, a lot of bows, very feminine, very flowery laces, a lot of push-up and a lot of padding, which is not necessarily my aesthetic. But a lot of women do love that, so some of those styles I kept, but at the same time, the trends are changing and I feel like a more natural shape is due—I couldn't find any racer-backs or strapless bras or triangle bras, for example, so I wanted to expand the line and make something for younger customers and someone who is not as chesty and likes more of a natural fit. But to be honest, I don't really look and be like, Oh my god, I have to be like this person or that brand—I try go with my gut feeling and what I believe is beautiful.
What do you believe is beautiful? How would you characterize your own aesthetic and approach to design?
I do three [TV] shows currently, and I get inspired by all of them; I travel all over the place and I always go to flea markets and cute little stores and I always keep an eye on street style in small cities and different countries. When I start designing, subconsciously these things obviously filter down; when different vendors, say, present me new laces, I think of all of that. There are so many wild and beautiful things being developed out there—not just polka-dot or flower lace like before—so when people come to me with a new one, I buy it so that no one else can have it, and then I start playing with it. I have what I call "dummy bras" and I play with them, how to place the lace and in what colors, at home. And then I meet with my team—because obviously I can't sew—and they start making the first samples. I do my presentation on what I believe on what I believe is going to be the next thing, and then they help me develop my ideas and make them become reality.
You got even more into intimates, an industry that typically targets a younger audience, when you were in your forties. Have your feelings about wearing underwear and swimsuits, especially in public, changed at all as you've aged?
For me personally, not much has changed. I still wear triangle bikinis that I have in the past—and most of the time bottoms, not even tops. [Laughs.] You are who you are, I guess, and I'm always going to be more of a free-spirited person and more open with my body. I've never been really shy with my body, and I think that's also due to the way I grew up. Let's say I was at home and walked into my parents' bedroom and they were changing—they wouldn't be like, Oh my god, close the door. It's not like we all walk around naked at home—definitely not—and I didn't walk around naked in my house with my parents, but if they would walk in on me changing or vice versa, we wouldn't hide ourselves, like it was something you shouldn't be seeing. It's just very natural. If it was summertime, my mom would be sunbathing topless outside, because that's what I saw my mom do, now my children see me sunbathe topless. So if I'm 25 or in my thirties, or now in my forties, it doesn't really change just because I have a different age now. Do you know what I mean? It's kind of just a way of living and being, I guess.
What about your approach to fitness and your diet? Has that changed as you've aged?
Not really, I think because I've been modeling now for over 25 years. My life changed 25 years ago—it definitely did. Being in Germany, eating a different kind of diet and my mom's cooking: It's very greasy, there's a lot of heavy cream sauces, we have potatoes with everything, we have salad with heavy whipping cream with oil and pepper and salt. Here, it's definitely very different; it's more balsamic vinegar with oil and pepper and salt. And living in New York by myself as a young girl and not having the money to go out to eat all the time, I learned to cook and make my own food—and eat healthy, because I'm a model and you have to have great skin, great nails, great hair. You have to be fit, and if you don't want to exercise so much, you better be watching what you eat and you don't eat so much candy and muffins and bagels and cream cheese and all that stuff. In order for me not having to go to the gym that much, I had to learn how to eat differently than when I was still living with my parents. So it's not like Oo, now I'm older, I have to change—it really changed 25 years ago, when this job became my job.
Are there any routines you've stuck to in those past 25 years?
People are always like, What do you eat? I eat everything—I just don't eat a lot of fattening food or a lot of bread, or pasta, obviously. I eat all those things, too, just not as much as others do. I don't eat bagels with cream cheese every morning—I eat yogurt with tons of fruit instead, or I make myself eggs with vegetables inside. I eat food that actually fuels the body, because there's definitely food that energizes you, and food that you don't really need. And I try to stay away from food that I don't really need.
How do you take care of your skin, especially as someone who likes to spend time on the beach?
See, I believe in living my life, and I believe in enjoying life. I'm not someone who hides in the house or in the shade. I like to enjoy my life and I have to have fun, and if my skin ages by being in the sun, so be it. I do try to protect my skin because of the ozone of everything, so I definitely use some protection or I wear a hat, because I don't want to uber-fry my face. I use it, but I also love the sun—I love how it feels on my skin, I love the way it smells. I love being in the salt water, and I like to have fun—I don't want to be all covered up head-to-toe. I want to live and enjoy all these gorgeous places and roll around in the sun and in the sand.
What are your go-to skincare products?
A lot of the time I'll choose the children's products I put on my children, because if it's good for them, I'm sure it's good for me, too. I usually have a very high [SPF] number for protection—and I still get really tan, even with 50. But I love when you kind of look like a marshmallow that's just been roasted on a fire—I feel like that nice gold glow makes everything look great on your skin. I feel super sexy when I'm a little tan, because I feel like every swimsuit pops and looks so much better. You definitely do have to protect from the sun, but I do love it and I definitely still go in it.
I imagine you don't have too much time to do so, though, with everything you have going on.
Well, I do vacation quite a bit, I do. Because I feel like if I'm at home, someone will come by and ask me to do something, or I get too many emails from my office, or people ask me to do more things even though I said I took the week off. So I tend to go on a quick one week here or a long weekend there, and people will probably catch me on the beach more often than others, but I literally have to kind of disappear with my family or friends somewhere in order to really take a breather. I shoot three shows right now, which always takes a very long time—when I shoot Germany's Next Topmodel, it's three-and-a-half months, so sometimes afterwards, I'm like, I have to go away for five or six days and really take a breather before I then roll into the next venture, which is now America's Got Talent every week—and then another season of Project Runway. So I do like to take off in between. I love being on the beach, and I love being on a boat—that I absolutely love that the most. To me, there's nothing that feels more free.
Related: Gabby Reece, Still in Pro Beach Volleyball Shape at 47, Wants You to Know That Food Is Your Friend
See Jasmine Tookes Try on the $3 Million Victoria's Secret Fantasy Bra: