Elle MacPherson Has No Guilty Pleasures. Well, Except for Whipped Cream
And chocolate. Yes, the Australian beauty may be religious about her immaculate diet, but a few things sneak in here and there, and she still looks like a bombshell.
---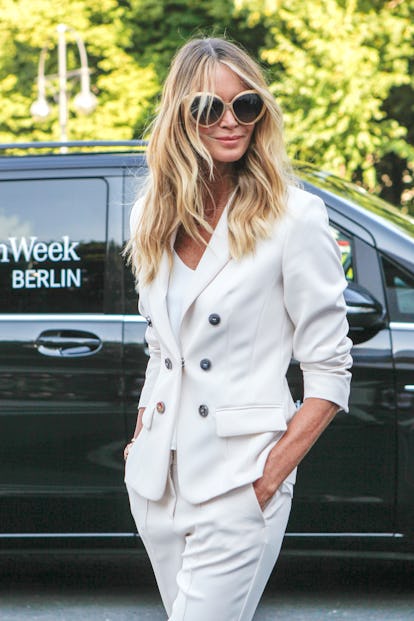 Elle MacPherson has been rather busy these past few years, making a foray into the protein powder market with a flurry of new releases. Her most recent, The Super Elixir Nourishing Protein, followed her more simply named Super Elixir, which made its debut in 2014. Next up, Sleep Tea, which hits shelves next month. A kid's formula is on deck. The Amazonian Aussie took time off to share her beliefs, guilty pleasures and time management secrets.
Did you have cravings before you got healthy? What was your go-to? Chocolate. Everything chocolate. I'd eat cake quite a bit. I was always craving carbs and sugar.
Do you still get these cravings? No.
So you think you jump-started your own palate? Yeah, because now I'm really diligent about my palates.
Do you have a weakness? I don't think anything is a weakness. Everyone keeps asking, 'What's your guilty pleasure?' I have no guilty pleasure, but I think whipped cream comes close. I love it, but, considering dairy doesn't work for me, it would be counter-productive if I ate it all the time. But every once in a while, I love it.
How long did Super Elixir Nourishing take to formulate? Quite a while. At first, it was too grainy and we weren't sure if we wanted to do vanilla or cacao. The kid's one is taking even longer. My kids keep saying, 'Oh, it's too grainy!' or 'No! It tastes fake!' And it's not just my kid. We have a whole kids committee. It'll be chocolate flavored like the Nourishing Protein.
Everyone loves chocolate. Your Super Elixir must've been hard to flavor, with all those greens. It's more lemon-y than having a greens taste. But if you're not enjoying it, it's probably because you're not taking it with enough water.
Figures. I never drink enough water. Aside from your elixirs, what are the best energy foods? Water! Seriously, I know it's not really a food, but people always look to food for energy. Their brain could just be dehydrated. My son will say, "I'm so tired, I can't get my homework done, I just need a nap." I tell him to drink water. Sometimes you just need fluids.
What's your favorite vegetable? That's a good one. I love fennel, I love beets, bok choi, avocado, even though it's a fruit. I love greens.
No surprise there! What's your least favorite, then? There are three: Red, yellow and green peppers. I cannot digest them.
Hot peppers, too? No, I kind of like spicy food, but I can't take those three.
What do you snack on? Nuts. Almonds, sunflower seeds, pumpkin seeds. Sometimes I toast the sunflower seeds.
You were telling us earlier that you soak your almonds in water before you mix them with banana and Nourishing Protein. Do you make your own almond milk? No, but I really should.
My husband does, and he adds dates to it for flavor. That's a good idea.
Consider it a gift. Ok, time for the rapid-fire beauty questions! What was your first beauty memory? Clearasil. As a teenager.
What was your worst beauty blunder? Putting Sun-In in my hair when I was 18 before the Sports Illustrated shoot. It turned orange.
What beauty products are currently in your purse? Super Elixir travel packs, Australian Paw Paw ointment. That's really all. I don't carry beauty products, really.
Then how about what's in your makeup kit? Ah! In my makeup kit, I have RMS products: Under eye cover and lip and cheek gloss. I don't really wear powder because as my skin has matured, it's not the most flattering look. It's ok for studio but it's not really great for real life. I have to deal with the planes in life on my face. That's why having healthy skin is so important because, eventually, it becomes all about the skin. I can't disguise it with makeup anymore.
If you had extra 15 minutes in your routine, how would you spend it? I think I'd tweeze my brows. Maybe a lip scrub.
Is there a beauty trend you look back on with regret? Everything has its place.
Is there a discontinued product or shade that you mourn? Not really. I kind of have found that if something comes to an end, it comes to an end for a good reason. Then I move to the next thing that works for me.
Is there a beauty professional you can't live without? Josh Wood. And I love a good mani-pedi.
What is your beauty peeve? When I put too much makeup on myself. I think I'm trying to make myself look better, but I look worse. So, I put warm hands on face, just to help it sink in.
What are you currently obsessed with? I don't really obsess, but I am quite disciplined about making sure that I spend time purposefully, and not being too busy. I call it "purposeful action." I ask myself in everything I do: What's my intention?
Because you don't want to be stressed? No, because I just realized in the past that I'd spent a lot of time thinking I was being really productive when I actually wasn't being productive, yet being very busy. So I just ask myself what the intentions are behind something. I spent so much time on stuff that didn't matter. You'd be surprised how much space it clears in the day for what really counts. Sometimes that "stuff" is just worry. I could spend hours worrying about something that isn't worth worrying about! It's an inside job. The whole process is an inside job.
Watch W's most popular videos here:
Photos: Elle MacPherson Has No Guilty Pleasures. Well, Except for Whipped Cream
Elle MacPherson on Jimmy Kimmel Live in January 2015. Photo by Getty Images.
Elle MacPherson at Berlin Fashion Week, July 2015. Photo by Isa Foltin/Getty Images.
Elle MacPherson at the first anniversary dinner for The Super Elixir in London, England, October 2015. Photo by Getty Images.
Elle MacPherson at the premiere of Trumbo in New York, New York, November 2015. Photo by Getty Images.
Elle MacPherson at the 3rd annual Canadian Arts and Fashion Awards in Toronto, Ontario, April 2016. Photo by George Pimentel/WireImage.