Gigi Hadid and Zayn Malik Are Reportedly Expecting a Child
The twists and turns of 2020 know no end.
---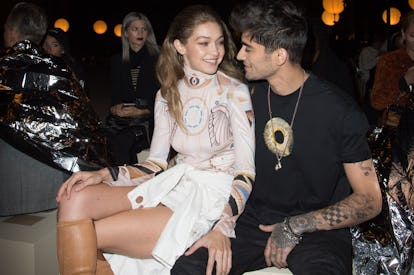 Photo by Stephane Cardinale/Corbis via Getty Images
Gigi Hadid and Zayn Malik are reportedly expecting a child. TMZ was the first to break the new, while US Weekly and Entertainment Tonight now claim they've also heard the news from unnamed sources. Notably, People, the most careful of the major celeb gossip outlets, has not yet confirmed the reports. TMZ claims Hadid is about 20 weeks along.
This may not be the biggest curveball 2020 has thrown us so far, but we still didn't see it coming.
Hadid, 25, and Malik, 27, first met in the summer of 2015. At the time, Malik was just a few months removed from his departure from boy band One Direction. Hadid, meanwhile, was on the verge of supermodel status, but was still making occasional appearances on her mother's reality show, Real Housewives of Beverly Hills.
The pair seemed steady for a number of years. Hadid appeared in one of Malik's music videos. He got her eye tattooed on his chest. They split a cover of American Vogue. Then, in March 2018, the pair announced their breakup in joint social media postings. Though, rumors of reunions persisted, and by December 2019, the news was that they were most definitely back on.
Earlier this year, Malik appeared in a campaign for Martyr, the jewelry line designed by Hadid's brother Anwar. Then, last week, Hadid included an image of Malik on her Instagram, confirming that they were social distancing together at her mother's farm alongside her sister Bella Hadid.
Related: Bella and Gigi Hadid Are Farming and Thriving
Gigi Hadid Has Perfected Her Model Off-Duty Style
Like most teens in 2012, Gigi Hadid had a love of cool printed pants. Worn with her natural wavy hair and tan accessories, the young model showed an early sense of style.

GETTY
Less than two years later, Hadid had blossomed from traditional teen to mega model off-duty—and she had the leather jacket, black skinnies, and leopard print boots to prove it.

GETTY
The model was all smiles at the 2014 Kids' Choice Awards with a fun blue and white look befitting of the occasion…

GETTY
And again showed off her stellar off-duty style in a striped shirtdress and Chanel boots in New York.

GETTY
The model is known for her versatility. Here, she wears a minimalist Calvin Klein Collection number at the brand's 2014 Reveal fragrance launch party.

GETTY
And really showed her star power at the 2015 Vanity Fair Oscar Party with a slinky Versace dress.

GETTY
The shimmering Atelier Swrovski and Michael Kors jumpsuit she wore to the CFDA Awards…

GETTY
And, most recently, the branded Mikhael Kale jacket and Christian Louboutin booties she sported at the MuchMusic Awards. #Hadid for the win.

GETTY
Out on a date with then-boyfriend Joe Jonas at L'Avenue, Hadid opted for a sporty Versace dress in Paris, France, September 2015.

GETTY
Hadid and Kendall Jenner wore straight-off-the-runway Balmain looks (and swapped hair colors while they were at it) during Olivier Rousteing's Fall 2017 Balmain after party in Paris, France, March 2016.

GETTY
A longtime fan and model for Rousteing, Hadid wore another one of his designs for Balmain attending a dinner he hosted during the Spring 2016 collections in Paris, France, September 2015.

GETTY
Hadid wore a daring sheer Yanina Couture dress with a La Perla bodysuit to the Daily Front Row "Fashion Los Angeles" awards, where she observed little sister Bella Hadid nab the Model of the Year award, in West Hollywood, California, March 2016.

GETTY
Hadid made headlines with her new (later revealed to be faux) bangs, but her Versace suit was no less attention-getting. Here, she walks the red carpet at the MTV Movie Awards in Burbank, California, April 2016.

GETTY
Hadid was in the midst of promoting her first collection with Tommy Hilfiger when the designer was honored at the Daily Front Row's Fashion Media Awards — so, appropriately enough, she wore a daring iridescent gown by Hilfiger to support the designer, in New York, New York, September 2016.

GETTY
Hadid proves there's Tommy for all occasions, here under the brutal New York City heat dome, July 2016.

GETTY
Hadid, in Atelier Versace chain mail, joined sister Bella (who walked her first-ever Victoria's Secret show last year) on the pink carpet at the lingerie brand's afterparty in Paris, France, November 2016.

GETTY
Hadid put the rest of New Yorkers to shame in the chic-est possible look during the polar vortex: a Victoria Beckham coat, Mansur Gavriel bag, Karen Walker sunglasses, and Freda Salvador boots, in New York, New York, December 2016.

GETTY
Ever the early adopter of a street style trend, Hadid works a pair of plaid Miaou jeans, looking every inch the British punk goddess in Paris, France, March 2017.

GETTY
Hadid broke the cardinal rule of New Yorkers everywhere, wearing a slouchy all-white ensemble after a bout of fresh snow and before Memorial Day with an M2Malletier bag. You can take the girl out of Calabasas, but you can't take Calabasas out of the girl.

GETTY
Gigi Hadid's enviable crop top selection showcases her enviable abs. Here, she wears an embellished Sally LaPoint sweatsuit in New York, New York, April 2017.

GETTY
Gigi Hadid seen on the streets of Manhattan on September 08, 2018 in New York, NY. Photo courtesy of Getty Images.

GETTY
Gigi Hadid looks crisp in an all white suit on October 23, 2018 in New York City. Photo courtesy of Getty Images.

GETTY
Denim-on-denim for a Rangers game as Gigi Hadid is seen arriving at MSG on 34th street on March 12, 2018 in New York City. Photo courtesy of Getty Images.

GETTY
Gigi Hadid seen on the streets of Manhattan on October 09, 2018 in New York, NY. Photo courtesy of Getty Images.

GETTY
Gigi Hadid seen on the streets of Manhattan on December 11, 2018 in New York City. Photo courtesy of Getty Images.

GETTY
Model Gigi Hadid is seen on February 26, 2019 in Paris, France. Photo courtesy of Getty Images.

GETTY
Model Gigi Hadid is seen on February 28, 2019 in Paris, France. Photo courtesy of Getty Images.

GETTY
Model Gigi Hadid attends the "Americans In Paris" Cocktail Party Outside Arrivals as part of the Paris Fashion Week Womenswear Fall/Winter 2019/2020 on March 03, 2019 in Paris, France. Photo courtesy of Getty Images.

GETTY
Gigi Hadid is seen at Cipriani 42nd Street for the Variety's Power of Women on April 5, 2019 in New York City. Photo courtesy of Getty Images.

GETTY
Gigi Hadid arrives at Marc Jacobs and Char DeFrancesco wedding reception at the Pool on April 6, 2019 in New York City. Photo courtesy of Getty Images.

GETTY