A Conversation with Ginevra Elkann at Salone Internazionale del mobile in Milan
In her second installment of May I Introduce You?, the multi-tasking Fiat scion Ginevra Elkann has unearthed a new roster of creative talent spanning disciplines as varied as art, publishing, engineering, photography, film, flowers, fashion,...
---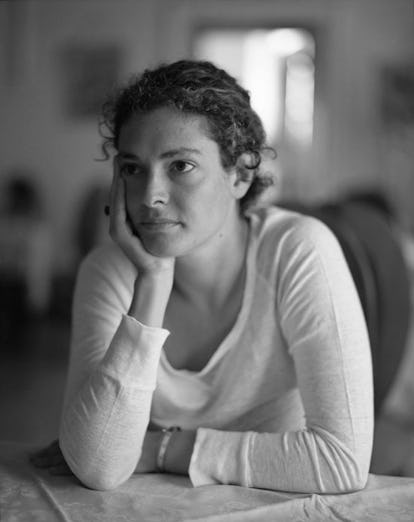 In her second installment of May I Introduce You?, the multi-tasking Fiat scion Ginevra Elkann has unearthed a new roster of creative talent spanning disciplines as varied as art, publishing, engineering, photography, film, flowers, fashion, and even ice cream making. And while you likely haven't heard of most of these creative stars-in-the-making, well, that's the point. Here she talks to J.J. Martin about why you should.
Before we move into the talent, let's first talk about you. It's hard to categorize your profession. How do you describe your job to people? It depends on who I talk to. It's many different things basically. I'm a film producer [in Rome]. I also do film distribution. And I run the Pinacoteca [Giovanni e Marella Agnelli in Turin]. That's mainly what I do. It's a bit like producing culture in some kind of way. I have to find the right word, I haven't yet! Oh,….And I'm a mom!
Creativity as a book subject: what's the appeal? It was, very selfishly, very interesting for me to do this research. It's inspirational to see what people do. And interesting to show creativity in its many facets. It doesn't just involve art, film and design but it also exists in any kind of field.
Is the objective to focus on people who don't have a profile at the moment? Yes. If you had a book like this with Riccardo Tisci and Raf Simons and Damien Hirst it wouldn't be that interesting. Everyone knows them. There's no use in a book introducing them. These guys need it.
What did you do differently this time? Last time there was my brother [Lapo Elkann], people I had worked with and people I knew much better. This time a lot of people I actually never met, like Thomas Ermacora, Maaza Mengiste, Katie Scott, The Impossible Project. Someone like Frederik Ottesen I had met at a conference called DCD- digital collective design. He was talking about this little LED light that works with solar power for Africa. I thought this is a creative way of doing good but also an enterprise. It's not a charity.
How did you go about the research for those you didn't know? On the internet, mainly. I'd go browse for hours! There are paths of interconnection that bring you to a person. Then you kind of verify that they're as interesting as they seem.
How did you find the writer Maaz Mengiste? I found her on the Granta website. I read that literary review and The Paris Review and sometimes people come up. She is one of them.
Who from this book did you already know? Frances [Armstrong Jones] is a friend of mine. She's a photographer and has taken on the archive of her father who's a very interesting photographer—Lord Snowdon. She's made a website called Snowdon Review and created a whole narrative around this archive. That's as well creative: what can you do with an archive today?
Any other friends? Marius Ektvedt I went to film school with. He's Norweigan. We worked together and did short films. He's very multi talented. He's a fantastic photographer, writer, a great drawer, and a filmmaker.
It seems like the talents are multi-talent, just like you. Yes, and I think that's something else we wanted to show that people have that kind of tendency now to do more than one thing. Things are much more interconnected now and people tend to do a lot of different things.
Especially in the media world, like Negar Azimi. She's amazing. She's the editor of Bidoun, a Middle Eastern culture magazine, published in New York. It's different facets of the Middle East but seen with great graphics, great photography, and a new angle. It's not the aesthetic that you would imagine.
Mousse magazine, another entry, is also very under the radar. Yes, but it is very well regarded in the art world. Very young, great graphics, extremely good distribution. It's very high quality.
It's funny because Milan is not really a center for contemporary art. I think in Italy you get these very strange things that happen. Someone pops out of nowhere. You don't know how but they do. They are a bit like this.
Did you know the Grom ice cream people from Turin? No, I never met them ! I enjoy their ice cream and I appreciated their vision. They stand away from the gimmicky part of fast food. It's very slow food. They have their own fields where they produce fruits and nuts. The chain of production and quality is very careful.
Who else is from Turin? Carlo Ratti. I met him a few times. He does very interesting work on urbanism and architectural engineering at his lab at MIT. He's one of those famous brains that have left Italy. It's the brain drain.
These illustrations were very nice by Katie Scott. Beautiful! There's something biological about them.
Tell me about the designer of the impossible to pronounce Cherevichkiotvichki shoe label. Victoria! I met her in London when I was living in London. She worked at Dover Street Market. And she always wanted to make shoes and one day she did, very bravely. She showed them in Paris one year ago.
Do you have any of her shoes? I don't. But I like her shoes and the determination. The way she created her world and does everything all by herself.
Where did you find the flower designer Thierry Boutemy? I saw something of his somewhere, maybe Lanvin. I thought they were beautiful. There's something so magical about flowers and floral creations you can really change a whole atmosphere.
And what about the handbag you're wearing now? It's by Olympia Le Tan. She makes bags out of books. I asked her to make this one for me because my dad is a writer and had done a beautiful cover for the American edition of his book, called Piazza Carignano.
Has your father seen this purse? Yes, he almost cried. He was like, "What? A bag made out of my book?!"
May I introduce You? Volume 2: A Guide to Creative Talents. Curated by Ginevra Elkann.