Step Inside Girl at the White Horse, L.A.'s Newest Celebrity Hot Spot
Lana Del Rey, James Franco, the Weeknd, and Kristen Stewart are among the celebrities already patronizing the impossibly cool new spot, located at the old The White Horse Inn.
---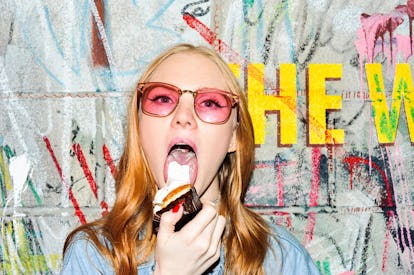 Wolf Wallace
Back when Girl at the White Horse—known simply as Girl to a select few in Hollywood—was still The White Horse Inn, Reza Fahim was just another local frequenting his neighborhood bar. A local, that is, who had his sights set on taking over the well established dive.
"I sat at the bar for almost 15 out of 30 days in a month," he told me. "I came here almost every other night."
But the woman behind the bar, Hungarian owner Victoria Lalea, who was "on the tail end of her run" after inheriting the space from her ex-husband, according to Fahim, paid him no mind. "She wouldn't at all acknowledge me," he said. "She really made me fight for it. She didn't take me seriously at all."
In the end, Fahim made himself known, and Girl has become his latest undertaking, amid the ongoing success of Tenants of the Trees (with co-owner Jason Lev), which has Venice and Santa Monica residents Ubering the 20 or so miles east to Silver Lake to experience the hype firsthand.
James Franco, Lana Del Rey and The Weeknd at Girl at the White Horse, L.A.'s New Hot Spot
James Franco, Myles Hendrik, and Galen Pehrson

Wolf Wallace
The Weeknd and Reza Fahim

Wolf Wallace
Lana Del Rey, Alia Penner, and friends

Wolf Wallace
Cara Stricker and Sara Decou

Wolf Wallace
Justin Gossman and friend

Wolf Wallace
Unlike Tenants, Girl is a place for him and his friends to call their own. Those friends, though Fahim doesn't share names, include the likes of Lana Del Rey, Kristen Stewart, The Weeknd and James Franco.
"It was a reaction to spending so much time at Tenants and yearning for intimacy," he said.
Girl, which officially opened two weeks ago, has been his personal, passion project. He had the walls knocked down and was left with a large open space, which he's turned into a labyrinth of colorful nooks. It's full of homey, mismatched furniture, cushioned seating and intimate corners throughout. He's put careful thought into every detail, and it shows.
The outside, however, has been left untouched.
"White Horse," reads the over 30-year-old sign, illustrated with an image of, well, a white horse.
"Why change anything on the outside? Why not let people get transported into something?" he said.
On Western Ave., north of Sunset Blvd., the juxtaposition of East Hollywood's grey and grimy streets to that of the space's bright and vivid interior of reds, pinks and greens is striking. Fahim describes the decor as John Hughes meets Wong Kar-wai, he's a longtime fan of both (fittingly, on this particular night, Pretty in Pink is being projected in the patio).
"As far as how I designed it, I mean, look—all I see is in colors," he said, and as if on cue, The Rolling Stones' "She's a Rainbow" began to play. "I feel in color. I emanate feeling in color."
Fahim is looking forward to unveiling the transformed space to the previous owner, he said. The name of the bar is an ode to her, after all.
"Little does she know, the upstairs is going to be totally dedicated to her," explained Fahim. "It's going to be called Victoria's Room. I have this big painting that I bought that I'm going to manipulate a little bit to make it look like it's her."
In the days of The White Horse Inn, Victoria, as she was known (or even "mama" to certain regulars), would pass out hot dogs and popcorn, free of charge. She was the bartender, the music curator—she did it all.
"That upstairs is going to be all that," said Fahim.
Currently under construction, he plans to rent out the second level for parties of 15 to 20 people, as well as introduce a book club. Directors and writers coming from the nearby American Film Institute were frequent customers, and he wants them to feel at home at Girl, he explained.
"None of it made sense," he said of the entire endeavor. "But all of it, somehow, living in my head, made sense."
Calling Card The sign, of course, is hard to miss. But when first stepping inside, it's hard to miss the flowery, bubblegum pink wallpaper (covered in pampered, fairy tale-like white horses) by the entryway. It's over the top kitschiness, which is exactly the point.
The Door It's hit-or-miss but worth the venture. Flash a smile and hope for the best.
Tribes Imagine waiting in line (the horror!) outside Tenants' Out of Order (its smaller, more selective "back room") on one of their most popular nights, as you watch others walk past, kiss the door girl hello and make their way inside. Those others are the faces you'll find at Girl—the inner circle of tastemakers, artists, filmmakers, musicians, models and quintessential scenesters.
The A-List Lana Del Rey, Kristen Stewart, The Weeknd, James Franco and Leon Bridges were some of those who attended a Valentine's Day, pre-opening party and left their mark, literally, as paint pens were passed around to scribble messages and drawings on the patio's chipboard walls. Emma Roberts recently held a private party celebrating a new film, while Lykke Li co-hosted a tasting of Yola Mezcal, the women-run and bottled spirit she co-owns, for International Women's Day (a popular cocktail on the menu: "Green with Envy," made with mezcal, ancho verde, cucumber and lime).
The Libations A simplified menu of "stripped down, three-step cocktails," said Fahim, which includes the "Americana" (tequila, campari, vermouth di torino) and "Cherry Bomb" (citrus vodka, lemon, sour cherry), $15 each. A glass of wine goes for $13; draft beers, $10; a Tecate or IPA, $7; or if you're feeling frisky, a bottle of Grand Cru Champagne will set you back $100.
Music "What I wanted to do is try to capture nostalgia, and I am such a sucker for love and intimacy," said Fahim. "The one thing that makes us all the same is that we want love and to be loved." The playlist includes rock 'n' roll oldies and classics, the likes of Otis Redding, The Rolling Stones and Simon & Garfunkel.
The Basics 1532 N. Western Ave., Los Angeles, CA 90027. Monday – Sunday, 8 p.m. – 2 a.m.
Living the Calabasas Dream: What Non-Kardashians Actually Wear While Walking Their Tiny Dogs
Photo by Nolwen Cilfuentes
Photo by Nolwen Cilfuentes
Photo by Nolwen Cilfuentes

Photo by Nolwen Cilfuentes
Photo by Nolwen Cilfuentes

Photo by Nolwen Cilfuentes
Photo by Nolwen Cilfuentes

Photo by Nolwen Cilfuentes
Photo by Nolwen Cilfuentes

Photo by Nolwen Cilfuentes
Photo by Nolwen Cilfuentes
Photo by Nolwen Cilfuentes
Photo by Nolwen Cilfuentes
Photo by Nolwen Cilfuentes
Photo by Nolwen Cilfuentes
Watch W's most popular videos here: