Gisele Bündchen Clarifies Her Comments About Being "Older, Wiser" Than Instagram-Using Models
Ironically, she apologized on social media.
---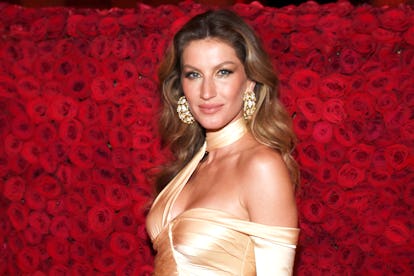 Kevin Mazur/MG18/Getty Images
Gisele Bündchen came under fire this week for comments she made about younger models who are active on social media, and now the 37-year-old Brazilian supermodel is clarifying her "misunderstood" statement. Bündchen appears on the July cover of Vogue, but it was her interview with the magazine that drew some ire from fans and followers after it was published on Thursday.
"It's not my generation—I have to be honest about that," she told Vogue about how Instagram and social media culture have impacted her industry. "I'm older, wiser. If I had to promote myself in the way girls modeling now have to do it, forget it. I wouldn't do it." And while Bündchen is on social media herself, she noted that her Instagram account was created by her sister, who reminds her from time to time to post a selfie or two. "If it was me, it would only be pictures of sunsets," Bündchen said.
Some took offense to Bündchen's statements about social media, seeing it as a jab to younger models like Kendall Jenner and Gigi Hadid who have grown their careers and brands online. In response to the backlash, Bündchen, in a grim twist of irony, had to log on to social media to clarify her quotes. "I'm sorry that my words in my most recent Vogue article were misunderstood," she wrote in a Twitter post.
Rather than passing judgment on younger models who have launched their careers online, Bündchen wrote that her words in the interview only meant that she wouldn't personally like to have to deal with the new demands that come with managing a professional social media presence.
"I come from an older generation and am not technologically savvy," she wrote. "I admire the younger generation and their skill to manage all the added demand of social media. I certainly never feel that I am wiser than anyone, and I believe that we are all learning."
In her Vogue interview, Bündchen also revealed some other telling details about her relationship with the modeling and fashion industries, surprising many by saying, "I'm not a model." She added, "Modeling is a job that I do, a career that I've had. It allowed me to see the world, and I was well paid for it. But it never defined me."
Related: A Comprehensive Timeline of Gisele Bündchen and the New England Patriots