Next Season's Hottest Accessory Is a Cat, According to Givenchy
Clare Waight Keller's debut campaign for Givenchy stars models—with cats.
---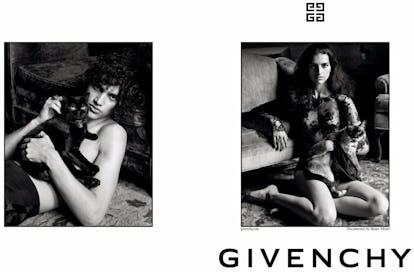 Steven Meisel; courtesy Givenchy
Fashion, it seems, is feeling the pull of the occult lately. Vogue declared "Witchy Week" in late June; models, artists, and influencers are all about crystals and reading their horoscopes (thanks, Astro Poets); and Maria Grazia Chiuri at Dior and Alessandro Michele at Gucci have both incorporated supernatural imagery and motifs into their designs. With her first campaign as artistic director of Givenchy, Clare Waight Keller gets in on the trend, too, giving each model the witchiest of all accessories: an animal familiar.
In the first of the new images, shot by Steven Meisel, models Elias Bouremah and Saffron Vadher—relative unknowns, by Givenchy standards, considering Tisci surrounded himself with a clutch of muses like Mariacarla Boscono and Joan Smalls, as well as the ever-present Kardashian clan—are depicted in black and white, he in tuxedo pants and she in a lace top, lounging against plush couches and sprawled across plush rugs. In their arms, they cradle a cat: for Bouremah, a classic black cat, and for Vadher, a tawny feline with a black face and tail. A second set of images mirrors the first, featuring models Meghan Roche and Kolton Bowen similarly dressed to Bouremah and Vadher.
"To me, Givenchy is a world where women and men alike are strong, stoic and mysterious," Keller said in a release that accompanied the campaign announcement. "They own their power and share it equally." It's a teaser of the upcoming Spring 2018 collection, which Keller will show in Paris this fall and will, for the first time for Givenchy, feature both menswear and womenswear.
The campaign is entitled Transformation Seduction, which could nod towards this new androgynous philosophy—certainly the direction in which fashion has been heading lately, collapsing the distinctions between men's week and women's week on the calendar and showing men and women alike wearing the same looks. But, given the occult leanings of the images, it could also be a gesture at the relationship between the models and their animal familiars. "I love the idea of a woman with a feline air," Keller said in the release. "They're seductive."
As Vanessa Friedman pointed out in the New York Times, it also shows Keller has done her homework: The cats are a reference to a pattern designed by Hubert de Givenchy back in 1953. To stretch it even further, classic Givenchy muse Audrey Hepburn famously starred alongside a cat in Breakfast at Tiffany's in 1961. And even if cats aren't Spring 2018's breakout trend, the collars they wear in the campaign could be—because even they are for sale.
Related: Meet the Witches of Instagram
Graff ring; Fendi bag and dress.

Photographer: Emma Tempest Stylist: Michelle Cameron
Sonia Rykiel bag; Van Cleef & Arpels bracelet; De Beers ring; Joseph sweater and skirt.

Photographer: Emma Tempest Stylist: Michelle Cameron
Nancy Gonzalez bag; (right wrist, from left) Harry Winston bracelet, Graff bracelet; Harry Winston ring; (left wrist) Van Cleef & Arpels bracelet; Max Mara dress.

Photographer: Emma Tempest Stylist: Michelle Cameron
Balenciaga shoes; Fendi dress.

Photographer: Emma Tempest Stylist: Michelle Cameron
Gucci slippers; Harry Winston bracelet; De Beers ring; Stella McCartney coat.

Photographer: Emma Tempest Stylist: Michelle Cameron
Michael Kors Collection bag; Van Cleef & Arpels ring; Alexander Wang turtleneck; Max Mara skirt.

Hair by Braydon Nelson for R + Co At Julian Watson Agency; Makeup by Asami Taguchi for Giorgio Armani Beauty At Frank Reps; Manicures by Holly Falcone for Chanel at Kate Ryan Inc. Models: Mariah Morrisona Next Management, Jana Knauerova at Wilhelmina Models. Set Design By Lauren Bahr For Anne Koch Studios. Digital Technician: Nick Bean. Photography Assistants: Paul Strouse, Andrew Boyle. Fashion Assistant: Kyle Hayes. Hair Assistant: Nero.

Photographer: Emma Tempest Stylist: Michelle Cameron
Nicole Kidman, James Franco, and Milo Ventimiglia sing the Spice Girls's "Wannabe":