Glenn O'Brien Remembered by Blondie's Chris Stein, Co-Host of the Legendary TV Party
Blondie's guitarist Chris Stein remembers the heyday of TV Party, the public-access TV show he co-hosted with the late Glenn O'Brien.
---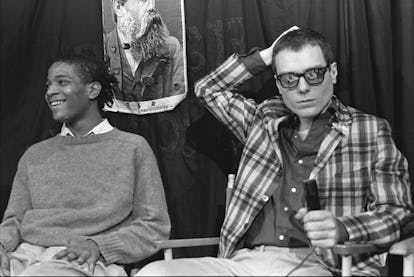 Bobby Grossman, courtesy of glennobrien.com
David Bowie, Jean-Michel Basquiat, Iggy Pop, Robert Mapplethorpe, Steven Meisel, Debbie Harry, and dozens of other downtown names all have something in common: back in the late '70s and early '80s, all headed to Manhattan Cable Studio and either appeared on or took in the scene that was TV Party—the public access TV show that Glenn O'Brien, the downtown wit and "Style Guy" who died last week at age 70, turned from a spontaneous dream into something of a rite of passage.
The show kicked off in 1978, a time when O'Brien was hardly short on extracurriculars—he was editing and writing his various columns, plus partying with his pals from Andy Warhol's Factory, where he got his start. As it turned out, though, O'Brien could definitely multitask: "TV Party became as much a social event as an actual TV show," recalled Chris Stein, O'Brien's co-host, who was also playing double duty as the guitarist in Blondie.
"I probably met Glenn when he was doing a band called Konelrad, which did a few shows at CBGB's," Stein remembered of their first encounter—one that quickly led to hang-outs at Stein's Midtown apartment, where the pair watched cable TV while, as O'Brien told Vice when revisiting the series in 2014, often "smoking Rasta-sized joints."
One day, though, O'Brien made the foray into public access by appearing on his friend Coco Crystal's show, named after the anarchist Emma Goldman's phrase: If I Can't Dance You Can Keep Your Revolution. (Crystal died exactly a year ago.) The next day, O'Brien was quickly recognized on the subway, and it sparked a revelation: to make his own show, and to air it not on the still-limited cable channels, but where the audience really was—on public access TV.
"At that time, the cable TV audience was very limited—the cables didn't go downtown, so only people above 23rd street had access," Stein, who'd had his own experience with cable with his own TV show with Joey Freeman, another pal of Warhol's, recalled. Still, "some government stipulation" required a certain amount of time was allotted to public access—an idea Stein admitted "was probably more aimed towards community service type stuff," but mostly appealed to"freaks like us"— Ugly George, Robin Byrd, and more names who all grew up with television and were more than eager at a chance to appear on-screen themselves.
As it turned out, appearing on public access didn't just mean the views would come pouring in, but also the audience members—"a whole bunch of the downtown crowd," who'd gather each week across the street at the Blarney Stone Bar, before heading over to the studio—as well as the guests.
"Everybody was on the damn show," Stein said—among them, the B-52's, the Clash, Klaus Nomi, George Clinton, and David Byrne. "I think we did around 90 shows, all told, but probably only about 20 are still around," Stein added. "One of the very last shows we did featured Iggy Pop, but there's no tape of that."
After all, though it was public access, resources weren't exactly free: each show cost about $90 to produce, and Stein and O'Brien would collect money from the audience members, which also went toward general upkeep, thanks to somewhat raucous regulars like Jean-Michel Basquiat. After Heavy Metal Night, for example—one of the show's many themes, from Primitive Night to Country Western Night to special episodes for Halloween—Basquiat wrote "Mock Penis Envy" on the back studio wall that Manhattan Cable had just freshly repainted. "I don't recall if we had to pay for that indiscretion or not, but Jim, the fellow who ran the place, wasn't very happy about it," Stein said.
That was hardly the only time things got wild—though as Stein put it, they definitely could have gotten a bit wilder. "If we had had our own studio situation like Colbert or Fallon nowadays, it would have been even crazier," Stein said. "As far as I know, there still aren't any other TV shows where everyone smokes weed on camera—even though there should be."
The show wrapped in 1982, putting an end to most of Stein and O'Brien's weed-friendly hangs. Still, the pair kept in touch and occasionally reunited, thanks in parts to run-ins Stein attributed to "some cosmic interaction." Take the time in 1999, for example, when Stein had just married his wife and, on tour in Europe, was wandering around Porto, Portugal—a small, quaint city. Nonetheless, Stein suddenly heard someone calling his name. It was O'Brien, who was also with his new wife, on honeymoon, driving down the main street in a sports car.
See W's most popular videos: