Gosha Rubchinskiy is Back in the U.S.S.R. for Fall 2017, Channels Sweaty Russian Boys Playing Soccer
The Russian designer chose to stage his Fall 2017 collection in the Kaliningrad to debut his new collaboration with Adidas. The vibe was streetwear meets "Russian boys after they finish playing football."
---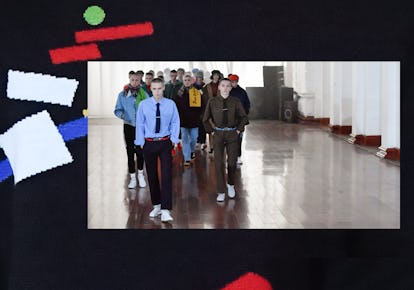 Photos courtesy of Gosha Rubchinskiy.
It was about 17 degrees Fahrenheit when a small group of international journalists landed in Kaliningrad, Russia on the morning of Gosha Rubchinskiy's Fall 2017 show. Packed in a local mini van, we drifted through foggy and snowy city streets, quite the contrast from the lavish press trips fashion houses usually organize for fashion media. But this is what makes Rubchinskiy's charm so irresistible, even for a native like me.
Rubchinskiy usually shows in Paris, where he has his showroom right off the Place Vendôme square. (He showed Spring at Pitti Uomo. But he decided to stage his fall collection in this seaport city, which was occupied by Germany until World War II, because he's collaborating with Adidas, of course one of the most iconic German brands. That Kaliningrad's architecture is a mix of German and Soviet motifs felt especially apropos. For his venue, Rubchinskiy chose a beautiful and monumental former German stock exchange that now houses the Regional Center of Youth Culture, which was not surprising considering the designer's obsession with Russia's young club kids, punks and rabble-rousers.
Another reason is that when Rubchinskiy started his label in 2008, Russia was at war with Georgia, and his collection aimed to be a reflection of the political situation and the way the country was perceived in international press. Russian, as you might have read, played an unusually prominent role in the the politics of 2016, and so Rubchinskiy wanted to return to his roots.
He also just wanted to visit Kaliningrad. "Friends are here," Rubchinskiy said at a dinner after the show on Thursday. He described working on the collection as a hands-on and personal experience, one where he took charge of everything from hair to makeup to his recognizable brand of styling. "For each look, we imagined a Russian personality: this one is a 'bouncer' look, this one is a football coach look, and this one is a student look," he said.
The models were cast partly in Kaliningrad and Moscow, where the Lumpen model agency, which also handles Demna Gvasalia's shows for Vetements and Balenciaga, and the rest on Instagram. The models played an important role in the show, as well. Moscow–based DJ Buttechno created an original soundtrack that featured personal recordings of each of the models as they walked down the runway reciting his name, age and his dream in life, a selection of answers that were both endearing and amusing.
At Pitti Uomo, The Guys and Girls Who Rule Gosha Rubchinskiy's World
One model's dream, for instance, was to be a KGB agent while another one hoped to "not to die before I'm 25." Others were more high-minded, with one saying he wanted to create a society without violence and yet another wanted to "discover the secrets of the universe." For Rubchinskiy, the soundtrack was "a way to show the country to an international audience." He said in the future he will continue to show in other Russian cities, though he declined to go into specifics.
Because of the collaboration with Adidas, which will last until 2018, when Russian hosts the World Cup, Rubchinskiy styled the collection by mixing loose tailoring with the German brand's white rain jacket or track pants with a wool coat.
There was something casual and sexy about the whole aesthetic.
"That's how Russian boys look after they finish playing football on the streets and walking home," Rubchinskiy said mischievously.
Gosha's Gang: A Who's Who of the Designer's Inner Circle
Who: Andrei, model
Handle: N/A
Who: Seva Vsevolod Cherepanov, model, muse, and merch king
Handle: @amoureuxpeintre
Who: Avdotja Alexandrova, founder of Lumpen Modeling Agency
Handle: @vidunja
Ahead of the Presidential Inauguration, Watch 21 Celebrities Perform Gloria Gaynor's "I Will Survive"