Grace Jones on Turning Her Experience with Abuse Into a Lifetime of Being Fierce: "I Pack a Good Wallop"
The key to becoming a mythical figure is to play along, Jones explains in a wide-ranging W interview.
---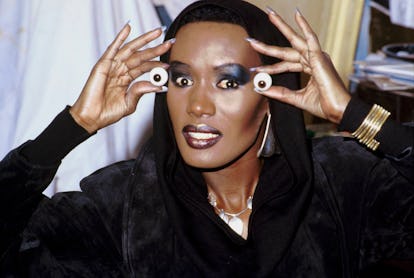 Suzie Gibbons/Redferns
There are few musicians—or, frankly, people—living who are better suited to a documentary than Grace Jones. The singer, artist, model, and actress's outsize presence makes even the most mundane life moments come alive, as we see in Sophie Fiennes's Grace Jones: Bloodlight and Bami, which hits theaters this Friday. Eating breakfast? Grace Jones does it in a Parisian hotel in a fur coat with nothing underneath and a bottle of champagne by her side. Grabbing a snack? Grace Jones shucks her own oysters, while wishing her body (specifically, her nether regions) was as tight as they are. Even as the film shows that Jones, like everyone else, is painfully human, her otherworldliness never falls to earth.
That's in part thanks to her "warrior DNA," as she refers to it over the phone from Jamaica, where she's working on her new album, a follow-up to 2008's Hurricane. Decades before the Time's Up movement, Jones was advocating for herself and equal pay. "The warrior in me always insisted I got paid and got everybody else paid," she says with a laugh. In the documentary, when she takes on a TV gig to help pay the cost of making her own album independently, she tells a producer who populated the set with women skimpily clad in lingerie, "I'm like a madam in a whorehouse. It's like a bad dream. It's against what I stand for." (Ultimately, she does the segment alone.) Her self-love is no less contagious when speaking with her.
How do you feel about the documentary? I love it. I never saw any of the footage, and I love the way it turned out.
In the documentary, you're such a strong advocate for yourself. In the scene where the TV producer gets your vibe all wrong and brings backup dancers in lingerie, you stand your ground. How did you find the confidence to fight for your creative vision when you were younger? [Laughs.] I guess it's something that I was born with. When you're involved with every aspect of your career, the more you do, the more you learn. If something is filmed of you where you don't recognize yourself—that happened to me when I was first modeling. I saw a photograph that came out and couldn't recognize myself because they put a wig on me. I had a shaved head at the time and I was told I shouldn't have done that. I think that was a wakeup call for me when I was very young, that I'd like to recognize myself.
Absolutely. That's when I started learning how to do my own makeup. When I was traveling, looking for agencies and just starting, I couldn't really have designer clothes. That came later, once I started to make it or inspired designers or artists. I had to kind of make things up and put things together as if it didn't look cheap and was inspirational to photographers or designers I was going to see. My mom was a number one seamstress so I believe it started there when I was sewing as a kid. She was all about the details, and once you learn about the details, it stays with you. You learn a certain quality and don't want to go beneath that. You want to go upwards, not downwards.
So, you had to have your own creative vision back in those days. It definitely helped. When I started with Jerry Hall and Jessica Lange, we were able to get work because we saved them money. They didn't have to hire a makeup artist. We could also style ourselves. I remember when I first worked with Issey [Miyake]. He said, "Let me see what you're going to do with this." Now it's not like that. The models come in and everybody does everything for them.
Do you think the idea of beauty has changed for better or worse over the course of your lifetime? Beauty is in the eye of the beholder, I guess. Different people have personal taste that are in control. I believe if they're not willing to diversify then you will see beauty in the way one particular person sees beauty. Then you have other people that will see someone who's completely different and see beauty in her or him or her/him.
I don't go to many fashion shows like I used to. I used to love going to Paris and seeing fashion shows but now I've been busy growing in other directions. I think the designers I know are always going to do something that keeps their integrity. When I see what kinds of models are showing clothes in magazines, they're beautiful girls. I find that they're too skinny. I don't find that size-zero, skin-and-skeleton look that seems like you just have not been fed for months beautiful. That to me is not beautiful, and they do show a lot of that. To see bones popping out of shoulders and knees and no kind of natural curve, for the sake of "this is supposed to be beautiful"—I don't agree with that at all.
You've always used your body as a canvas to project strength and femininity and masculinity all at once. How has your relationship to gender identity changed throughout the years? I don't think about it, really, because I think we're all oysters to begin with and the whole gender thing is like some people have two genders. I believe that you can have your male and female and that if you're born as a male you can have more female. I believe God made us in all kinds of ways. What comes out, comes out.
I really feel very male sometimes. I act it as well. I do act it, and I'm not sure if has to do with I was actually born with more male in a female body. I embrace both of them. I remember someone I was with said to my mom, "I've married a man." Men expect women to be subservient and do as they say. But I'm a Jamaican woman; Jamaican women are just different.
I love the scene in the doc where you tell Jean-Paul Goude, "Instead of penetrating, I think [men] all need to be penetrated once. Then they'll understand what it's like to receive instead of give." When did this idea first come to you? [Laughs.] Ahh, well probably at some point where you have this feeling [someone is like], "You just lay back and I'm going to give you all the power. You are weak and I'm penetrating you." It's like saying, put yourself in my place for once so you can see that feeling.
Have you always been a feminist? I don't consider myself a feminist. I don't put labels on things, really. I stand up always for being a human. The fact that I am a woman gives more power to it, but I stand up for being a human being. I don't like the fact that women should be this way and stay in their place. I'm more than a feminist. I believe we are stronger. Women are stronger.
It's not just physical and it's not just mental. I think men become weak because they're not allowed to exercise their emotion. They have been told that by showing emotion they're showing weakness and I believe that's why women are stronger; in an emotional situation, I believe that women will win every time. Most of the time, anyway. I'm not going to say all men are weaker than women. I think the men that embrace their female side are the stronger men.
There's beauty in strength and being vulnerable, which is something that you hinted at in the documentary while talking about your experience with abuse and channeling that into your performances. How did you let go of your anger? I think from talking with my brother Noel and having different views of what my stepgrandfather Mas P's situation was and understanding his side. It still doesn't make what he did go away. It's trying to peel away the onion to figure out what his situation is. He married my grandmother, who was older than he was, and then he raised us kids. My brother said, 'Well, he married someone older. Obviously he didn't want to have kids of his own and then he ends up with kids.' I never thought of it like that. In a way, I can say I understand that and let go of it. Because I believe the abused become the abuser.
I used to say to guys, "Do not hit me." Or, "If you hit me, be ready. When you're sleeping, I'm going to knock you out with a frying pan." [Laughs] I did take some Pilates and boxing for fun and for film so I could protect myself. I can deliver a good punch. I pack a good wallop. But, of course, you have to be careful because you will end up in court and in jail [laughs]. So I have to use my mouth instead.
There's a scene in the film where you talk about paying for your own records so you can have artistic freedom. When did you decide to release your own music?
That comes from working with a company that has their own ideas. Let's say you start working for a company that is complicit with your artistic freedom and then the head of that company leaves and someone else takes their place that actually doesn't like you at all. Then you're stuck in a situation that's not of your own doing, but of the whole corporate system. When that happened to me, it was heartbreaking. The songs are like my babies and they were just killed. When something like that happens, you really want to do it yourself with your team that believes in the same thing you do. So it took me a long time in between records because of that. Then I decided I wouldn't do it until I could do it that way. Also, it's a completely different way of recording now. You can carry the whole thing around in a suitcase.
When does the new album come out? Hopefully if not by the end of this year then by the beginning of next year. I've been working for over five years now on it in between doing everything else. It's almost finished. Then we will get it out there and fight for it and make sure we get the hungry people. You have to feed the hungry [laughs].
Are there any collaborations? No, I collaborate with everyone, but there's no other big stars. I collaborate with writers and musicians and that's it. I have not found anyone that I'd actually want on the record. Who knows—that's subject to change if I'm dazzled.
Do you feel like you've lived through the peak of music and nightlife? Things go up and down. Even my granddaughter, at 9, is making incredible music. So I've got to have hope that I haven't lived through the peak. God, that would be awful. What an awful world it would be for her [laughs]. I believe in the generation coming that they will have their peak.
Is there anyone in pop culture these days that you see yourself in? No. There's parts of me in a lot of pop culture [figures] that are taking bits and pieces of me. Whether they're inspired by me or just piggybacking, there's a bit of that of course. I'm even [referenced] in the film Black Panther. They say, "There's some Grace Jones–looking chicks." [Laughs.] Well, that's good. I like to inspire fierceness and the DNA warrior in women.
Is there anyone you haven't met yet who you've always wanted to meet? Marlon Brando is someone I would have liked to have met. He wanted to meet me, too. Apparently before he died, he asked someone if he could meet me. But someone that's around now, I can't really think.
Out of all the live performances you've done, does one stick out as your favorite? There's been a few but I must say the One Man Show concert was very, very special. The one Jean Paul-Goude and I collaborated on. The Hollywood Bowl, as well. Of course, the tour with Philip Treacy. The one I'm doing now too, with the Keith Haring body paint. That one is very exciting. With the new record coming out, I will have perfected the performance.
Was the Keith Haring body paint inspired by the body paint he drew on you for your 1985 performance at Paradise Garage? Of course Keith isn't here. There are a lot of Keith babies out there—I call them Keith babies—that paint me. All over the world I go, I find a Keith Haring baby to come paint me. Sometimes they study what he's done before and put their own artistry into it, which is what he would have loved them to do. It's exciting.
So many of your peers have passed away. How aware of your own mortality are you? I've always been aware of my mortality. I feel very positive. I'm very thankful that I'm able to do what I'm doing and I love what I'm doing. I still love to take risks. I would still love to do stunts, but I fell off the stage not that long ago when I was trying to do some crazy thing and I get aware of the fact that now my back feels like, "Oh, where did that come from?" But, we are flesh and blood. The mind is forever. The spirit is eternal. So I like to live in that zone, while knowing my limits physically. I still love to work out. I swim a lot. I believe when we do pass that our spirits join all the other spirits. We'll be in the light.
Is there any story about yourself that you'd like to correct? [Laughs] Hell, no. No, never! My age they have all wrong and I still don't want to set that straight [laughs]. I have so many ages out there. I have three different ages… Some people think I've been married a gazillion times. Some people think I'm a man. Some people think I've had a sex change. That's fine [laughs]. I don't need to set anything straight because I've told a lot of untruths about myself. So I do not want to set the record straight.