Gray Sorrenti Makes Her Acting Debut In Uncle Tom Sachs's New Movie for Nike
Along with a cameo by Frank Ocean, for the re-release of the artist's NikeCraft Mars Yard sneakers.
---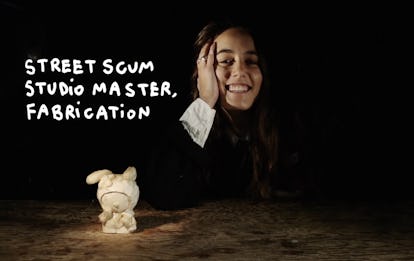 Still from "The Hero's Journey" by Tom Sachs and Van Neistat, starring Gray Sorrenti.
In the opening scene of the artist Tom Sachs and Van Neistat's new 35-minute film, The Hero's Journey, Gray Sorrenti, the teenage daughter of photographer Mario Sorrenti who plays the character "Street Scum" in the film, sits at her sterile, corporate desk drooling with ennui. "Our studio core begin as street scum, bored to death, unsatisfied," says a narrator. But then, a call to adventure! An invitation to Sachs's "Space Camp" is surreptitiously slipped into our hero's cubicle, and she accepts the creative challenge.
Much like in Sachs's actual studio, Street Scum must endure a series of mental, physical, and emotional challenges in order to earn her place and the coveted Ten Bullet studio badge, as Sachs calls it. Her indoctrination consists of learning the names and sizes of every screw under the sun, the corresponding fractions for every line on a tape measure, and at least one burn from a sizzling hot glue gun. In the end, it is only when she learns to let go and accept imperfection that she is able to complete the final challenge, leading her to the "ultimate boon" at the end of her journey. Or rather, the beginning of a new one. (It also leads to a brief cameo by Frank Ocean, who collaborated with Sachs on the singer's Endless video.)
The end of the journey is not only a momentous occasion for Street Scum, but also Sorrenti, who made her acting debut in the film. "We introduced her to the world!" said Sachs proudly, who calls himself her uncle and is best friends with her parents. "This was like her coming out."
Sorrenti is an aspiring photographer herself, and has worked on projects with Sachs since she was little. "She's an artist," he added, which is perhaps a statement more valuable than any badge.
Starting Thursday, June 8, you too can abandon your desk and be indoctrinated to the ways of Tom Sachs and his studio at an actual "Space Camp" on Governor's Island in New York City. To coincide with the re-release of his NikeCraft Mars Yard sneaker, the artist teamed up with Nike to build a fully-functioning obstacle course that challenges visitors' mind, body, and character. All you have to do is sign up online, and be ready to fall flat on your face.
"One of Nike's slogans is, 'There is no finish line,' and I think that's true in art, too," said Sachs just hours before the course was opened to visitors. "Sure, you have to finish the work of art and hang it on the wall, but the real art is in the studio and in the making—and that's filled with failure."
At "Space Camp," failure is not only an option, but also an inevitability. In fact, the obstacles are designed to be impossible to complete perfectly. Take one room, for example, where visitors are instructed to moved through a maze of plumb bobs hanging from the ceiling, Mission Impossible-style.
"If you make a big deal out of hitting one, you're going to hit three," said Sachs with a grin. "And that's the metaphor for failure: Don't dwell."
The sneakers themselves are also an example of this "try, try again" philosophy. Originally released in 2012, Nike gave Sachs the opportunity to revisit and revise the NikeCraft Mars Yard, updating elements like the upper and tongue materials as well as details of the sole design.
In addition to the shoes, which are a cult favorite, visitors to "Space Camp" will also receive exclusive NASA x Tom Sachs x Nike shirts that say "It won't fail because of me," as well as a badge of honor after completion of the course.
"Whenever I design something or write something, I always have my dream person in mind, and that person is my team," said Sachs. "And today, that person includes you. You're on the team; you've been indoctrinated."
Watch "The Hero's Journey," here and sign up for "Space Camp," here.