Grayson Perry, British Personality and Provocateur, Is Opening "The Most Popular Art ­Exhibition Ever!"
The artist and TV host on his survey of recent work, opening at the Serpentine Gallery in London on June 8.
---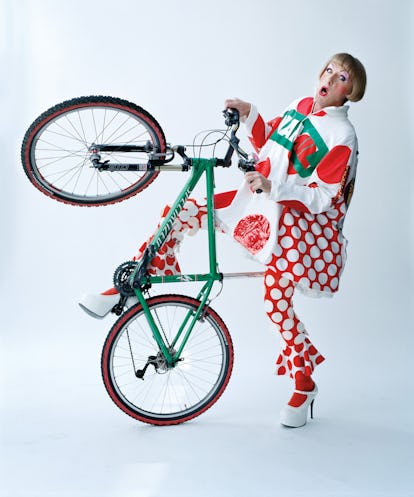 Photograph by Tim Walker
The first ceramicist to win the Turner Prize, in 2003, Grayson Perry has long subverted established artistic forms, adorning pots and tapestries with scenes of child abuse, sadomasochism, and girls with penises popping from their dresses. "I'm a very traditional artist; that's part of the recipe of my work," says the provocateur, whose survey of recent work, "The Most Popular Art ­Exhibition Ever!" opens at the Serpentine Gallery in London's Kensington Gardens next week, on June 8 (through September 10, 2017). "I seduce people with the traditional craftsmanship and sensory pleasure of my objects. And then by osmosis they might take in a bit of the ideas. I use a sort of guerrilla tactic to get my messages in." The show's title is "a kind of provocation," he says, to explore what popularity means in art.
The 20-some works on view will touch on Brexit, the rise of populist politics, and, of course, masculinity and identity—themes that have fascinated Perry since childhood and were the subject of All Man, his recent acclaimed TV series. Included are The Battle of Britain, Perry's tapestry of a divided nation, and Remain and Leave, two Brexit-related vases for which Perry crowd-sourced images online. He also plans to ride around Hyde Park wearing his signature dresses, and host a "bicycle fancy-dress parade," in which the public will be invited to participate.
Perry, who is married to a woman and has a daughter, acknowledges that his alter ego, Claire, plays a vital role in his life. "It's fortunate for me that my particular kink has proved useful as a kind of hood ornament on the limousine of my career," he says with a laugh. "Claire crops up fairly regularly in my work because she's a facet of my personality. I'm a man who likes putting on women's clothes. But the one thing I've learned is that identity is always a negotiation. It's co-created. You can say you're something, but if people say, 'No, you're not,' then you've got your work cut out for you."
Watch W's most popular videos here: