Greta Gerwig Wishes She Never Worked With Woody Allen
"I can make different decisions moving forward."
---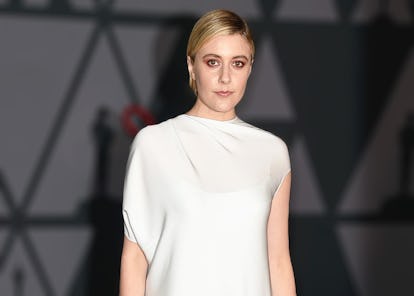 Kevin Winter/Getty Images
In the midst of the #MeToo and Time's Up movements infiltrating Hollywood and beyond, this year's awards season campaigns have proven to be nothing short of contentious. Greta Gerwig, however, has become a gentle voice of reason as of late—unsurprising really, given that she wrote and directed the wonderfully nuanced Lady Bird, a current Oscar frontrunner—finally choosing to speak out about her working relationship with the vexed writer and director Woody Allen.
Gerwig starred in Allen's cooly received 2012 film To Rome with Love in a supporting role, which she says in a new interview was due to being unaware of Allen's alleged history of sexual misconduct and assault at the time. (Most prominently, Allen's daughter, Dylan Farrow, has accused Allen of molesting her when she was a child.) "It is something that I take very seriously and have been thinking deeply about, and it has taken me time to gather my thoughts and say what I mean to say," Gerwig recently explained in the New York Times. "I can only speak for myself and what I've come to is this: If I had known then what I know now, I would not have acted in the film. I have not worked for him again, and I will not work for him again."
Gerwig continues to say that reading Farrow's op-eds about her harrowing experiences growing up with Allen helped her come to this conclusion: "Dylan Farrow's two different pieces made me realize that I increased another woman's pain, and I was heartbroken by that realization. I grew up on his movies, and they have informed me as an artist, and I cannot change that fact now, but I can make different decisions moving forward." That's one way to appropriately respond to the age-old "can you separate the art from the artist?" adage.
As for Farrow, she's grateful that one of Allen's many muses has chosen to finally distance herself from the auteur. "Greta, thank you for your voice. Thank you for your words," she tweeted. "Please know they are deeply felt and appreciated." Other actresses, such as Kate Winslet and Selena Gomez, have offered lofty defenses of Allen in the past.
Related: Greta Gerwig Confesses Her Cinematic Crush