These Underrated Films of 2017 Have One Thing In Common
They were all directed by women, in a year when women directors were completely snubbed by the Golden Globes.
---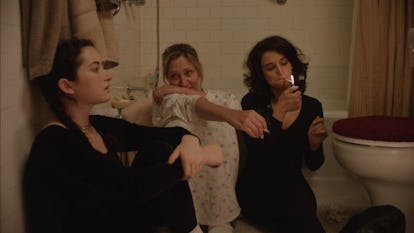 It feels like 2017 was, for better or worse, the year of "the film we need right now." And while the satirical skewering of Get Out and the heroic journalists of The Post have dominated the conversation in large part because of their special social resonance, there were other wonderful movies that don't inspire the same politicized headlines—and many of them happen to be made by women. In a year when we got Patty Jenkins's all-conquering Wonder Woman and Greta Gerwig's pitch-perfect mother-daughter story Lady Bird and everything in between, somehow not a single woman was nominated for Best Director in the Golden Globes. Those movies and their filmmakers have been showered with praise, of course (even if they were snubbed by the Hollywood Foreign Press). We're here to celebrate the ones in between. Below, the six underrated sleepers directed by women that deserve a revisit—or a belated first viewing—before the year is over.
Novitiate
Lady Bird wasn't this year's only period piece to address the ins and outs of growing up Catholic. Margaret Betts's Novitiate follows a young girl (played by Margaret Qualley) in the 1950s as she enrolls in a strict convent run by Melissa Leo's nun. The drama unfolds as reforms in the Catholic church are proposed and affects the nuns, one of which is played with fervor by Glee's Dianna Agron. As a directorial debut for Betts, Novitiate premiered to positive reception from critics (Betts won the Breakthrough Director award at Sundance in early 2017), but mostly flew under the radar when it was released.
Landline
This summer, Gillian Robespierre and Elisabeth Holm (the team behind Obvious Child) teamed up again with Jenny Slate for Landline' the story of two sisters who discover their father (John Turturro) might be cheating on their mother (Edie Falco). Slate and the the talented young Abby Quinn star as siblings who bicker and fight their way through downtown '90s New York City, finding of course with each argument that they have more in common than they think. With support from Jay Duplass and Finn Wittrock, LandLine is a bittersweet exploration of families and all their endless complexities.
Mudbound
Dee Rees's period film Mudbound snagged two Golden Globe nominations for this year's upcoming ceremony—one for Best Supporting Actress in a Drama, Musical or Comedy category for Mary J. Blige, and another for Best Original Song—but it essentially crept its way through the awards season as a sleeper hit. The Netflix film follows two separate families returning to a post World War II Mississippi, and what ensues is a beautifully meditative exploration of racism and mental health in the postwar south featuring the likes of Carey Mulligan, Jason Mitchell, Jason Clarke and Garrett Hedlund.
Band Aid
Band Aid—the charming tale of a husband and wife who attempt to stave off the dissolution of their marriage by forming a band—was written, directed, and produced by its star Zoe Lister-Jones with an all-female crew, with Adam Pally, Fred Armisen, and Hannah Simone rounding out the cast of this anti-romcom. Special treat: the catchy songs created by the film's fictional band, the Dirty Dishes, are available to be streamed outside of the movie.
The Beguiled
While it premiered to much controversy surrounding the film's lack of diversity in the cast (it takes place in the Antebellum south during the Civil War, but black characters are given minimal screen time), the low-key slow burn of The Beguiled seems to have fizzled out by the end of the summer, with the film's director, Sofia Coppola, ultimately snubbed by the Globes for her alluring and feminine take on a macho Clint Eastwood original.
Mr. Roosevelt
Saturday Night Live and Master of None alum Noël Wells wrote and directed Mr. Roosevelt, a low-budget indie comedy about a girl who stays with her ex-boyfriend and his new girlfriend in Texas after their cat falls ill. Wells shows immense promise with her performance in her directorial debut, which premiered at South by Southwest in 2017 and won the Audience Award at the festival.
Related: These Are the 11 Best Women Fronted TV Shows of 2017